'Romancing the Stone' to Become NBC Series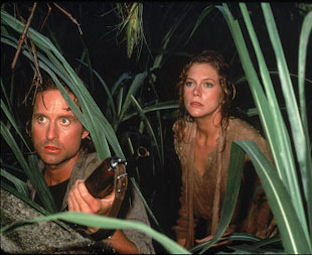 Recently, Hollywood.com reported on the plausibility of Robert Zemeckis' 1984 adventure film, Romancing the Stone, being remade for the big screen with potential stars like Katherine Heigl and Gerard Butler. Six long days later, things have changed. We are no longer facing the promise (or threat, depending on your perspective) of this project. What we are facing is something…kind of similar.
Now, Fox is pitching the project as a series for NBC. The original plot focused on a romance novelist (Kathleen Turner) traveling to South America to rescue her kidnapped sister. This time around, the subdued heroine will team with the rampant adventurer, originated by Michael Douglas, on a continuing journey to find her missing brother. Not exactly the same thing, but…related. Still in the Romancing the Stone ballpark.
The series will take the lead duo on episodic stories, tied together by the larger arc of the lost brother story. Sort of in the vein of Quantum Leap, or Dr. Who, or Inspector Gadget…
Now that the project is taking the form of a TV series, it is less likely to attract stars like Katherine Heigl and Gerard Butler. But, perhaps we will be lucky enough to see a return of Danny DeVito, reviving his role in the '84 film as Ralph.
Source: A.V. Club