Is There Room for Another 'Project Runway?'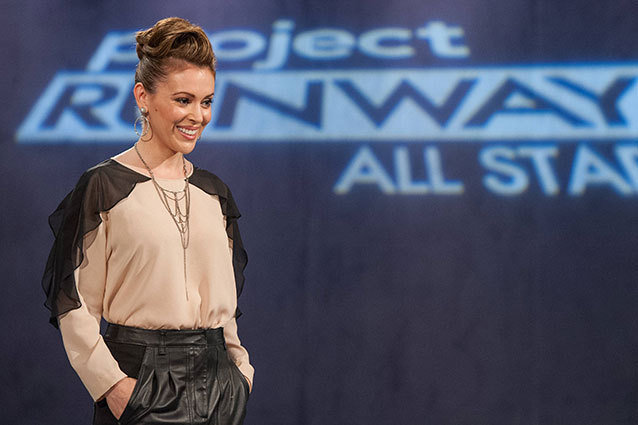 David M. Russell/AETN
When will people learn you can't take a model, a designer and a prize package and replicate the magic of Project Runway? Many have tried and few have succeed. The new series Styled to Rock, produced by Rihanna, gives the show a punky makeover. Project Runway: All Stars has some major upgrades from last season. But is there room for more than one Project Runway?
Styled to Rock is the umpteenth attempt at using the same format of Runway. Rather than focusing on the design, this series focuses on styling and costuming for musicians. Unfortunately, supermodel host Erin Wasson has the charm of a frozen waffle.
People take for granted that Heidi Klum was an actress and a television host before she produced Project Runway. Tim Gunn has become a celebrity due to his loving nature, distinct voice and stellar vocabulary. Their Emmy is proof that they are a major part of the show's success. You can't just pull people off the shelf and expect the same magic to happen.
Project Runway: All Stars may have the exact same premise as the original but at least it innovates. It gives designers we have come to love a chance at redemption. Judges Isaac Mizrahi and Georgina Chapman also speak more authoritatively and diplomatically about fashion. Casting has improved this season with charmless model Angela Lindvall and severe mentor Joanna Coles replaced by opinionated Alyssa Milano and effervescent Zanna Roberts Rossi.
These are not the only attempts to clone Runway. Here are some others:
The Fashion Show
When Bravo lost Runway to Lifetime they tried to keep viewers with The Fashion Show. Mizrahi served as designer judge and Kelly Rowland served as host. The show received a slight upgrade in season two when supermodel Iman took over as host.
Launch My Line
Bravo tried again with this series. Dean and Dan Caten, of DSquared, hosted this series that featured "professionals" paired with designers. Seemingly random people in fields ranging from event planning to architecture had to create their own fashion line.
Project Accessory
Not to be outdone by the shamelessness of Bravo, Lifetime tried to create a spin-off of  Runway hosted by Molly Sims. Designer Kenneth Cole served as judge in this inversion of Runway. Designers create accessories ranging from jewelry to headpieces and style them with provided clothing.
Fashion Star
This show tried to bring Runway to network television. Jessica Simpson, Nicole Ritchie and designer John Varvatos judged designers and offered them a chance to sell their line at Express and H&M. The show had too much product placement and was a little late to the game in Runway rehashing.