Roseanne Barr Roasted: The Meanest Jokes of the Night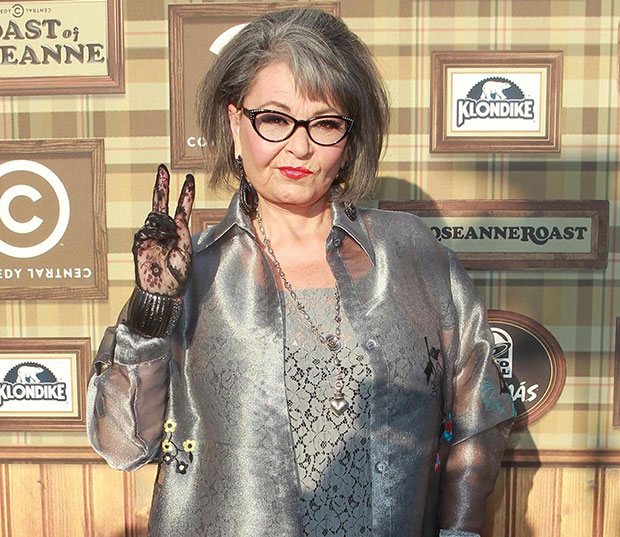 Brash and brassy comedienne Roseanne Barr was put in the hot seat as the guest of honor of her very own Comedy Central roast, taped Saturday night at the Hollywood Palladium. Compared to the nastier roast endured by celebrity train wreck Charlie Sheen in 2011, Barr's night had an overwhelming "it's all in good fun" vibe. That's not to say that the show wasn't without a few barbs. Barr's size, politics, career, and marriage were all fair game for roastmaster Jane Lynch and roasters Seth Green, Ellen Barkin, Wayne Brady, Gilbert Gottfried, Jeffrey Ross, Carrie Fisher and others.
The biggest surprise of the evening came when Tom Arnold, Barr's ex-husband, took a turn at the mic. "We have not been in the same room for 18 years," Arnold said to a seemingly shocked Barr, the Los Angeles Times reports, before starting in on their four-year marriage and messy divorce. "I'm not here to tear Roseanne a new one, because I've seen the old one," Arnold said. Arnold ended the night on a surprisingly sweet note, however, crediting his ex-wife with jumpstarting his career. Referring to Barr's appearance on The Tonight Show with Johnny Carson, Arnold said, "You got validation from the king that could never be taken away from you. Roseanne, you were my Johnny Carson." 
While Arnold's closing remarks were aww-worthy, the roast included plenty of jabs that elicited shock and dismay from the audience. Here's a roundup of the meanest jokes made at Barr's expense.
Amy Schumer: "I was surprised you were running for president. I just think a lot of people just couldn't picture you, like, running."
Katey Sagal: "It's great to see Roseanne back in the spotlight. Technically, it's two spotlights, but you get the idea."
Wayne Brady: "Roseanne, it's been said that you stole Sam Kinison's style: you're fat, loud and you died in the '90s. But, Roseanne, you had to overcome a lot to make it in Hollywood, and that's why I love you — bad marriages, mental illness, plus, you look like Roseanne. You're oversized, beat up, and you reek of marijuana. You're kind of like Willie Nelson's tour bus. Except people still wanna ride that."
Anthony Jeselnik: "Roseanne, what does it say about you that when you accused your father of incest, there was an outpouring of sympathy for your father."
Ellen Barkin: "You totally changed the way men do not give a f**k about women's opinions."
Gilbert Gottfried: "Tonight, it's our chance to end the reign of Rozilla forever. Everyone, grab your torches and lead her to the pit. She'll think it's a barbecue!" 
Jane Lynch: "She's one of those rare celebrities so famous that she's referred to by just one name: b***h … I waved to you outside but then I realized it was just one of those inflatable parking lot gorillas."
Jeffrey Ross: "I've got to give it to you, you've been tortured and abused all night and you're still hanging in there. Roseanne, I'm not talking to you, I'm talking to the chair you're sitting on." (Bonus: "Instead of running for president, why don't you try walking on a treadmill. I'd vote for you but I'm against big government. That's just what we need, a round president in an oval office.")
Tom Arnold: "Rosie, this is true — she actually had 'Property of Tom Arnold' tattooed on her hip, which made me the fourth largest property owner in California."
The Comedy Central Roast of Roseanne will air on Comedy Central at 10pm on Sunday, August 10.
Follow Abbey Stone on Twitter @abbeystone
[Photo Credit: Fayes Vision/WENN.com]
More:
Ouch! Roseanne Barr Gets Comedy Central Roast: 5 Meanest Jokes Ever
The Comedy Central Roast of Charlie Sheen: 7 Things to Know
Jeff Ross Says Charlie Sheen's Roast Is A 'Comedy Intervention'