Ryan Murphy Tweets Darren Criss as Robin on 'Glee' Set — PICS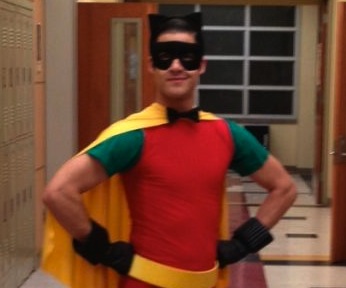 From the looks of Ryan Murphy's Twitter account, things will get super dramatic on Glee's fourth season. Murphy just posted a photo of Darren Criss roaming the McKinley High halls dressed as the Boy Wonder. Clad in Robin's signature red, yellow, and green, Criss proves that real men wear tights.
Murphy tweeted, "Who is that masked man keeping crime away from the halls of McKinley?" with the below photo. Murphy doesn't provide any context for the photo, but it's probably safe to say this is for the Halloween episode. Unless, of course, there's a super hero episode. Which would be awesome.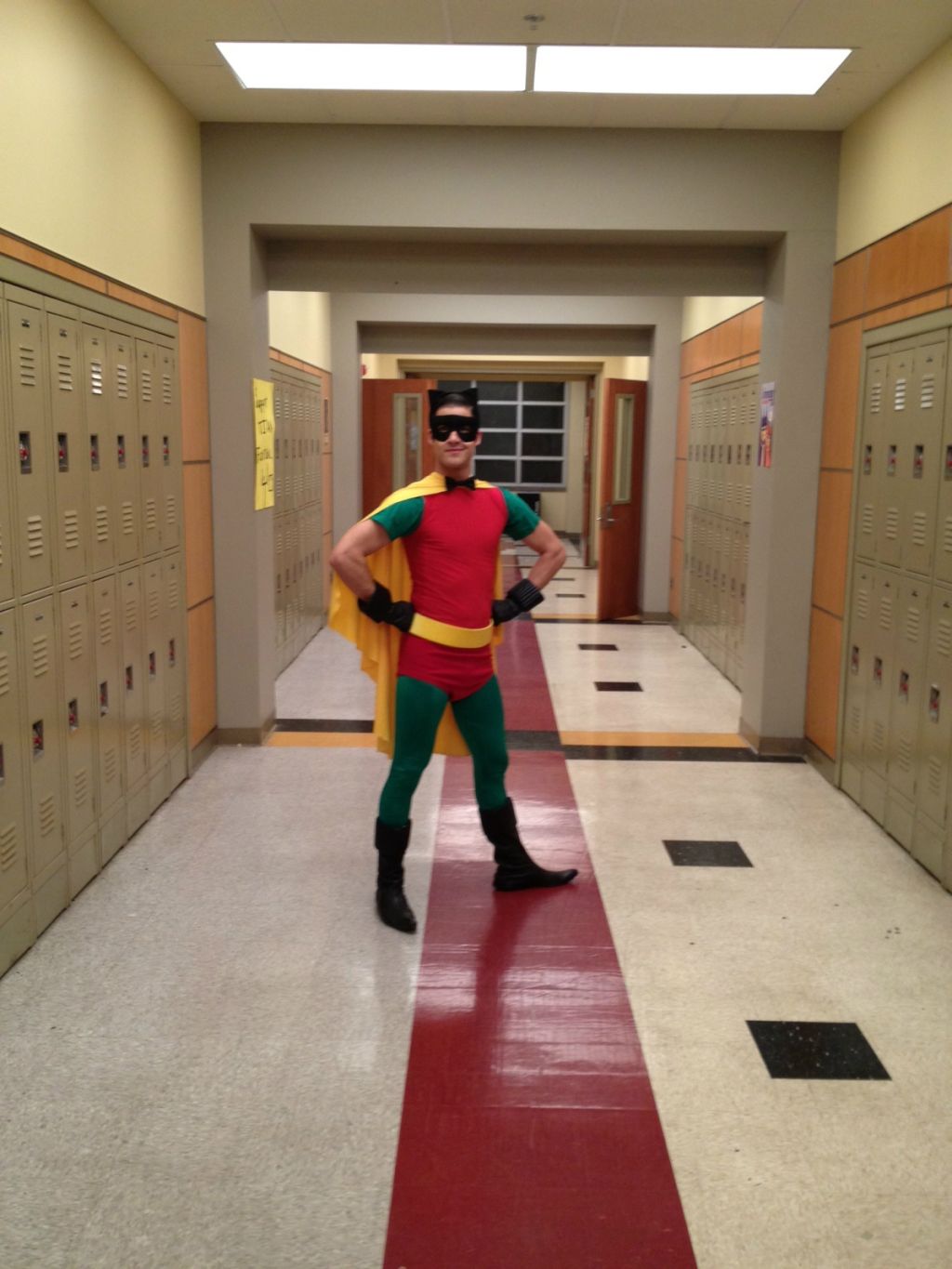 The picture of a costumed Criss is the most recent in a string of revealing photos and videos Murphy has released to his fans via his Twitter account. Since Murphy joined the 21st Century and created a Twitter account on July 30, we've been treated to behind-the-scenes looks at Glee, American Horror Story, and The New Normal that more than whet the appetites of the shows' fans.
We've gotten to see Kate Hudson in full Glee regalia (Holy fishnet stockings, Batman!), Adam Levine with AHS Season 2 star Bloody Face, and The New Normal's Jayson Blair in his underwear. But the photos are just the tip of the iceberg; Murphy continuously posts casting hints, never-before-seen videos, and answers to fan questions. Basically, what we're trying to say is that Ryan Murphy is, hands down, the best showrunner to follow on Twitter.
If there was a little golden statuette to hand out for Best Sneak Peek Tweeter, we would gladly hand it over to Murphy (he could keep it in his trophy case or wherehaveyou right next to his Emmys). But all kidding aside, Murphy has done an amazing job generating buzz about his shows. The direct contact Murphy has with his fans only helps to fuel the fervor surrounding these already-hotly-anticipated — and highly secretive — shows. With Murphy at the helm, who needs a publicist? 
Follow Abbey Stone on Twitter @abbeystone
[Photo Credit: Twitter]
More:
New 'American Horror Story' Clip Ups the Creep-Factor — VIDEO
Ryan Murphy's 'The New Normal' Protested by One Million Moms
American Horror Story' Teaser Is Just As Weird As You Thought It Would Be — VIDEO