Ryan Reynolds & Allan Loeb Launch TV Company DarkFire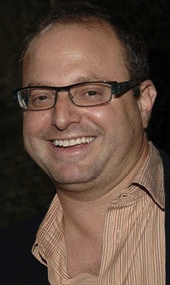 Forget acting, everyone is a businessman these days. Ryan Reynolds, who is wrapping Safe House with Denzel Washington in South Africa before embarking on a global publicity tour for Warner Bros. Green Lantern, and screenwriter/producer Allan Loeb (Wall Street: Money Never Sleeps, 21) have teamed up to launch DarkFire, a joint venture that will develop and produce shows for 20th TV, says Deadline. The company is expected to focus on single-camera comedy projects and Loeb will personally pen at least one pilot a year under the terms of the deal.
DarkFire, which borrows words from both of the principle's respective film banners, is the brainchild of Reynolds' partner Jonathon Komack Martin and Loeb's partner Steven Pearl, who will run the unit with a dedicated TV executive who has not yet been hired. Sitcoms seem like common ground for the players, as they've both got obvious backgrounds in comedy, but the timing of the launch is what's key to this story. "We think that there is a real opportunity to develop comedies for the broadcast networks, which are opening more space (for the genre)," Loeb said in a statement. The duo hasn't ruled out animated comedies as well, which have been hugely successful for Fox, but Loeb said it best when asked about the potential of his created an animated series: "I don't think anyone can come close to Seth MacFarlane but we'd like to try."
While this is definitely an interesting pairing of talent, I'm saddened that they'll be focusing their energies on a tired format. I know I'm more or less alone on this, but for years I've felt that sitcoms are the most boring form of televised entertainment, offering not an ounce of originality to viewers who are comfortable watching the same show over and over again. What separates a good sitcom from a bad one is its cast, so Reynolds and Loeb will need to scroll through their collective phone books to recruit talent to take part in their programs, but since they're both pretty big players in the industry I don't think they'll have trouble finding the right ensembles.
Source: Deadline