SAG Awards 2013: Dick Van Dyke Honored With Lifetime Achievement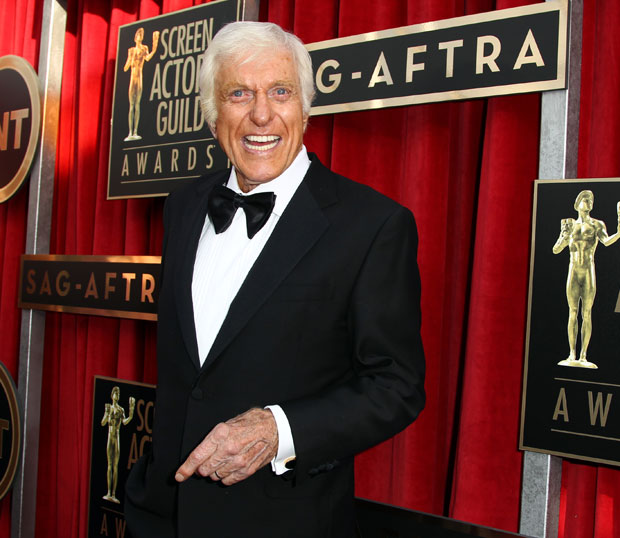 TV legend (
The Dick Van Dyke Show
,
Diagnosis Murder
), marquee movie star (
Chitty Chitty Bang Bang
), philanthropist, and all-around national treasure
Dick Van Dyke
was honored with the Lifetime Achievement Award at the
Screen Actors Guild Awards
on Sunday night. Presented by
Alec Baldwin
, the spry 87-year-old beloved actor took the stage to the familiar sounds of the classic
Dick Van Dyke Show
theme song and a rousing standing ovation.
Van Dyke, who has been in showbusiness for over 70 years (though he joked, "I still haven't figured out what I do") gave a shout-out to fellow legend Carl Reiner, who he called his "Lord and Savior." The actor, who gave the very antithesis of a Jodie Foster lifetime achievement speech, was unabashedly proud to be part of Hollywood (he said that he loved having a job that "doesn't require growing up") and congratulated his colleagues for their humanitarian work in regions like Darfur, Haiti, and New Orleans. 
In fact, the humbled Van Dyke gave more credit to the people in the room than himself, including his very young wife Arlene Silver. (Though he did, jokingly, give himself props for his "world-famous" cockney accent from Mary Poppins.) The star told the crowd they are the "the greatest generation of actors in history" and they have "lifted the art to another place." 
Then, in true adorable old man fashion, Van Dyke forgot what just happened and left his award on the stage. 
[Photo credit: Matt Sayles/Invision/AP]
More: