Oh No! Sandra Oh's a Go Go: What Will Her Departure Mean for 'Grey's Anatomy'?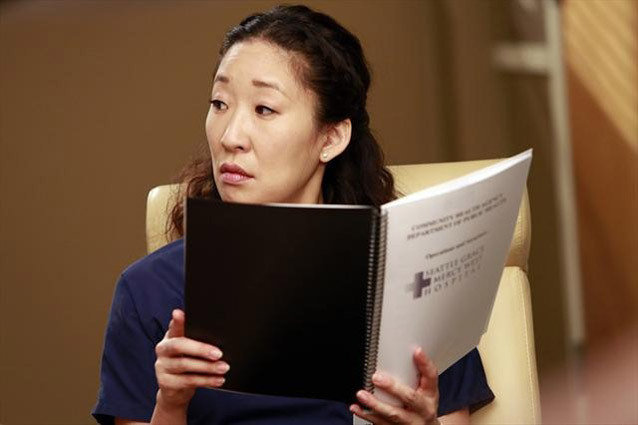 After 10 years of playing the feisty surgeon Christina Yang on Grey's Anatomy, Sandra Oh will be leaving the hospital soap opera.
"It's been a great privilege to play the character of Cristina Yang on GA and I am both sad and excited to see where this, her final season will take her," Oh said in a statement. "It was an emotional and deeply creative decision for me and I feel fully supported by Shonda and the writers. It's so rare in an actor's life to be able to explore and grow a character so fully, so completely. I am profoundly grateful to everyone at GA for the opportunity."
Say What?? It's hard to envision a future Grey's Anatomy without Christina, who has been such an integral and centripetal part of the show since day one. The question that remains is how exactly are the writers going to write her off the show? The creator of the show, Shonda Rimes, provided some insight to this dilemma "This year is going to be bittersweet for us — we're both going to savor every moment of Cristina Yang and then we're going to give her the exit she deserves. And when Sandra walks out of my door, Grey's Anatomy will be once again be forever changed" So it doesn't seem that they are going to kill her off the series but rather a dignified exit (phew!). 
So where does this leave Grey's Anatomy? The ABC show has seen some drastic changes over the years it's been on the air. They've lost original and beloved  actors like Katherine Heigl, Isaiah Washington, T.R Knight and along with them many viewers. There is no doubt that Sandra Oh's exit will result in a decrease in ratings. Grey's Anatomy has been around for so long that its audience is mainly compromised of an entrenched fan base. The loss of such a major character will definitely mean a loss of some hardcore fans. The writers need to focus on taking the show in an entirely new direction to renew interest.
More:
ABC Renews 'Nashville,' 'Grey's Anatomy,' 'Scandal,' 'Castle,' And More
'Grey's Anatomy' Recap: Oh Yes, There Were Poop Jokes
'Grey's Anatomy' Recap: How Much Kleenex Did You Use?
---
From Our Partners


Stars Pose Naked for 'Allure' (Celebuzz)


20 Grisliest TV Deaths of 2012-2013 (Vulture)