Sanya Richards-Ross Lands a WE Tv Reality Show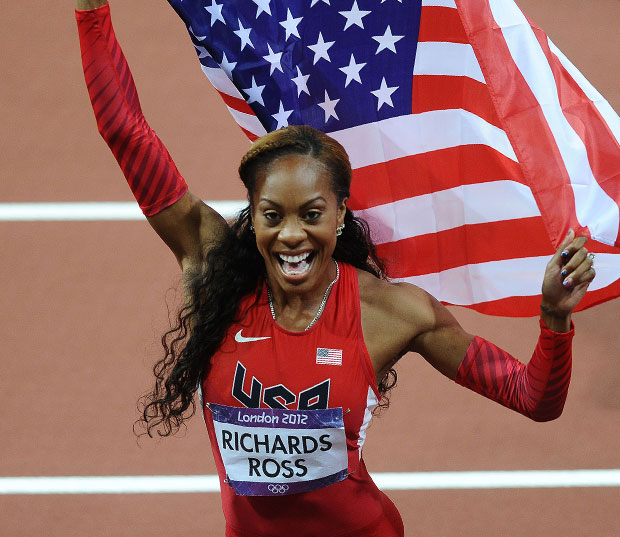 Track star Sanya Richards-Ross is the first athlete of the 2012 Olympic Games to be pegged for a reality show. Surprise! Richards-Ross has beat out the likes of Ryan Lochte, Michael Phelps, and meme-friendly McKayla Maroney for that coveted title of First Reality Star Olympian.
Richards-Ross' show, Deadline reports, will air on WE tv and chronicle the gold medal winner's time leading up to London. In addition to Richards-Ross' intense training regimen, the show is also sure to feature her football stud husband, Aaron Ross, who just signed a $15 million contract with the Jacksonville Jaguars.
With it's celebrity family-oriented programming, WE tv seems like the perfect home for Richards-Ross' show. That got us thinking: Which Olympians would be the best fit for reality shows on other networks? From Spike to ABC Family, here's our athlete/network matchup rundown.
Bravo: Matthew Mitcham
The gold medal-winning Australian diver was the only openly gay male athlete at the 2008 Beijing Games (where he won his medal). Mitcham's story — as well as his good looks and dreamy accent — make him an ideal candidate for a Bravo reality show. The show, as we see it, would essentially follow Mitcham around as he goes about his days. If his tweets are any indication, Mitcham has more than enough charisma to carry a show. On August 8, he even tweeted that if he wins gold in London he will dive off the 10m board naked. Get your cameras ready, Bravo.
Spike: Jordan Burroughs
A manly network needs a competitor in a manly sport. So how about American wrester (and gold medalist) Jordan Burroughs? Rather than another day-in-the-life type show, Burroughs' series could pit him against those brave enough to try to take him down. Ooh, or better yet, he could arm wrestle everyone!
TLC: Oscar Pistorius
Don't groan yet, hear me out. TLC is all about showcasing powerful emotional struggles (which, it's true, often take the guise of the strange or unusual), and we think the network would be able to handle Pistorius' survivor story with aplomb. We would love to see TLC tackle Pistorius' biography and road to the Olympics in a mini-series or special movie event. It's a guaranteed tear-jerker feel good story, to be enjoyed by moms for years to come. 
Oxygen: 2016 Olympic Hopefuls 
Oxygen loves itself a reality competition featuring hopeful youngsters. From The Glee Project to America's Next Top Model Obsessed and All the Right Moves, Oxygen prides itself on helping talented youths achieve their dreams. Oxyen's Olympics-based reality show, therefore, wouldn't feature a past olympian. Instead, it will chronicle the efforts of 10 young athletes trying to make the next US Olympic Team.
ABC Family: Women's Gymnastics Team
Now that Make It or Break It has been cancelled, ABC Family needs something to fill its gymnastics niche. Enter: The Fab Five. Jordyn, Gabby, McKayla, Kyla, and Aly can hit the gym and have sleepovers together as they prepare for the 2013 World Gymnastics Championships.
MTV: Ryan Lochte
Ryan Lochte is going to have a reality show. The question remains, which network will be lucky enough to nab it? We think MTV might be just the spot. MTV would be able to perfectly highlight Lochte's partying, playboy ways, and highlight his brilliant one-liners.
Follow Abbey Stone on Twitter @abbeystone
[Photo Credit: WENN.com]
More:
Olympics 2012: Highbrow and Lowbrow Conversation Starters
London 2012: How to Create an Olympic Superstar