Sara Rue Talks 'Malibu Country' Drama and Barbara Jean Comparisons—EXCLUSIVE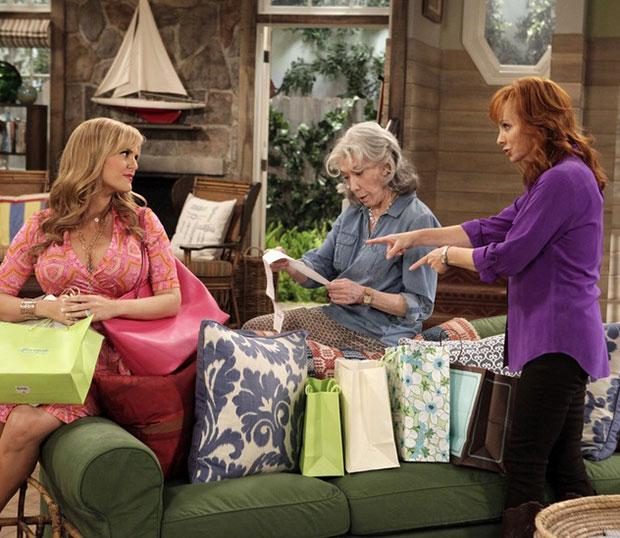 Get excited for tonight's all new episode of Malibu Country y'all because hell hath no fury like a Reba scorned! But just who has made our favorite singing red-head all a flutter? Her too sweet—we now have a toothache—neighbor Kim, played by the lovely Sara Rue. To get all the scoop on tonight's beauty-filled battle royale, we chatted with Rue and also snagged a first look video at the source of tonight's problem: shopping.
"In this Friday's episode, I think Reba gets a little jealous because her daughter is wanting to spend more time with my character." Rue reveals to Hollywood.com. When June (Juliette Angelo) struts home with two arms full of designer goods and a flashy (yet oh-so cute) new outfit, Reba cannot believe that Kim would spend this kind of money on her daughter.
Rue explains, "Well, my character doesn't have a little girl so I think it's fun the idea of taking out someone else's daughter, and taking them shopping or taking them to the movies, and sort of getting to play pretend for a little while, which is what Kim's doing. Kim is genuinely enjoying her time with her and doesn't mean any harm but Reba gets a little threatened." Well, when you spend the equivalent of a down payment on a house for someone else's daughter, it's easy to see how uncomfortable a mom could get. We feel ya Reba!
It's also a no-brainer as to why June wants to spend so much time with her beyond-cool older neighbor. Rue gushed that she loves Kim's "good heart" and carefree personality. "The idea of playing this character was really fun for me. This is a type of character that I've never played before so that was super appealing to not be the awkward girl, or not be the bitchy ex-wife but just to be this short of trophy wife that gets to flit around and have all this fun stuff to do."
But before you go on drawing comparisons to another fun-loving Reba friend (Ahem, Barbara Jean) Rue is quick to clarify that the two ladies are nothing alike. "I've heard that comparison but I don't think so at all. I feel like that Barbara Jean character basically stole Reba's husband didn't she?" Rue continues with a laugh, "Yeah, Kim would never do that! The thing that I love about Kim is that she is so loyal and protective of Reba… I think the dynamic here is going to be different." We couldn't agree more!
Check out this dynamically dramatic sneak peek from tonight's episode, "Not with My Daughter" below!
You can catch an all-new episode of Malibu Country tonight at 8:30 PM on ABC!
Follow Leanne on Twitter @LeanneAguilera
[Photo Credit: ABC]
MORE:
Reba McEntire and Lily Tomlin Dish on New Comedy 'Malibu Country'—VIDEO
TV Tidbits: Good News for 'Last Man Standing' and 'Malibu Country', Sorry, 'Inbetweeners'
ABC's Series Pick-Ups: Reba McEntire Comedy & Connie Britton Musical Drama
You Might Also Like:

Jake Harper Could Disappear on 'Two and a Half Men.' What Other TV Kids Went Missing?