Sara Schaefer Blogs 'The Bachelorette': The End is Upon Us (Season 9, Episode 10)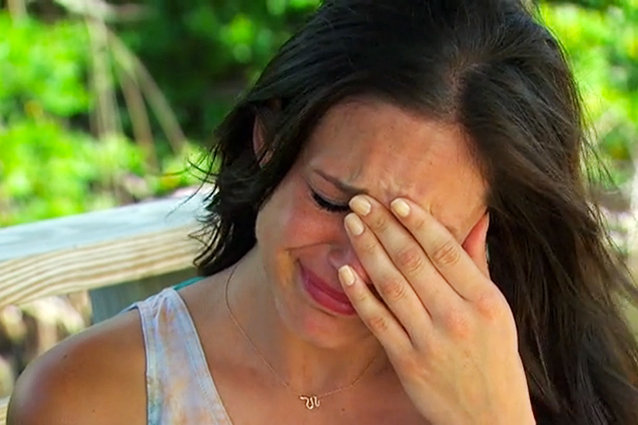 I have to say, this season on The Bachelorette, I've been frustrated and bored. Maybe I'm just tired of the same old journey. Maybe I'm turned off by Desiree's girly approach to love and her constant use of the phrase "that's so cute" during serious conversations about feelings and her future. Or maybe I'm just sick of v-neck t-shirts. But last night, on this season's penultimate episode, I think we witnessed one of the most honest turn of events in the show's history.
Desiree spent romantic days with both Chris and Drew, fully partaking in the fantasy suite and all the boning that goes with it. But the real s**t went down when Brooks returned from an emotional visit with his family, wherein they advised him not to propose unless he was absolutely 100% sure about his love for Desiree. He realized he wasn't. Because AFTER DATING SOMEONE FOR 9 WEEKS IN A POLYGAMOUS, TELEVISED RELATIONSHIP, THERE IS NO WAY YOU ARE SURE.
And then there we were, on a tropical beach, waiting for Brooks to arrive for a day of romance. Desiree was upbeat. I thought it was a weird choice to edit in audio of her saying "I'm in love with him," and "If he proposed to me right now, I would say yes." For the obvious reasons, yes. (It's produced! And when have we ever heard a Bachelorette confess her love for one man over another before the final episode?) But also, I think it took away from the real-life drama that followed.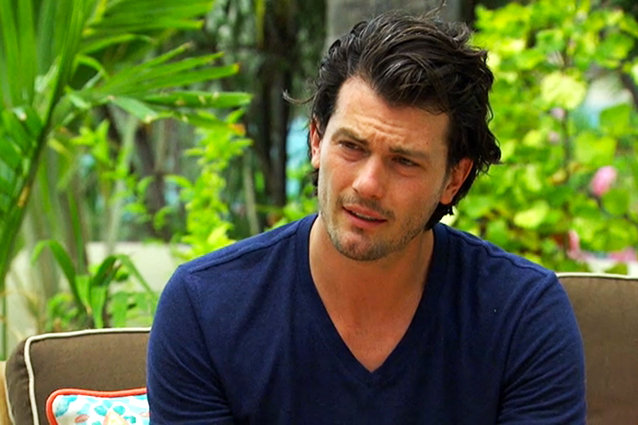 Brooks arrives and tells Desiree the truth. What follows is literally 25 minutes of crying. I'm not exaggerating. I timed it. In the midst of it, this conversation happened:
Desiree: I'm in love with you.
Brooks: (The breath is taken out of him.) Why didn't you tell me that earlier?
Desiree: Because I can't.
And herein lies the truth: Brooks is — naturally, obviously! — afraid of getting his heart broken on national television. At this point, he has no idea that Desiree has already made up her mind and that she thinks Drew and Chris are just two hot guys she'd like to bang before she gets engaged. But Brooks doesn't know that, because it is forbidden by the producers for her to say it outright. You can hear his voice change and the surprise seep in when he realizes the truth. And this is why I think this is a totally honest moment on the show. Brooks is actually a normal person for not wanting to rush into a marriage in such insane circumstances. And Desiree is showing her true feelings out of sync with the normal narrative of the show. I loved it, and I have to admit: this is great television! Thank you, Bachelorette producers!!!
After about 18 more minutes of crying, Brooks finally leaves. This dude is really upset for someone who's not in love. Hmmmm. METHINKS HE MIGHT HAVE MADE A MISTAKE?
Given the previews for next week, it's pretty clear that the game is over… or is it? I bet you anything Brooks comes back. I just really hope it happens with Drew on one knee and suddenly we hear Brooks screaming from a boat in the distance: "DESIREE!!!" Either way, I'm guessing that this really IS the most dramatic ending of the Bachelorette ever. HELL YES!
Tune into The Bachelorette every Monday night at 8/7c on ABC and check Hollywood.com on Tuesdays for Sara Schaefer's reactions to the madness. 

Sara Schaefer is a critically acclaimed stand up comedian, writer, and producer based in New York City. She is the co-host of MTV's late night show Nikki & Sara Live. She won two Emmy awards for her work as the Head Blogger for Late Night with Jimmy Fallon, and has written for BestWeekEver.tv and Who Wants to Be A Millionaire. Sara has appeared on Comedy Central, Late Night with Jimmy Fallon, Best Week Ever, FX, E!, Fuse, and AOL. She also has a popular podcast You Had To Be There with her MTV co-host Nikki Glaser.
Follow Sara on Twitter @saraschaefer1 
Follow Hollywood.com @Hollywood_com
More: 
'The Bachelorette' Recap: The Barcelona Blow-Out
'The Bachelorette' Recap: Armageddon
'The Bachelorette' Recap: Beauty Queens  
---
From Our Partners:


What Happened to 33 Child Stars (Celebuzz)


40 Most Revealing See-Through Red Carpet Looks (Vh1)