Sara Schaefer Blogs 'The Bachelorette': No Man Tears Left (Season 9, Episode 3)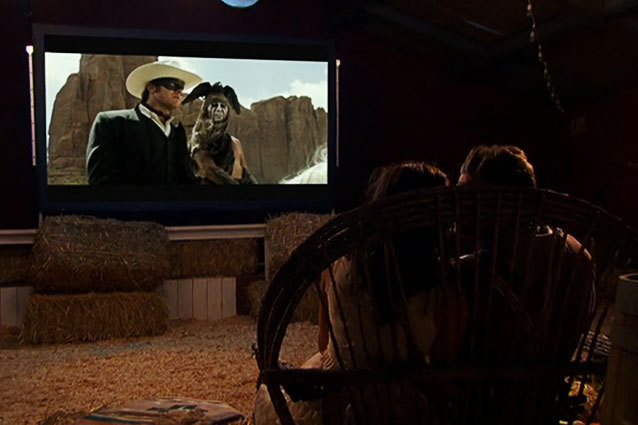 Emmy Award-Winning Comedian Sara Schaefer, Host Of MTV's Late Show Nikki & Sara Live, Will Be Blogging The Bachelorette For Hollywood.Com All Season Long. 
This week on The Bachelorette, the emotions were running high, as the group dates are still highly competitive and many of the men grapple to get some precious time with Desiree to tell her about their son/dying father/junkie mom. If you missed it, here are my top five moments from last night's journey.
5. Juan Pablo May Be Venezuelan, But He Definitely Knows How to French
While the other boys were splitting their pants (poor Dan) on the Old West group date, Juan Pablo was using his foreign tongue to woo Desiree. She chose him as the winner of the cowboy challenge, and what romantic alone time awaited them? Watching The Lone Ranger in a barn, of course! It's the dream date women always fantasize about… Uh, what?
Nevertheless, Juan Pablo used his time wisely and went in for a sexy, popcorny kiss. (Isn't it interesting how you can tell which guys are good kissers and which guys have only kissed blow-up dolls? Juan Pablo, from my detailed, DVR-enhanced analysis, knows how to smooch.) 
4. Is Brooks This Season's Tierra?

On the only slightly less violent dodgeball group date, Brooks proved his love for Desiree by snapping his finger in half. For a second there, I wondered if Brooks would become this season's Tierra, drawing Desiree away from the group by faking injuries. If that was his plan, he didn't account for the fact that Desiree was a firsthand witness to Tierra's antics. In fact, she just kind of gave him a pat on the back and left him to go to the ER by himself. Buck up, fellas, Desiree is here to play the field, not nurse your wounds. Side note: how obviously doped up was Brooks when he returned to the party?
3. Ben's Secret Dating Life
After surreptitiously taking Desiree for a 15-minute car ride, Ben was caught once again lying to the other guys. He denied having any alone time with her — but when confronted by Mikey T. and Michael G., he defended himself by saying, "My dating life is not public." You know what, he's got a point! These guys should be ashamed for even discussing a private matter that's only between Ben, Desiree, and millions of Americans. Have some respect, fellas.
2. Brandon Is All Out of Tears
Poor Brandon. He just feels too much. Last night, the incident with Brian triggered some really painful memories of his mom's active dating life. And naturally, this inspired him to tell Desiree that he is falling in love. Whoa. Whoa, whoa, whoa! This is Bachelorette 101, Brandon. Do not tell her you're falling in love until you're on the fantasy suite date — or, at the very earliest, the hometown visit. You fool! This was the nail in his coffin. When she let him go, he was shocked. Oh God, the look on his face. You could tell in that moment he'd already named their children. And then, I believe we may have witnessed the most depressing exit interview in Bachelorette history: "Once again, someone left me. Once again. Way to go Brandon." And then… "I'm not going to cry…"
"I'm just out of tears." 
1. Oh Geez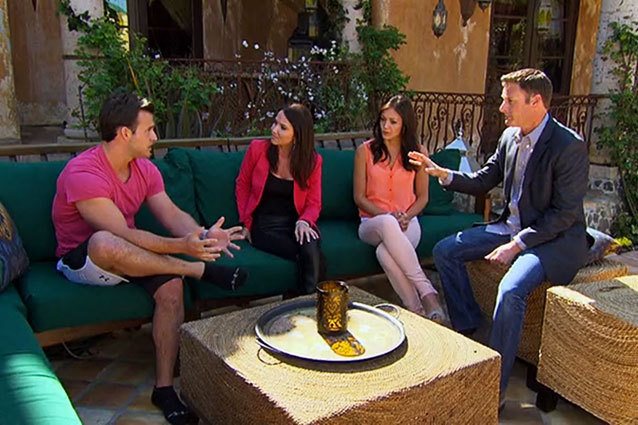 The most hilarious scene from last night's episode began when Desiree's intense journaling was interrupted by a phone call from Chris Harrison. A phone call? Never a good sign. It turns out, one of the bachelors is… Oh God no… How can it be… HERE FOR THE WRONG REASONS!!! (Cue ominous organ music, shrieks of terror, the sound of a million candlescapes snuffed out.) Who is this louse? It's… drum roll…  Brian! Who? Dang. It's not one of the guys the show has been focusing on. Just some random v-neck in the crowd.
But what terrible lie has Brian told? He has a girlfriend! And she is at the bachelor mansion! Oh it's on. Her name is Stephanie, and she is gonna let this guy have it. By this point, Desiree has pulled Brian aside to confront him, and when Stephanie appears, his reaction is hilarious. He simply says, "Oh geez."
Now, let me preface this by saying, I do not condone bumping bellies with someone two days before coming on The Bachelorette. But did anyone detect a sliiiiight amount of crazy coming from Stephanie? Chris Harrison kept telling her to stop talking, but she wasn't having it. This was her day to shine. And let's be honest, "Oh geez" is something you mutter when your crazy drunk aunt shows up at Christmas.
Desiree, quite shaken from these events*, continued on her journey. In summary, there is much more drama to be had, and, interestingly, I think we saw soft-spoken Chris become a sneak-attack frontrunner this episode. I'm now rooting for him to make it to the end, but not be chosen, so I can possibly date him on the next season when he becomes The Bachelor.
*By "shaken" I mean, "totally unfazed."
Tune into The Bachelorette every Monday night at 8/7c on ABC and check Hollywood.com on Tuesdays for Sara Schaefer's reactions to the madness. 

Sara Schaefer is a critically acclaimed stand up comedian, writer, and producer based in New York City. She is the co-host of MTV's late night show Nikki & Sara Live. She won two Emmy awards for her work as the Head Blogger for Late Night with Jimmy Fallon, and has written for BestWeekEver.tv and Who Wants to Be A Millionaire. Sara has appeared on Comedy Central, Late Night with Jimmy Fallon, Best Week Ever, FX, E!, Fuse, and AOL. She also has a popular podcast You Had To Be There with her MTV co-host Nikki Glaser.
Follow Sara on Twitter @saraschaefer1 
Follow Hollywood.com @Hollywood_com
More: 
'The Bachelorette' Recap: War of the Reasons
'The Bachelorette' Recap: Bring on the Man Tears! 
Sara Schaefer On Her Love of 'The Bachelorette'  

---
From Our Partners:


Zoe Saldana Strips Down For Magazine (Celebuzz)


33 Child Stars: Where Are They Now? (Celebuzz)