Sara Schaefer Blogs 'The Bachelorette': Beauty Queens (Season 9, Episode 4)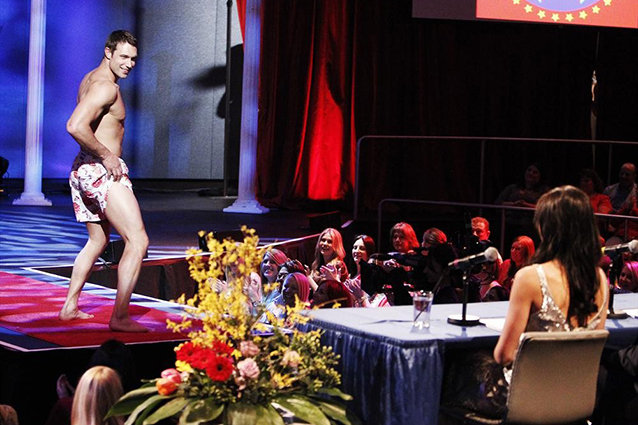 Emmy Award-Winning Comedian Sara Schaefer, Host Of MTV's Late Show Nikki & Sara Live, Will Be Blogging The Bachelorette For Hollywood.Com All Season Long. 
Last night's episode of The Bachelorette was an emotional roller coaster (half-submerged in the Atlantic Ocean). Desiree took her gaggle of men to one of the world's most exotic locations: Atlantic City. Here are the highs, the lows, and all points in between: 
The High: The Mr. America Pageant
I have to say, this was one of the most delightful group dates I've ever seen. Because it was the most honest group date I've ever seen: a bunch of guys peacockin' trying to impress a lady on national television. No pretending to be deep with emotions trying to "connect." Or, as Drew so eloquently put it, "It's a hodge podge of tom foolery; a devil's brigade." A devil's brigade indeed. During the pageant, we saw Chris' hula hoop routine in high heels, Kasey's fake tap dance, Ben's beautifully executed ribbon dance, Alex's pelvic thrusts (I think my eyes got pregnant from watching that), and Zak W. actually singing a not-terrible love song! Unfortunately, nobody pulled a Miss Utah during the interview round. Kasey won the pageant, but Zak W. ultimately won the rose: because he defied the hallowed rules of this game and sang during one-on-one time with Desiree! I have to say, I was shocked that he pulled it off. As Chris wisely wrote in his poetry book, "Only those who will risk going too far can possibly find out how far one can go." Just kidding, T.S. Eliot said that.
The Low: Getting Dumped at the Top of a Lighthouse 
Before the pageant, Desiree went on one of this season's obligatory "weed out the weak" one-on-one dates. You know what I'm talking about – every season, the Bachelor or Bachelorette picks someone they're "not sure about," so they can dump them mid-date? For Brad, this would be just such a swan song. Though the two had fun acting like kids on the Boardwalk, the date turned into a disaster when an actual conversation had to take place. I'm not sure if Brad is crippled by shyness or a mild brain injury, but he just does not have much to say. The result: cringe-worthy long pauses. I felt like I was watching one of those old SNL sketches when Chris Farley would interview a celebrity. "Remember that time we went on the sling shot…?" A few hours ago? Oh dear. Desiree knew she couldn't give him a rose at this point, so she knew she had to let him down easy. So she made him walk up a thousand steps to the top of the lighthouse. Because there's no better way to tell someone you're not into them: out of breath, in a location where the only two exits are a tiny spiral staircase or suicidal leap.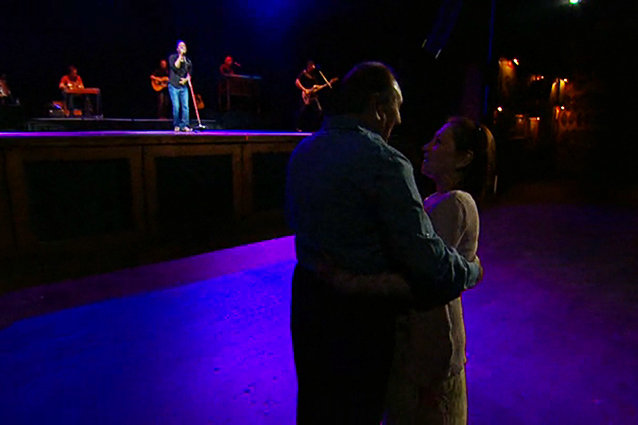 The Middle: Manny & Jan's Private Dance with Hootie
While the men were off competing in the Mr. America pageant, James was eating strawberries in a bubble bath, exploring his body and preparing for his one-on-one date with Desiree. Their date was a helicopter over Hurricane Sandy wreckage. In other words, their date was sexy as hell. After the aerial view, they surveyed the damage on the ground by visiting a home owned by an old couple named Manny and Jan. During the heart-wrenching visit, a show producer Desiree got this really amazing idea: why don't we gift our romantic date to Manny and Jan, and instead, we can eat garbage in a dumpy local restaurant? Wow. Is there a Nobel Peace Prize for Dates? James and Desiree, so moved by their act of charity, made out in front of the demolished house. See? I told you this date was sexy as hell.
Of course, they didn't actually gift the entire date to Manny and Jan, because that would be silly. They weren't going to just give up the best part of a Bachelorette date: the private concert. Desiree and James showed up just in time. The scene was beautiful: a homeless couple, married for nearly 40 years, dancing to their favorite musician, Hootie. (Yes, I know his name is Darius Rucker, but Manny and Jan don't know that. Shhhhh. Don't ruin this beautiful moment.) The date ended with a heartfelt speech in which James once again emphasized how he abandoned his sickly father for this journey. Desiree, you better be grateful!
According to previews for next week's episode: it will be armageddon. (Literally, there was a clip of someone saying "This is armageddon.") What! Wow! Isn't this show pre-taped? How did we miss the apocalypse? Am I in heaven? Wait, what? Oh, you mean it's Bachelorette armageddon? Oooooh, ok. So we're just gonna see some guys get called out for being there for the wrong reasons? Got it. I can't wait!
Tune into The Bachelorette every Monday night at 8/7c on ABC and check Hollywood.com on Tuesdays for Sara Schaefer's reactions to the madness. 

Sara Schaefer is a critically acclaimed stand up comedian, writer, and producer based in New York City. She is the co-host of MTV's late night show Nikki & Sara Live. She won two Emmy awards for her work as the Head Blogger for Late Night with Jimmy Fallon, and has written for BestWeekEver.tv and Who Wants to Be A Millionaire. Sara has appeared on Comedy Central, Late Night with Jimmy Fallon, Best Week Ever, FX, E!, Fuse, and AOL. She also has a popular podcast You Had To Be There with her MTV co-host Nikki Glaser.
Follow Sara on Twitter @saraschaefer1 
Follow Hollywood.com @Hollywood_com
More: 
'The Bachelorette' Recap: No More Man Tears
'The Bachelorette' Recap: War of the Reasons
'The Bachelorette' Recap: Bring on the Man Tears!