Sara Schaefer Blogs 'The Bachelorette': Armageddon (Season 9, Episode 5)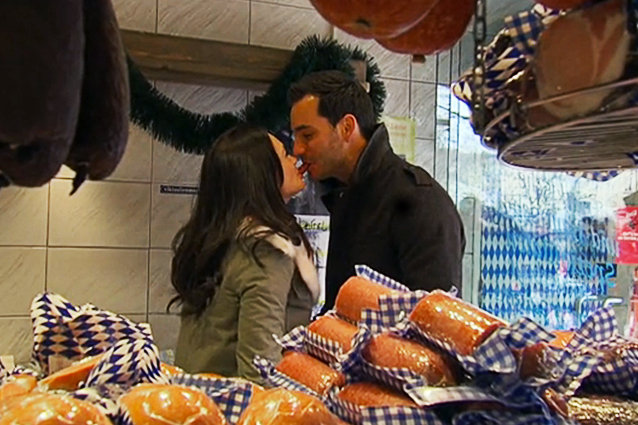 Emmy Award-winning comedian Sara Schaefer, host of MTV's late show Nikki & Sara Live, will be blogging The Bachelorette for Hollywood.com all season long. 
Monday night on The Bachelorette, the colorful v-necks were replaced by colorful hoodies as Desiree took her men to Munich, Germany. In last week's preview, we heard one of the guys saying, "This is armageddon." So, naturally, I popped some popcorn, settled in on my couch, and prepared to watch seven attractive men die on a ski slope. Unfortunately, I didn't quite get what was promised. Nevertheless, here are the six most apocalyptic moments from last night's episode!
6. Bryden Breathes Hellfire Into Chris's One-on-One
After expressing some doubts on last week's episode, Bryden came to the realization that he doesn't see a future with Desiree. He didn't want to waste any more of her time, so, of course, he needed to hit the streets of Munich and tell her the news while she was on a one-on-one date with Chris. Asking locals if they've seen an attractive couple with cameras following them (because it would be silly to ask the producers!), Bryden finally found them, frolicking in the middle of a square. How dare he break up this sexy, romantic moment? But dare he did. Desiree was immediately suspicious that he Knew he wasn't into it Before they went to Germany. Unbelievable. Yet again, another man was here for the wrong reasons. Bryden? He was here to take a one-day trip to Munich. He got what he wanted, and threw her away like a piece of trash. Desiree, heartbroken, cried for three seconds and continued on her date with Chris.
5. James Is Actually Satan in Disguise
Drew and Kasey revealed some highly explosive information: they overheard James telling Mikey that if he makes it to the end, he can become next season's Bachelor and that he can get Mikey a lot of "tall, good-looking women that have a lot of money" after the show is over. Um, EXCYOOOOOOSE ME? There is literally nothing worse than this. James could have confessed to doing scientific experiments on live puppies and it wouldn't remotely compare to this. The other men were shocked, horrified, and frightened. They know now that there is a devil in their midst. Drew, our blue-eyed hero, became determined to expose James. And according to the previews, it all comes out on next week's episode. There. Will. Be. Blood.
4. Ben Skipped Easter
On the dreaded two-on-one date with Ben and Michael, Desiree witnessed a grilling that would make even Bobby Flay blush. Michael had already made his intentions clear: he was a gladiator and he planned on murdering Ben. With the truth, of course! (But a machete would have also been quite effective, if you ask me.) Michael was on Ben's every word, calling BS at every turn. The death blow came when Michael tripped up Ben in a series of lies involving Easter. BEN DID NOT GO TO EASTER SERVICES!!! Though Michael put himself at great risk by exposing Ben (see Bachelorette Rule #629: Never Expose The Evil Contestant), it paid off. Desiree sent him packing, but not without slapping Michael on the wrist for being so honest. 
3. Desiree Cancels the Cocktail Party
I know. I know. I know. My jaw hit the Floor when Desiree told Chris Harrison that she would be foregoing the cocktail party. Especially given the fact that it was in an old German castle of some kind, and she was wearing a floor-length velvet robe! Well, just goes to show you, Desiree has a mind of her own, and when she's made up her mind about something, she'll listen to the producers who need to cut the cocktail party for time. But seriously, it was a tense rose ceremony, knowing that James narrowly avoided being exposed by Drew. Desiree, not knowing about this snake in the grass, sent poor Mikey home. It played out like a Shakespearean tragedy. I hope Chris writes a poem about it.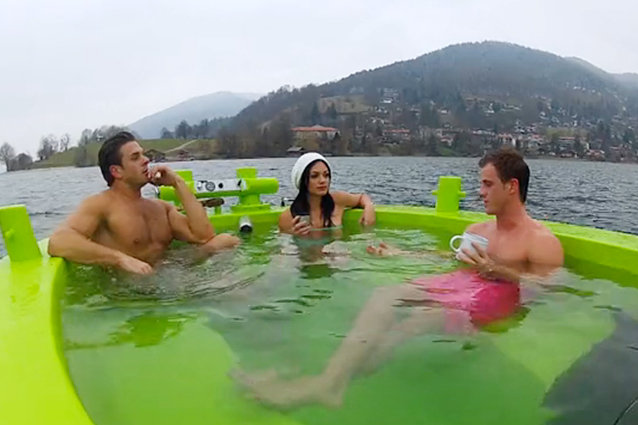 2. There Is Something Called a Hot Tug
A Hot Tug is a thing that exists. It's a little boat that is also a hot tub, and you ride it around in a freezing cold lake and OMG this is amazing, how do I get one??? Desiree introduced this miracle of science by taking Michael and Ben out on one. But quickly, it became obvious that the Hot Tug sounds amazing in theory, but is maybe not so great in practice. Cut to five minutes later, in the middle of the lake, and these people look miserable. Hot, uncomfortable, with lots of clanking and noise from the Hot Tug's machinery. (And it certainly didn't help that Ben and Michael were being total hot tugs.)
1. Ben's Limo Ride
Oh, how I love when a Bachelor shows his true colors in the Limo ride out of town. Ben, so defiant and offended by Michael's accusations, just straight up Dropped that act the instant he was in the limo. I transcribed it as best I could, because rarely do you see this type of honesty in a Jekyll/Hyde contestant. Note: most of this is presumably directed towards the show's producers: "You want me to act unhappy? Because I'm not. You guys aren't gonna have a Bachelor… you guys missed out on a single father from the south. Hi, Hollywood! We're getting drunk. Let's have some fun tonight. How long until I can be seen in public with someone? Because I don't want to wait." Goodbye Ben, you can return your rented son now.
Well, there you have it. The rapture of Desiree's heart will continue next week. Right now, Brooks, Chris and Zak seem to be the front-runners, but given recent events, you never know what evil is lurking!
Tune into The Bachelorette every Monday night at 8/7c on ABC and check Hollywood.com on Tuesdays for Sara Schaefer's reactions to the madness. 

Sara Schaefer is a critically acclaimed stand up comedian, writer, and producer based in New York City. She is the co-host of MTV's late night show Nikki & Sara Live. She won two Emmy awards for her work as the Head Blogger for Late Night with Jimmy Fallon, and has written for BestWeekEver.tv and Who Wants to Be A Millionaire. Sara has appeared on Comedy Central, Late Night with Jimmy Fallon, Best Week Ever, FX, E!, Fuse, and AOL. She also has a popular podcast You Had To Be There with her MTV co-host Nikki Glaser.
Follow Sara on Twitter @saraschaefer1 
Follow Hollywood.com @Hollywood_com
More: 
'The Bachelorette' Recap: Beauty Queens 
'The Bachelorette' Recap: No More Man Tears
'The Bachelorette' Recap: War of the Reasons
---
From Our Partners:


What Happened to 33 Child Stars (Celebuzz)


40 Most Revealing See-Through Red Carpet Looks (Vh1)