Sara Schaefer Blogs 'The Bachelorette': Barcelona Blow-Out (Season 9, Episode 6)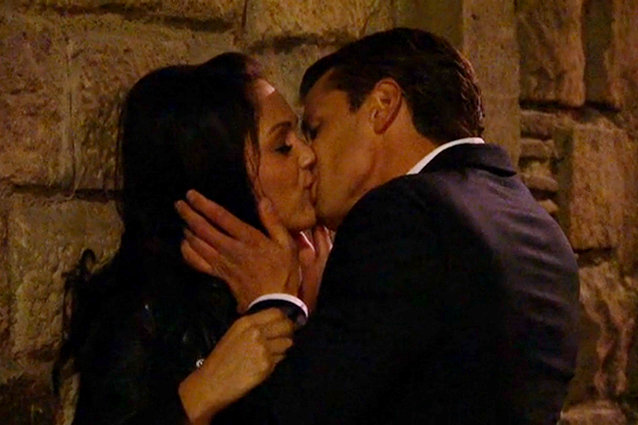 Emmy Award-Winning comedian Sara Schaefer, host Of MTV's Late Show Nikki & Sara Live, will be blogging The Bachelorette for Hollywood.Com all season long. 
Though last night's episode of The Bachelorette mainly revolved around the trial and conviction of Mr. Wrong Reasons James, there were many romantic moments in underground caves. Here are the top moments from last night's Barcelona journey! 
The Taming of the Drew
Before starting her one-on-one date with Drew, Desiree says that the reason she picked him is because "he is so romantic and passionate about romance." These are just the quirks about Drew that really make him special, you know? In a quaint little dessert shop, Drew reveals something he's never told anyone: that his father is a recovering alcoholic and has cancer. What better time to reveal it than on a nationally televised dating game show?! So romantic, that Drew.
Then, as the two are about to sit down to eat a romantic dinner in a crypt of some kind, Drew dramatically pulls Des out of the room and sweeps her into the streets of Barcelona for a sexier, more intimate makeout session against a brick wall. From what I tell he may have made it to second base! This is really hot, especially coming from such a reserved guy… and by "reserved" I mean I'm pretty sure he dreams about marrying a man 24 hours a day.
The People v. James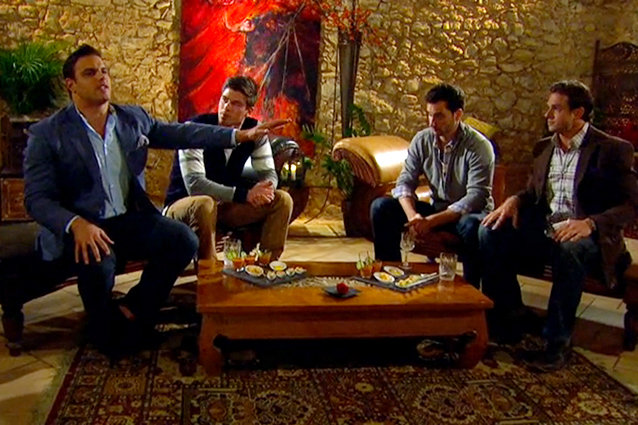 The men have absolutely HAD it with James' disgusting comments made in private to Mikey. No man who is there for the right reasons would ever utter a word about any possible outcome other than marrying Desiree — even if your chances of that actually happening are 1 in 24. The cat was out of the bag — Drew tore the veil away on his one-on-one date and told Desiree about James' true evil nature. Meanwhile, the men confront James and he desperately tries to defend himself by pointing at each guy individually and screaming "F**k you!" This is getting super intense! In the words of Kasey, there's all kinds of "counter-accusating" going on!
When Des confronts him, James' defense is probably one of the most eloquent I've ever heard. I think he said "Des, this is hard" 43 times. His tears were so real — I bet he had to imagine his dog dying a horrific death to get those rolling! During their second talk on the matter, James goes even further to show his true emotions by sweating profusely in his man-boob area. It honestly looked like he was lactating. Which, as we all know, is a sign of true love. This is going to make Desiree's decision that much harder.
Ultimately, Des decides to send James home, weeping nipples and all. In the end, Drew described James' actions best: "It just doesn't make any sense… to a normal person." That is so true because none of this makes any sense… to a normal person.
Goodbye My Sweet, Sweet Juan Pablo
Also sent home this week, aside from James and Kasey, was Juan Pablo. Our Latin lover is no more. In his exit interview, he tears up talking about all he wants is to share Christmas with a wife and children. It's official: Desiree hates Christmas!!!!
The Preview For Next Week
By far the most exciting part of last night's episode was the preview for next week. From what I can tell, it seems like Drew dumps her (probably because he realizes he loves penis), Brooks goes ballistic, and everyone is bawling. I mean, I don't know guys. It seems like perhaps Desiree stops the show and decides that she doesn't want to marry any of the guys and wants to live a normal life??? Come on Bachelorette producers, let's make history together!!!
Tune into The Bachelorette every Monday night at 8/7c on ABC and check Hollywood.com on Tuesdays for Sara Schaefer's reactions to the madness. 

Sara Schaefer is a critically acclaimed stand up comedian, writer, and producer based in New York City. She is the co-host of MTV's late night show Nikki & Sara Live. She won two Emmy awards for her work as the Head Blogger for Late Night with Jimmy Fallon, and has written for BestWeekEver.tv and Who Wants to Be A Millionaire. Sara has appeared on Comedy Central, Late Night with Jimmy Fallon, Best Week Ever, FX, E!, Fuse, and AOL. She also has a popular podcast You Had To Be There with her MTV co-host Nikki Glaser.
Follow Sara on Twitter @saraschaefer1 
Follow Hollywood.com @Hollywood_com
More: 
'The Bachelorette' Recap: Armageddon
'The Bachelorette' Recap: Beauty Queens  
'The Bachelorette' Recap: No More Man Tears
---
From Our Partners:


What Happened to 33 Child Stars (Celebuzz)


40 Most Revealing See-Through Red Carpet Looks (Vh1)