Sara Schaefer Blogs 'The Bachelorette': Hometown Visits (Season 9, Episode 8)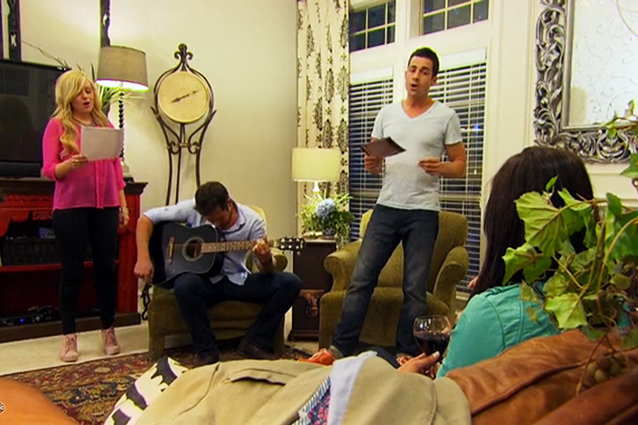 Ah, can you smell that? It's the scent of Hometown Visits in the air! Can you feel the excitement? The earnest conversations with mothers! The sideways glances from skeptical sisters! The deep exploration of a contestant's past! And by deep, I mean totally non-existent! Last night, Desiree visited the hometowns and families of her final four guys. Here are my thoughts.
Zak's Family Chorus
Zak brought Desiree to his home in Dallas, where he described a "dream" that he had, which involved bodies melting into a beach, strange snowflakes, and hundreds of children running. It's called being vulnerable, you guys. Or maybe it was an acid trip. Or just a terrible way to transition into showing off his snow-cone business. Regardless, Zak pulled out all the stops when he had his siblings sing the song he wrote for Desiree. Though I was fully expecting her to say "It was a little pitchy, dawg," she was instead quite moved and got tears in her eyes. Zak ended the visit by confessing his love and giving her a promise ring he had bought in Atlantic City.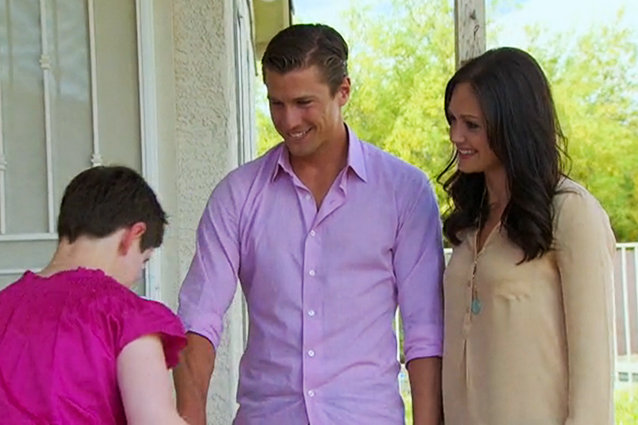 Drew's Whole New World
Drew's family lives in Scottsdale, Arizona, and here, he introduced Desiree to the whole gang, which includes his severely mentally handicapped sister, Melissa. It was sweet watching him interact with her — though I got a little squeamish when Desiree pulled out her patronizing "that's so cute." (It's become clear to me that Desiree's go-to response to anything that makes her uncomfortable is "that's so cute!" Zak's siblings singing? "So cute!" Chris' terrible poetry? "Cute!" Brooks' penis? JK, JK.) Anyway, Drew's family couldn't stop saying stuff like "We've never seen him like this before!" What, you mean with a woman?
Chris' Adjustments
One of the best parts of hometown visits is seeing the contestant in their own element. And we really saw Chris get comfortable in McMinnville, Ore., when his chiropractor dad sucked all the boogers out of his nose. Awesome! My favorite part of this visit, however, was how often Chris' family kept referring to his ex-girlfriend as "the last one." They really hated The Last One. The Last One ruined Chris' life. Even Grandma couldn't stand The Last One! God, we hope The Last One is watching this! Also, Chris delivered the most delusional line of the entire episode: "There's no possible way these feelings are being expressed with anyone else." Oh boy.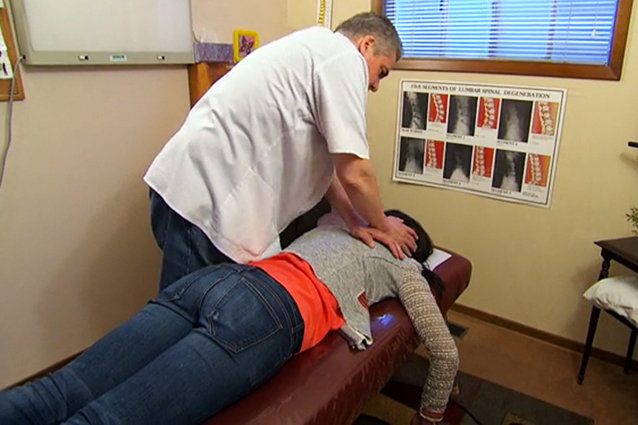 Brooks' Doubts
Desiree really wanted Brooks to say "I love you." All the other guys followed the appropriate Bachelorette timeline and confessed their love on the hometown visit — why couldn't he? Why is he being such a rebel? She probably summed it up best in an unwitting moment of clarity: "He is holding back from falling in love because I am dating other guys." YA THINK? Also, can we just talk about Brooks' eyes? They are always bloodshot. And considering how much he repeated the words "unexpected" and "vulnerable" last night, it begs the question, is Brooks a stoner?
Zak Doesn't Get It
After having a frank conversation with her evil brother Nate (or, as I like to call him, the most honest person in Bachelor/Bachelorette history), Desiree is ready to make her decision. It's getting tough, but she decided to let Zak go. I personally thought he was the most authentic man in the group. In other words, a terrible match for Desiree. After dealing him the blow, Desiree walks a bewildered Zak to the limo. He kept saying "I don't get it." He was truly blindsided. I guess he forgot Desiree has been dating over a dozen men for the past few weeks. Poor Zak! You can engineer my drill fluid any day of the week. Finally, he throws the promise ring out the window. So now we know it must have been extremely cheap. It was purchased in Atlantic City, after all. 
Next week, it's The Men Tell All, and I can't wait to see Chris Harrison get clobbered by a stray punch in the melee that will undoubtedly break out. Fingers crossed!
Tune into The Bachelorette every Monday night at 8/7c on ABC and check Hollywood.com on Tuesdays for Sara Schaefer's reactions to the madness. 

Sara Schaefer is a critically acclaimed stand up comedian, writer, and producer based in New York City. She is the co-host of MTV's late night show Nikki & Sara Live. She won two Emmy awards for her work as the Head Blogger for Late Night with Jimmy Fallon, and has written for BestWeekEver.tv and Who Wants to Be A Millionaire. Sara has appeared on Comedy Central, Late Night with Jimmy Fallon, Best Week Ever, FX, E!, Fuse, and AOL. She also has a popular podcast You Had To Be There with her MTV co-host Nikki Glaser.
Follow Sara on Twitter @saraschaefer1 
Follow Hollywood.com @Hollywood_com
More: 
'The Bachelorette' Recap: The Barcelona Blow-Out
'The Bachelorette' Recap: Armageddon
'The Bachelorette' Recap: Beauty Queens  
---
From Our Partners:


What Happened to 33 Child Stars (Celebuzz)


40 Most Revealing See-Through Red Carpet Looks (Vh1)