Sarah Jessica Parker and Kate Hudson To Guest Star on 'Glee' Next Season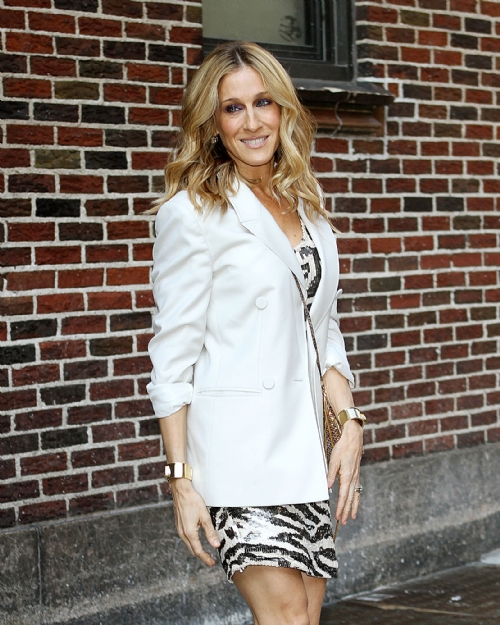 Who could have guessed so many Hollywood stars would want to go back to high school? Joining the likes of Gwyneth Paltrow, Ricky Martin, and Neil Patrick Harris, actresses Sarah Jessica Parker and Kate Hudson will soon make their way through the singing, dancing halls of McKinley High on Glee. Fox announced on Monday that Parker, who will be making her first return to television since Sex and the City, and Hudson, who probably just starred in another romantic comedy in the span of this sentence, will both appear in Season 4 of the Emmy-winner. 
While there's no details about who Parker will play or how long she'll be on the series (Hudson, however, is slated for a six-episode arc) we have some thoughts on what these stars could/should do during their visit to celebrity destination hotspot McKinley High. Since both stars have a musical background (Parker previously appeared on Broadway in shows like Annie and Once Upon A Mattress and Hudson starred in the movie adaptation of the musical Nine) they should have no problem knocking out these numbers: 
SJP: Who wouldn't want to see Carrie Bradshaw sing about shoes or fashion? The 42-year-old could croon Nancy Sinatra's classic "These Boots Were Made For Walking" or Paolo Nutini's "New Shoes" and fans could envision a SATC musical that never happened. Then again, it might be fun to watch the actress revisit her Broadway roots with an encore of "Tomorrow" or "It's a Hard-Knock Life." 
Kate Hudson:
 Since she'll be appearing in six episodes, it's a safe bet the 33-year-old will be playing yet another one of McKinley's subs. My guess is either as a music teacher or a history teacher, since she starred in one of the greatest movies about music in history,
Almost Famous
. Since it would be sacrilege for
Ryan Murphy
to attempt to recreate the magic of the
Elton John
's "Tiny Dancer" singalong (seriously, don't do it) maybe she could bring us through musical history with
Billy Joel
's "We Didn't Start the Fire" or
Nena
's "99 Luftballoons." Then again, she could always just sing some
Muse.
What do you think SJP and Kate Hudson will –– or should –– sing during their respective visits to
Glee
? Share your ideas in the comments section!
[Photo credit: WENN.com] 
More: