Sarah Silverman Posts Her Dropped Pilot Online — 8 Reasons We Wish NBC Had Picked It Up
Sarah Silverman's failed NBC pilot Susan 313 might have not gotten picked up by the network, but that's not going to stop the comedian from sharing her comedy with the public. With the go-ahead from 20th Century Fox, Silverman went to YouTube and posted the pilot on her personal channel JASH (although we wouldn't have been surprised if she posted the video without getting approval first).
The pilot follows a newly single woman named Susan (played by Silverman) who heads back to her old life, and more importantly, her old apartment in an attempt to move on from her 10-year relationship.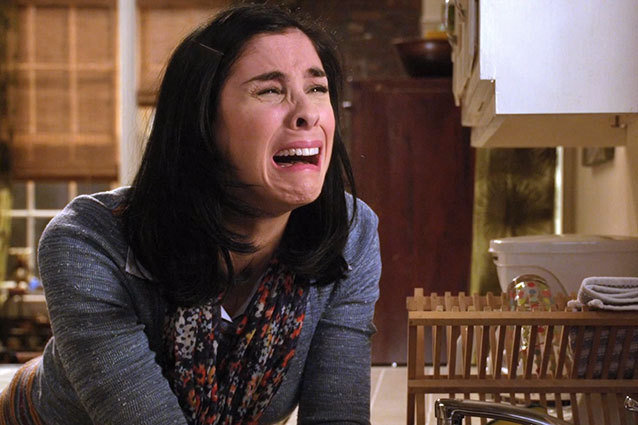 Sarah Silverman/YouTube
Silverman introduces the video by saying, "This isn't like, 'Can you believe they didn't pick this up?!' It's like, 'They probably did the right thing, but we liked the show.'" And you know what? We like the show too. Here's why we think Susan 313 should have been given a chance:
1. The cast includes comedy gold like Tig Notaro (Inside Amy Schumer) and Harris Wittels (Parks and Recreation).
2. The cast also includes actress and writer June Diane Raphael, who deserves her own section on this list. Raphael, also known as Casey Wilson's writing partner, has starred in NTSF:SD:SUV, Drunk History, Burning Love, New Girl, and most recently Parks and Recreation as Tynnyfer. 
3. Jeff Goldblum guest stars as Silverman's ex in the pilot. Jeff Goldblum, guys.
4. Ron Howard was producing. Ron Howard, guys.
5. Within the first five minutes, it's apparent that Susan 313 is already better than NBC's Sean Saves the World. One can only guess as to why the network would pass up on a show that seems to be a match made in heaven and go with one that probably doesn't deserve the NBC time slot.
6. The premise seems somewhat similar (but not too similar) to the pilot of New Girl, and that show's doing well, right?
7. The comedy is still classically Sarah Silverman, but it's much more toned down than we thought it would be. And we mean that in a good way.
8. A broken faucet causes Susan to have a full-on meltdown. And we like that because we all know that stuff like that happens way too often in the real world.
While the pilot didn't get picked up this time around, we can only hope that someone out there likes the comedy enough to make sure more episodes get made. Netflix, are you listening?
Silverman's first HBO stand-up special, We Are Miracles, will air November 23. You can check out more of her work on Jash.com, the online comedy network that she founded along with Michael Cera, Tim Heidecker, Eric Wareheim, and Reggie Watts.