Which of Sasheer Zamata's Original Characters Are Ready For 'SNL'?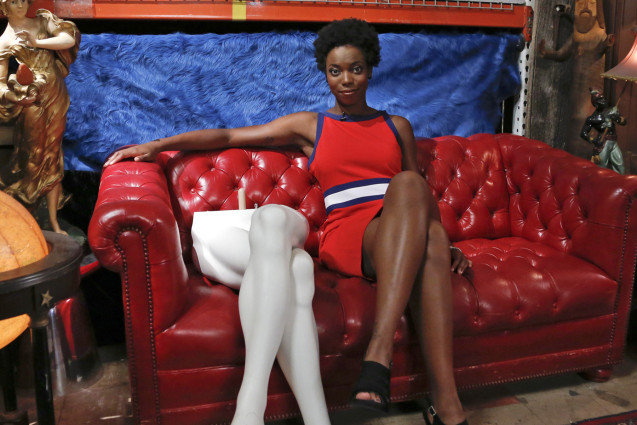 ABC/Getty
After months of controversy and a set of not-so-secret secret emergency showcases, Saturday Night Live has chosen Sasheer Zamata to join the cast midseason as a Featured Player, making her the first black woman to be cast on the show since Maya Rudolph left in 2008. She is set to make her first appearance on the January 18 episode, alongside host and musical guest, Drake. While we're sure that almost immediately after she starts working at Rockefeller Plaza she'll be asked to play Michelle Obama, Beyonce, and Oprah Winfrey in rapid succession, we're really looking forward to seeing some of the original characters and sketches she will bring to the table. As an established writer, comedian and actress, a lot of her work is available online, including her web series, Pursuit of Sexiness, which has given us a glimpse at what's to come when she debuts on SNL. 
In anticipation of her debut, we've taken a look at her original characters to try and determine where they would best fit in on Saturday Night Live, and which current cast members would work well opposite them. 
Character: Thandie Snood, Host of "Fresh Findings"
From: Her character reel
How It Would Work: Of all of the characters featured in Zamata's online videos, Thandie Snood feels the most ready to make the jump to Saturday Night Live. Firstly, she comes with a "talk show" premise already, and since the show has been relying more and more on talk and game show based sketches as of late, this could be a big advantage to helping Thandie Snood make it to air. In addition, the on-air breakdown that includes Thandie giving herself a pep-talk in the mirror and comparing a broken ukulele to the demise of her marriage make the character the right amount of odd to make it easy to expand the character into a longer sketch, resulting in a bigger freak out, or allowing other character the opportunity to react, both of which are things that SNL specializes in when it comes to developing sketches. Just add Kenan Thompson staring at Thandie with his signature wide-eyed confusion, and it could air right away. 
Character: Jen at the Gym
From: Her character reel
How It Would Work: If Thandie was the most SNL-ready character that Zamata has in her arsenal, Jen at the Gym needs the most work to make it the viable focus of a sketch. However, the character's awkward nature and penchant for over-sharing mean that she could easily fit in with SNL's roster of weirdos and oddballs with a little bit of polishing. We could see Jen playing well off of another character or two, maybe as some sort of a double-act, or as the kind of character that pops up briefly for bit parts in sketches, just to add a bit of insanity to the proceedings. Think Triangle Sally meets Sally O' Malley. 
Character: Sassy Mama Girlfriend, Host of "Watch Yo Mouth"
From: Her writing reel
How It Would Work: There's no doubt that SNL will want to have at least one "sassy" character in their docket, so why not take Zamata's vegan cooking show host and find a way to work her into other sketches? While the cooking show featured in Zamata's reel is a great way to showcase the character, and features a great punchline about the side effects of cutting an onion, we see Sassy Mama Girlfriend hosting a character-based talk show. The best SNL talk shows have always revolved around some sort of outlandish, over-the-top host, like with "Bronx Beat" or the "Barry Gibb Talk Show," and we could see this character fitting in well amongst all of those other segments. It would also allow Zamata to keep the beats of sadness and frustration that are featured in the "Watch Yo Mouth" clip, but would also give her more time to explore them while giving Sassy Mama Girlfriend some characters to play off of. Consider it the perfect alternative to "Waking Up With Kimye."
Character: Melanie Mostnik, Host of "Morning After Meals"
From: Her writing reel
How It Would Work: Both SNL and Zamata appear to be big fans of "host" characters, which would give her plenty of opportunities to come up with sketches that work with the tone of the show. But while Melanie would make a decent basis for a game show host, we love the premise of her hosting a cooking show in the kitchen of her one night stands, and think it would work perfectly as a filmed sketch, with Taran Killam or Brooks Wheelan playing the surprised guy. With the right amount of nervous energy on his part, and the right amount of annoyance and forced pleasantness on hers, we could easily see this fitting in on the show. SNL has been utilizing a lot of filmed sketches this season, with varying levels of success, but we think that "Morning After Meals" has an original enough premise that it would wind up being one of the better ones this season. 
Character: N/A, "White Ad Executives Make Commercials for Black People"
From: Her writing reel
How It Would Work: Zamata doesn't actually appear in this sketch, which is one of many commercial parodies that she has featured on her reels, but of all of them, it feels like it would work the best on SNL. Between the Morgan Freeman narration and the ridiculous acting, the sketch balances silliness with satire, which would make it a good fit for the commercial slot on the show. SNL has always been well-known for its commercial parodies, and Zamata's reel proves that she has experience writings ones that are snappy and memorable. Plus, her writing talent will help her establish herself on the show quickly, and would allow her voice from getting lost in bit parts and one-off characters. And since we're sure someone on that show has a Morgan Freeman impression ready to go, she won't have to waste any time when it comes to developing new commercials. 
Character: Male Stand-up
From: Chioke Nassor's Storytime Series
How It Would Work: Zamata uses an obnoxious, aggressive male stand-up character when she is re-imagining an incident where she was flashed on the street from his perspective. He starts off the story loud and brash, full of confidence, and then, as his set goes on, he starts to become sad about the bad first impression he made, and the possible loss of a genuine connection. We could see this character working well as "one of the guys" in a sketch with Jay Pharoah, but the real similarity is with Kyle Mooney, whose Internet sketch group Good Neighbor features a surfer dude named Todd, who also has moments of genuine self-reflection and existential crisis. Mooney's digital sketches have been among the highlights of the new season, and we think that he and Zamata would work well together, creating weird situations and characters that feel the need to think back on their life choices. Together, they will be laughing and learning. 
Character: Cashier; Barista
From: Inside Amy Shumer; Totally Biased with W. Kamau Bell
How It Would Work: Both of these characters are smaller, side characters, who are more of the straight-men than many of Zamata's other characters. However, both show that she plays off of other people really well, which is always an asset in sketch comedy, and that she has the ability to make a quieter character just as memorable as one that is loud and over-the-top. As a featured player, it's likely that Zamata will have to play a similar role in many of the sketches she's in this season, and her annoyed cashier on Inside Amy Shumer proves that she will likely be able to keep from getting lost in all of the insanity that is coming her way. It also would make her a good counterpoint for someone like Kate McKinnon, who specializes in weirdos, as she wouldn't be bowled over the force of McKinnon's characters. Plus, her barista on Totally Biased will hopefully give her the basis for a lot of character whose oddity is scaled down, which would help balance out the structure of the show.