'Saturday Night Live' and Jeremy Renner: A Reason To Give Thanks?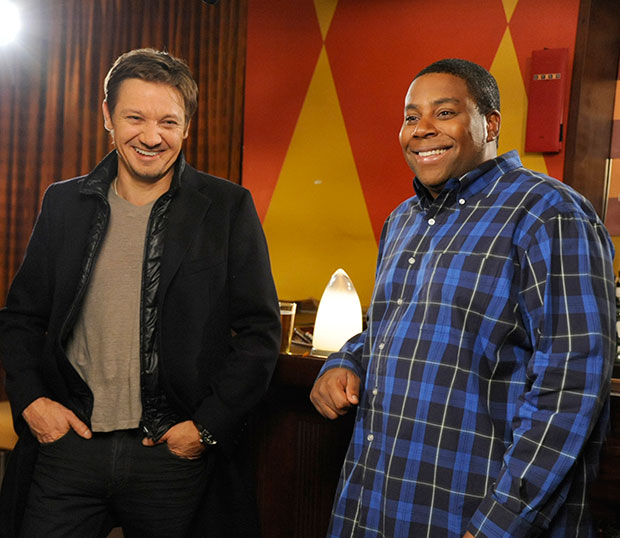 The writing team over at Saturday Night Live and this week's hosts Jeremy Renner both have reasons to be pretty thankful. For the writers, a bountiful feast of comedy gold has been spread out before them: walking punchline Guy Fieri (hopefully Bobby Moynihan has his sunglasses on backwards and is raring to go) had his new Times Square tourist trap restaurant blasted by the New York Times, walking headline former CIA director General David Petraeus' affair scandal took on even more turns, Twinkies are kaput, and, of course, the holiday season is officially upon us. 
While SNL didn't do much with Halloween this year, I get the sneaking suspicion the show won't let Thanksgiving pass them by. Not only does it give them a chance to break out the icky kissing family sketch or an appearance from Bill Hader's Vincent Price, but there's also the opportunity for celebrities that are feeling the early holiday spirit to stop by for a visit. (Last year's Thanksgiving episode cameo was none other than Justin Timberlake.) 
So why should first-time host Renner (pictured here with cast member
Kenan Thompson
) feel thankful? Well, for starters, Season 38 only seems to get better as it does. From
Bruno Mars
to
Louis C.K.
to
Anne Hathaway
, the show has been strong for three episodes in a row, so perhaps Renner could make it four. After all, the Oscar-nominated actor seemed more than game to shed his tough guy persona and go for laughs in this week's
promo
 and he was pretty darn hilarious when he did voice work on
Robot Chicken
. Plus, SNL is long overdue for an
Avengers
spoof.  
Something else in
SNL
and Renner's favor is the fact that this week's musical guest
Maroon 5
is fronted by
Adam Levine
. So not only should their be entertaining musical performances, but there's no doubt that fellow handsome charmer Levine, who is already small screen-friendly on
The Voice
and
American Horror Story
(two shows prime for the taking on
SNL)
, will pop up throughout the show as well. Jeremy Renner and Adam Levine in the same place? Yeah, we'd say those are pretty good reasons to be thankful. 
Saturday Night Live airs at 11:30 PM ET on NBC. Make sure after you tune in to check back with Hollywood.com on Sunday for a full recap of the episode!
[Photo credit: NBC]
More: 
SNL: Jeremy Renner's Promo Lacks Chems, But Has Plenty Of Charms