'Saturday Night Live': Bruno Mars Pulling Double Duty As Host and Musical Guest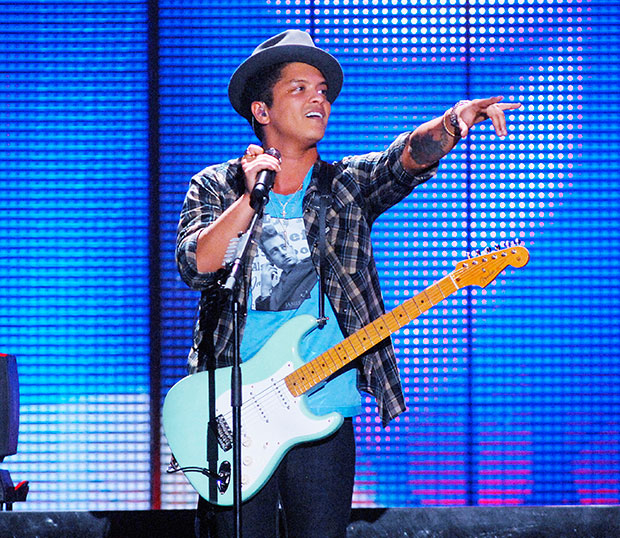 The only thing worse than the reluctant acknowledgment that you aren't married to Justin Timberlake this weekend, is the fact that he won't be hosting or appearing on this weekend's brand new Saturday Night Live. Though, to his credit, he has a pretty valid excuse: by now he's probably on his honeymoon with Jessica Biel. Even the most dedicated SNL viewer would have to admit that one trumps it. 
So while Timberlake and
SNL
fans will have to wait patiently for the triumphant return of the song-and-dance man to the show, there's another talented song-and-dance man taking the stage over at Studio 8H tonight:
Bruno Mars
. 
Though the "Marry You" crooner with an affinity for hats has appeared on the show before (he was the musical guest back in 2010 when Glee star Jane Lynch hosted), he's pulling the rare double duty as both host and musical guest this time around. It's a large feat that's been previously pulled off by the likes of Mick Jagger, Britney Spears, and yep, Timberlake. 
So does the chart-topping pop star have what it takes to be the next JT on
SNL
? We know he's aces at his live performances, but his acting skills are pretty limited. (Though he was, impressively, "Little Elvis" twenty years ago in the comedy
Honeymoon in Vegas
.) Then again, despite what he may think of himself
as a comedic performer
, he certainly brought the funny during this week's
promo with Fred Armisen
. 
We'll be tuning in to Saturday Night Live this evening to see which songs Mars will perform (we're guessing at least one off of his new album Unorthodox Jukebox) and how he fares as a host. We'll have a full recap of the episode tomorrow morning, so be sure to check back. Will  you be tuning in for tonight's SNL? Do you think he has the potential to fill in Timberlake's shoes? Will he bring some much needed pizazz to Season 38, which has gotten off to a bit of a rocky start? Let us know what you think in the comments section! 
[Photo credit: WENN.com] 
More: 
Bruno Mars Is Ready To Bring The Funny On SNL This Weekend. Or Not.