'Saturday Night Live': Host Anne Hathaway Won't Make You (Les) Misérable(s)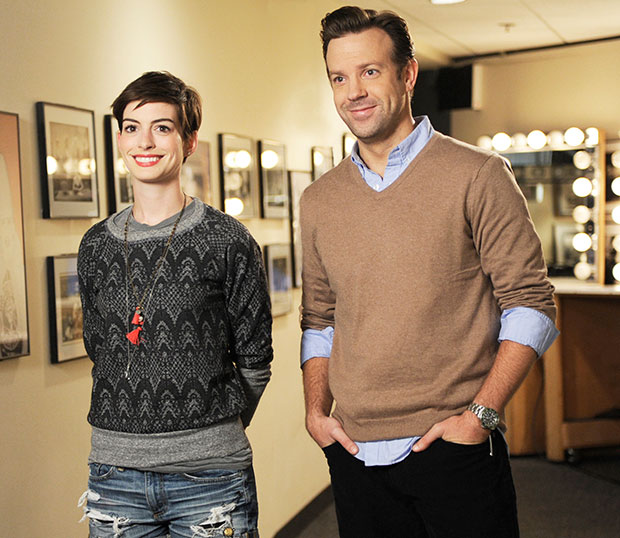 It's only been four years since Les Misérables star Anne Hathaway first hosted Saturday Night Live, but plenty has changed on the sketch comedy show since her debut. The Oct. 4, 2008 episode featured Tina Fey as a pre-election Sarah Palin, back when the Alaska governor was better known for her politics than her hair. The episode featured the first appearance of The Lawrence Welk Show's baby-handed Junice, played by the dearly departed Kristen Wiig. And the episode featured Casey Wilson, long before we realized the underused player-turned-Happy Endings star was actually a-mah-zing.
Still, without being able to see Palin from our house, and without Wiig's hilariously hyper-sexual Junice, this week's Saturday Night Live should go as smoothly as Hathaway's celebrated singing voice. After all, with her second time as host in 2010, Hathaway proved she could keep up with the rest of the sketch comedy show's stellar cast. (Just see her eerily accurate Katie Holmes impression.) Will she help launch another favorite recurring character like Junice? Tune in to find out, and check back here tomorrow for our full recap. One thing's for certain: You won't be Les misérables watching the show.
[Image Credit: Dana Edelson/NBC]
More:
New SNL Promo: Anne Hathaway and Jason Sudeikis Will Blow Your Mind, Man
Saturday Night Live: Anne Hathaway, Jeremy Renner Named As Upcoming Hosts
Anne Hathaway to Reach New Levels of Adorable in Mindy Kalin Rom-Com

60 Celeb Bikini Bodies: Guess Who?!
(Celebuzz)

14-Year-Old 'Modern Family' Star Caught in Bed With 18-Year-Old, Mom Claims (EXCLUSIVE)
(Celebuzz)