'SNL' Recap: Lady Gaga Hosts and Panders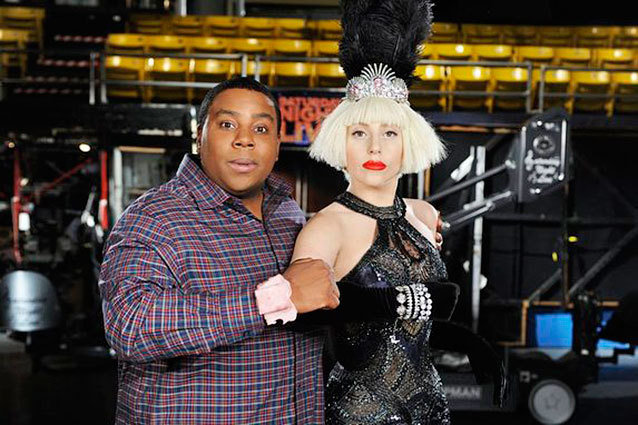 NBC
Live from New York, it's Bobby Moynihan killing it as Mayor Rob Ford! SNL opened successfully, going after the Toronto politician's reputation for smoking crack and generally looking like a maniac. Lady Gaga took the stage for her monologue, singing a parody of her current single "Applause" through a majority of it. This set a vintage variety show tone, but it would have been more interesting to see Gaga not play so obviously to her strengths. It made it seem like she couldn't be funny and engaging on her own, so they went with this instead.
Gaga's monologue made heavy-handed references to "pandering," which was her approach to the first half of the show. Making obvious references to having a penis and ripping off Madonna, Gaga almost exclusively made jokes about herself. Aside from that and a few laughs based on how she looked, the cast shouldered most of the comedic responsibilities. It's then revealed why Gaga seemed so nervous leading up to her musical performance: R. Kelly is here and they have a lot of air humping to do. This attention-grabbing performance was a reminder of what Lady Gaga does best. After delivering musically, she seemed comfortable enough to do a Marisa Tomei impression for no reason in a sketch about a co-op board interview.
SNL's cast really came together this week. The strongest sketches kicked off the first half of the show, with a commercial parody for "Paxil: Presidential Strength." This smart piece featured Jay Pharaoh as Obama, pouring pills into his face over Obamacare problems. Pharaoh continued to execute strong impressions, playing Kanye West in one of the best pieces of the night. With Nasim Pedrad as Kim Kardashian, "Waking up with Kimye" spoofs a morning talk show where Kim is annoying and Kanye is insane. Pedrad and Pharaoh are so funny it made it easier to stomach the second Gaga-has-balls-joke in less than 30 minutes.
The Update desk was so perfect, it's hard to imagine Seth Meyers leaving. But the real performance of the night came from Taran Killam, who appeared as Jebediah Atkinson, the author of a newspaper review panning the Gettysburg Address. Killam portrays an almost Simon Cowell-type of historical speech critic. Great writing like "John F. Kennedy, I'll tell you what you can do for my country. Wrap it up! Next!" plus a hilarious performance from Killam allowed him get away with botching a line. After all, describing the Pearl Harbor speech as "boring ass" is still really funny. 
The show concluded appropriately with Gaga's weird stamp of approval, a purple spandex performance from a tambourine player who's possibly on ecstasy. While Gaga did not offer the same performance as an actor, she more than delivered when it came to her assets, while letting the cast members take the lead and enjoying the ride.