'Saturday Night Live': How Will They Tackle the Election?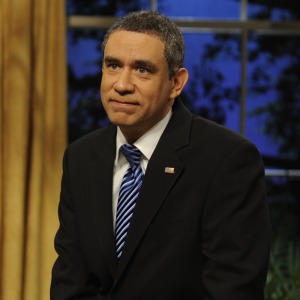 Live from New York, it's Saturday night. While that certainly is true (I am writing this, live, from New York City) we won't hear anyone shout those famous words to open up Saturday Night Live this evening. As Season 37 drew to a close last week, we're entering into the first SNL-less Saturday night until the show returns in the fall. Of course, the writers will have a lot on their plate in anticipation of Season 38, perhaps more than ever in the show's history. 
Not only will
SNL
be shifting gears with the absence of power player
Kristen Wiig
(and though still unconfirmed, likely cast members
Jason Sudeikis and Andy Samberg
 as well) but they'll have to do so during an election year. SNL has always played an important role in the pop culture and political landscape. Look no further than the impact Tina Fey's take on Vice Presidential candidate
Sarah Palin
had on the public's opinion and the shockwaves it produced when the candidates, including President
Barack Obama
and Senator
John McCain
appeared as themselves on the program. It was as beneficial to the candidates as it was to
SNL
's ratings in 2008. 
While the show will always have Weekend Update as a vehicle for political humor, what about all those inevitable cold opens about the debates and speeches? Who will take on the task this year?
With Sudeikis (probably, maybe, definitely) out the door there's a void in the upcoming season for who will play GOP candidate
Mitt Romney
. Since Romney falls into the dreaded pit of boredom that befell former Presidential candidate John Kerry and all those who attempted to make him seem funny against
Will Ferrell
's classic take on former President
George W. Bush
, it will take a skilled actor to work with what they've got. Since
Taran Killam
has been firing on all cylinders since his addition to the show and promises, alongside heavy hitter
Bill Hader
, it would make sense for the show gave him the opportunity to play the Republican nominee. 
Since Sudeikis also played Vice President Joe Biden (how were they going to pull that feat off?) that leaves yet another vacancy in a big election year. My vote on this one goes to none other than Hader, who despite looking nothing like Biden, can pull off just about anything on the show. 
As for Obama, it's a safe bet Fred Armisen will continue to play the Commander-in-Chief. A shame really, as Armisen has never quite nailed down a spot-on impression of the President. While
Jay Pharoah
 still has yet to prove himself on the show to do anything aside from his
Will Smith
and
Denzel Washington
impressions, it might be in everyone's best interest to allow Pharoah to play to his one strong suit. 
SNL
could still surprise us with a newcomer whose Presidential imitation could rank with
Phil Hartman
's
Bill Clinton
or Ferrell's Bush. That's a promise any fan could get behind. 
Who gets your vote for who should play the politicians in this year's election on SNL? Cast your, well, vote in the comments section below. 
[Photo credit: NBC] 
More: