'Saturday Night Live' Recap: Kristen Wiig Deserved Better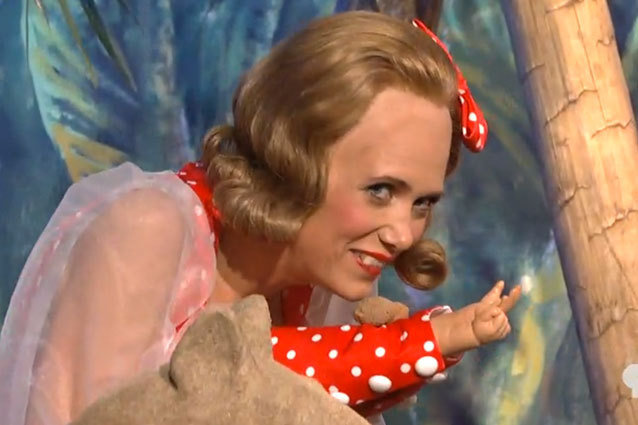 If Saturday Night Live can't even muster a decent episode to hail the return of one of its greats, this show has a real problem. Anyone with a funny bone was looking forward to the return of Kristen Wiig to Studio 8H for the first time May 11 since her departure a year ago. And though we got to see some of her returning characters like Gilly, Dooneese and the Target Lady, the 90-minute installment suffered from wildly deficient writing and several structure-less sketches that truly did not know how or when to end.
Which is a shame because Wiig's return began promisingly enough. She was so excited to take the stage as host that she found herself clapping, just like the audience, then endearingly said, "Why am I clapping?" A totally natural, unplanned moment that captures the endearing awkwardness Wiig inhabits at her best. She talked about how it felt like a year since she had last been on SNL, even though it had really only been 11 months and 30 days. Then she led us on a tour of the studio to show us the SNL she loves and remembers — only to find out how different it's become in just a year. Her office is now a janitor's closet in which Jonah Hill and Maya Rudolph were making out! Hill said they were trying to make a baby…which was odd considering that Rudolph is already pregnant. "It worked!" they both shouted in unison. Wiig then spoke to Lorne Michaels and asked him if it's true that if you screw up the monologue you can never host again. Michaels denied it, then turned to Gilly and said, "You told her?" A rare use of a pre-taped element in an opening monologue. All of this was great, which was surprising given how listless a cold open it had been.
C-SPAN Benghazi Hearing Cold Open 
SNL began with a critique of the ongoing hearings on Capitol Hill related to the attacks on the U.S. consulate in Benghazi last September, and the belief by some that the Obama administration's response to those attacks was inadequate. They quickly became politicized, and many have argued that Republicans in the House and Senate are keeping these hearings going to discredit Hillary Clinton, who they believe will make a presidential run in 2016. That was certainly the point-of-view SNL took, anyway. They presented Republican Congressman Darrell Issa (Bill Hader) as being so craven to get media attention for the hearings, where there presently has been little, that he summoned convicted murderer Jodi Arias to testify — in a bid to boost ratings. And that was pretty much all the joke there was: just a feeble attempt to criticize certain politicians' bids for attention and failure to attain it. They could at least have made a joke about how Nancy Grace and Ashley Banfield had descended upon Washington to cover Arias' testimony, but oh well. 
1-800-FLOWERS
This was a Mother's Day SNL, so they couldn't resist fitting in a fauxmercial related to a popular Mother's Day service, 1-800-FLOWERS. Except that this commercial showed how annoying mothers can sometimes be. The best thing about it was that Kate McKinnon was playing Kristen Wiig's mom, and despite being younger than Wiig, McKinnon stepped into the mom pants perfectly. A series of awkward exchanges ensued: Mom pressing a waiter to make sure nuts aren't in eggs benedict, when nuts are never in eggs benedict; Mom rooting through her purse and saying stuff like "God, I wish I was a lesbian so I wouldn't have to carry a purse"; Mom revealing that she and Dad had recently watched a porno. Best of all, Bill Hader showed up as Dad. 
The Californians: Karina Returns
Fred Armisen's sunglass-wearing Californian was still weeping over the loss of his beloved Karina: "Why did you have to die, Karina? That was a jerk move!" Oddly enough a workman named Brad, with very soft hands, mysteriously showed up and started making out with Devin, who had just returned from Comic-Con where he met Darth Vader. Turns out, Brad was…well, you see for yourself. But my favorite line was when Armisen told Devin to "go to Magic Mountain and ride Riddler's Revenge."
New Disney Show: Aw, Nuts! Mom's a Ghost!
Pretty much from here on out, you'd wish that you had some of those agave margaritas the Californians were drinking. This was a parody of a Wizards of Waverly Place-type show, full of bright colors and brimming with spunk, about two kids whose mother is drowned in Korea's Han River by her murderous boyfriend, only to return as a Korean water ghost. Yes, her Seoul…I mean, soul, lives on! Like everything else we'd see from this point in Wiig's episode, it was a one-joke idea that didn't evolve into anything more.
The Lawrence Welk Show's Celebration of Summer
"Is it me or do the bubbles smell bad tonight?" Armisen's Lawrence Welk asked. No, it wasn't us. It was the writing. Dooneese made her triumphant return — in a sundress! — for Welk's celebration of summer, with some seaside frolicking and Jason Sudeikis as a perfectly-coifed Bobby Burgess-style crooner. As a Lawrence Welk fan myself — I've even been to his Champagne Theatre in Branson, Mo, and don't even get me started on my collection of Lennon Sisters CDs — I'm inclined to like these sketches. But the only good line here was Welk's introduction of Dooneese and her fellow girls from the Finger Lakes: "You know what they say about the Finger Lakes? If a girl has a favorite finger, then she doesn't need a man….There was supposed to be a 'lake' in there."
Weekend Update: Highlights
While we're talking about '60s and '70s TV, let me just say I loved the Claudine Longet look Wiig sported when introducing musical guests Vampire Weekend: a black blouse with a high white collar, exactly like you'd have found Longet wearing on The Andy Williams Show back in the day. Vampire Weekend played their glitchy, tinkly pop with annoying Auto-Tuned vocals, and then it was into Weekend Update! There were some good moments here, like Seth Meyers' making fun of the NRA's new quick-draw gun-pouch that they're including in a line of women's purses: "Because if there's one thing women are good at it's retrieving something quickly from their purse." He also talked about how Cops is moving from Fox after its 25-year-run on the network to Spike TV. "If you're not familiar with Spike TV, it's what's playing in the background when people get arrested on Cops." He also reported, quite rightly, that while Tom Hanks has been found to be the most trusted person in America, Tom Hanks' Conductor in The Polar Express is the least trusted person in America. Pretty funny, if a joke that's nine-years old.
Weekend Update: Anthony Crispino
The befuddled, falsetto-prone correspondent tried to feed Meyers with as much misinformation as possible. Which means he'd be a strong candidate to join the CNN news team! Zing! My favorite was when he told Meyers that "Ben Gazzara had lost his hearing," when he meant to say Congress was holding hearings about Benghazi. RIP Ben Gazzara.
Target Lady
What would Kristen Wiig's return be without a Target Lady sketch? There were a couple good moments here, like Target Lady's recognition that a stereotype had just been busted when she met a lesbian who wasn't wearing a vest. But the sketch as a whole revealed the problems with all of Wiig's returning characters. She, and the SNL writers, just offered up more of the same — like she hadn't been gone for a whole year. These characters have no arcs, no capacity for change, just repetition. It's like the disappointment that comes after you're really excited to meet old friends after a long absence, then finally do and you discover that you've changed but your friends haven't at all.
Acupuncture
Watch this one at your own peril, and preferably on an empty stomach. SNL has a long history of blood-gushing gags, but they're almost always awful. They don't involve anything beyond the idea that blood spurting in a fountain is somehow supposed to be funny…when most people's kneejerk reaction to the sight of blood is queasiness or outright revulsion. You've been warned.
Double Date
Another one-joke idea that goes nowhere, two cougar divorcees go on a double-date with two six-graders. The ladies have their cosmos, the guys their sodas. The ladies seductively sip their straws and it becomes obvious pretty quick that they are really interested in these 12-year-olds, because that's how desperate they are. They even think riding wave-runners is cool! (FYI: This video and the one for "Socialite CD" haven't been posted yet.)
Socialite CD
Kenan Thompson hosts this late-night infomercial touting an album of songs by reality-show housewives, a la "Tardy for the Party." One song called "Fashion Forward" was rightly described not as a song but as a list. It also featured what may be the first example ever of Auto-Tuned harmony, with three of the housewives blending their artificially manipulated pipes in unison. The name of the disc? Classy Sexy Elegnace, misspelling intentional because that's how shoddy of a production it is.
In short, a deeply disappointing night. Saturday Night Live remains the single greatest expression of the phrase "hope springs eternal." We watch year after year, we give it mounds of coverage hoping that it will be funny, or at least amusing. And it almost never is. Is this a testament to the viewing public's tremendous capacity for faith? Or does SNL actually reveal the tenuous boundary between faith and insanity? We keep watching SNL week-to-week, year-over-year, hoping for a different (funny) outcome that may never come. Isn't that indeed the definition of insanity?
Follow Christian Blauvelt on Twitter @Ctblauvelt
More:
'Saturday Night Live' Preview: Will Kristen Wiig's Return Be Just Like Old Times?
Kristen Wiig is Back on SNL and All Feels Right With the World Again — PROMO
'SNL' Recap: Zach Galifianakis and a Dragon Costume
---
From Our Partners:


Watch Justin Bieber Attacked in Dubai (Celebuzz)


33 Child Stars: Where Are They Now? (Celebuzz)