'Saturday Night Live' Recap: Alec Baldwin Joins Martin Short, Samuel L. Jackson Curses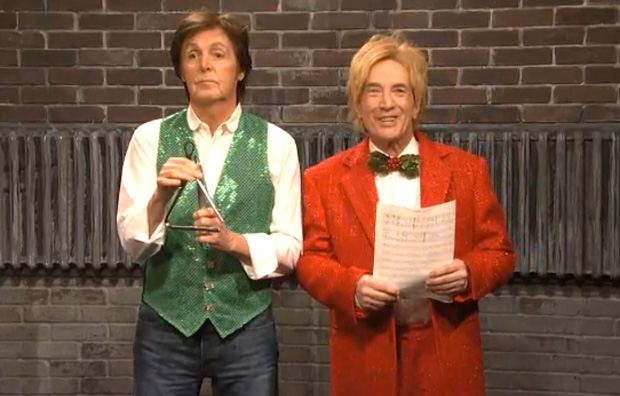 UPDATE: Samuel L. Jackson denied dropping an f-bomb (but does admit to cursing) on Twitter:
I only said FUH not FUCK!K was sposed to cut off da BULLSHIT, blew it!! twitter.com/SamuelLJackson…
— Samuel L. Jackson (@SamuelLJackson) December 16, 2012
EARLIER: We're used to cheering like a Spartan whenever Will Ferrell, Tina Fey, Jimmy Fallon or another recently departed Saturday Night Live alum returns to Studio 8H. But SNL fans found themselves disappointed when a former SNL legend returned to glory on the sketch comedy show's stage. Dana Carvey — also known as one of the main reasons (save Chris Farley) the early 1990s is still held up on an SNL pedestal — seemed a promising host for fans in 2011, but, sadly, the actor's revival of popular characters like Wayne's World's Wayne, Ross Perot, and Church Lady seemed more unoriginal than nostalgic.
So, considering Carvey's stint, Martin Short's hosting gig Saturday seemed worrisome — would we be forced to sit through Ed Grimley and Jerry Lewis sketches years after we already grew sick of them watching best of SNL VHS tapes?
As it turned out, absolutely not. Short proved to be a delightful host who was just as hilarious as he was current. We were subjected to a split second of Ed Grimley, but only during Short's jolly monologue, which brought us even more exciting SNL characters of seasons past. Well, rather, cast members — Fey, Fallon, Kristen Wiig (complete with Junice baby hand), and honorary cast member Tom Hanks (making his second SNL cameo this year) all joined in Short's Christmas-centric musical number, which marked the seventh this season. This week, however, the musical monologue was worth it — it's hard to say what sight was better: Abe Lincoln with a llama or Short planting a smooch on the predictably stoic Lorne Michaels. Still, each paled in comparison to Short's astute ad lib, "How does a man sit on a piano, I wonder?"
The SNL cameos continued with "A Tony Bennett Christmas," headed up by Alec Baldwin's fan-favorite impression of the crooner. The sketch veered into ESPN Classic territory with its ad-shilling bathroom humor ("It's sure easy to get down in the dumps when you can't take one"), but, then again, anything that reminds us of Will Forte's Greg Stink picks us out of the dumps.
But, following the sketch, we hardly said "Cheerio!" to bathroom humor. The next sketch — about a royal OBGYN being trained to treat the Duchess of Cambridge — mainly centered on euphemisms for female genitalia: "The King-Maker," "Thomas' English Muffin," and, of course, "Her Downton Abbey" among them. Anyone else in the role of the consultant tasked with prepping Bill Hader's OBGYN would have been groan-worthy, but Short even managed to make a dated Camilla Parker-Bowles funnier than the prospect of her Downton Abbey being guarded by a troll that asks you a riddle. Just ask Hader, who couldn't keep a straight face while Short revealed euphemisms for the anal cavity. (In case you were wondering, "The Church of Taint Andrews" is one.)
More impressive, though, was Short's impeccable impression of Larry David as Linus in an adult-themed, star-studded Charlie Brown special, You're a Rat Bastard, Charlie Brown. Typically, Hader's impersonations steal SNL sketches, but his Al Pacino paled in comparison to Short's David. The actor even looked like the Curb Your Enthusiasm star. Other highlights included Taran Killam's Michael Keaton and Jason Sudeikis' Philip Seymour Hoffman — though I can't be the only one wishing Nasim Pedrad's celebrity impressions all didn't sound like Nasim Pedrad. Kristin Chenoweth deserves better — and no, this time around, I'm not talking about Jake Pavelka.
Speaking of zingers, Seth Meyers' one-liners were the highlight of Weekend Update, attracting more laughs than Vanessa Bayer's adorably funny roasting Bar Mitzvah boy and Cecily Strong's ho-hum revival of Girl You Wish You Hadn't Started a Conversation With at a Party. Jokes about Jersey Shore's finale and criticism of Barbara Walters for asking Hillary Clinton about her hair over her policies were astute enough, but the funniest one-liner of the night was also the bluest: "An Ohio woman who gave birth to her daughter at 12:12 p.m. on 12-12-12 has named her 'Forever.'  Which I suspect is how long she'll be a stripper."
Samuel L. Jackson, who made a cameo alongside SNL's stars in Short's monologue, returned to appear in Kenan Thompson's recurring — but long dormant — "What's Up With That?" sketch. The premise remains the same, and so does Sudeikis' jaunty tracksuit dancing — but this week, the sketch came with a NSFW twist. Pulling a Jenny Slate, Jackson dropped an f-bomb at the end of "What's Up With That?" and followed it up with a "bulls–t." "Come on now, that costs money," Thompson ad-libbed. Your move, FCC.
SNL rounded out its episode with a sketch about two old friends (Fred Armisen and Short) with bizarre hobbies (acting for EMT training) and habits (eating 25 bagels a day) that was sorely lacking a Stefon, and a Christmas pageant audition sketch with Short and musical guest Paul McCartney that quickly turned into a Christmas-themed performance from the former Beatle. But while McCartney turned in two other lovely performances — including a reprise of his "Valentine" single — the rock legend was overshadowed by SNL's touching cold open, which featured the New York Childrens Chorus singing "Silent Night" as a quiet tribute to the Sandy Hook tragedy. The moment echoed Paul Simon's post-9/11 performance of "The Boxer" on the sketch comedy series, and proved, once again, SNL can be as heartfelt as it is funny. We might not be able to sleep in heavenly peace for some time, but dammit if SNL didn't help us try.
[Image Credit: NBC]
More:
Saturday Night Live: Should Series Address Sandy Hook Tragedy?
Saturday Night Live Recap: Fast Forwarding With Jamie Foxx
Saturday Night Live Promo: Martin Short Keeps A Comedy Tradition Going