'Saturday Night Live' Recap: Bruno Mars Was Out Of This World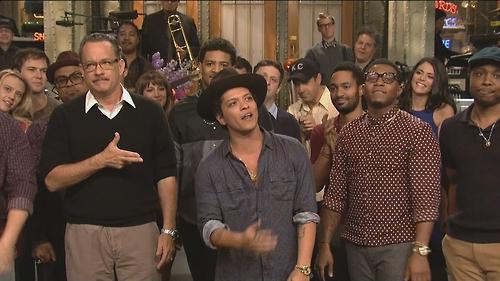 Bruno Mars, you sly dog, you. Earlier this week the singer claimed he wasn't going to be funny during his first go as a Saturday Night Live host, but who could have guessed that he'd not only be funny on the show, but also be the best host of Season 38 so far? (He'll certainly have some competition when the funniest man in showbiz Louis C.K. hosts in two weeks.) 
The episode kicked off, predictably, with a cold open riffing on the Town Hall Presidential debate that took place earlier in the week. While the whole thing dragged a little too long (10 minutes, to be exact… if you want to fight me on that, I'll have Candy get the transcripts) and had no mention of "binders full of women," it was all worth the wait to see Jay Pharoah do the mic drop we all wished President Barack Obama had done during the debate and Tom Hanks pop up for the first of his four wonderful surprise appearances during the show. No live television blunders here: Hanks nailed it and earned solid laughs as a nervous Town Hall attendee. When can he host again? 
But it was time for the real star of the show, host/musical guest Bruno Mars, to take the stage. And, boy, did he! The Grammy-winning artist put fellow song-and-dance openers Seth MacFarlane and Christina Applegate to shame with his catchy, self-aware (even he pondered "Can I be like Timberlake?"), and undeniably entertaining opening monologue number. At one point, the hat-friendly singer assured the crowd "I'll be amazing, I'll be great" and he wasn't kidding. Watch:
Even when the material wasn't at its best, like the mediocre "Haters" talk show sketch (in which Mars donned drag to play a fast-talking teen with attitude named Crystal) or the downright terrible Yeti cabin getaway sketch, the pop star gave the same level of commitment to each bit. Luckily for Mars, and viewers, those two were the only real lowlights of an otherwise truly standout episode. 
In addition to Taran Killam's very funny, splendiferous, mintalicious — albeit, slightly too long-running as it certainly lost steam by the fourth go — take on Brad Pitt's cliched, terrible and prime-for-the-mocking Chanel ad ("Do I look super homeless?"), which took up a good portion of the show, the episode was all but Mars' for the taking. While the Pandora sketch wasn't exactly the funniest or most creative sketch of the night (let's be honest, it was just an excuse to have him sing more), it was hard not to be impressed by the host's wide range of imitations of everyone from Michael Jackson to Justin Bieber to Katy Perry to Steven Tyler to — who knew? — Green Day's Billie Joe Armstrong. Watch the best of the four faux Pitt ads here: 
Instead, my favorite sketch of the night belonged to the delightfully off-beat and surprisingly moving "Sad Mouse." Less of a sketch and more of a short film, Mars played a depressed man who dressed up as one of those depressing mascots that wave to tourists in Times Square. Set to melodramatic music, the soul-crushed performer had a smoke and laid down in the middle of a busy New York City street. (For any non-NYC readers, let me assure you, the sight of a patriotic mouse mascot at the end of his rope would not be out of the ordinary.) Just as all hope was lost, Mars' mouse found another down-on-their-luck mascot. The two locked eyes (well, mascot eyes, anyway), waved at each other, and walked off into the night together. If this is how SNL is hoping to fill the Digital Short void, they're off to a good start.  Check it out: 
If there was anyone or anything that was going to get the SNL audience as riled up as Mars (who put on two solid musical performances with the head-bopping "Locked Out of Heaven" and the soulful "Young Girls," both off his upcoming album Unorthodox Jukebox) and Hanks, it was the one-and-only Stefon. SNL fans have been eagerly waiting since May to see their favorite Weekend Update city correspondent and Bill Hader and his already iconic character did not disappoint. 
Stefon's Halloween-themed visit had everything: Stefon's dog Bark Ruffalo, fraisans (that's raisins that look like Frasier), a human piñata (that's a midget — sorry, fun size person — that eats a lot of candy and throws up), and Hader's biggest scene break yet. It was Jewish Dracula Sidney Applebaum that, understandably, did him in. It was all well worth the wait. Plus, there was a rare bonus Stefon appearance when he introduced Mars' second musical performance, while Hanks took care of the first. Watch Stefon's welcome return here: 
Since this was technically 2012's Halloween episode of SNL (though there wasn't much focus or mention of it), the creepy and consistently funny animatronics-come-to-life sketch made an overdue appearance this time. In addition to Killam's astoundingly impressive creepy robot moves, this installment featured Mars (who kept up effortlessly with Killam) and Hanks (who made a hilarious nod to how everybody thinks he has a "very likable face") as a murderous ride characters. Watch: 
Typically the last sketch of an SNL episode is the worst, but since they'd already gotten that one out of the way with the uncomfortably bad Yeti sketch, they instead filled the space with one of their strongest recurring bits: a commercial for the latest festival from the sadly fictitious Under Underground Records. Imagine if Stefon was a Juggalo and you'd get something like this demented hilarity. 
It had everything: a band named Todd Akin and the Legitimate Rapes, a Lincoln/Douglas debate reenacted by Linkin Park and Buster Douglas, a job interview with Herman Cain, Ruth Bader Ginsberg (the already great Kate McKinnon) doing a Borat impression, and the reappearance (and subsequent re-death) of Bobby Moynihan's Ass Dan and his twin Butt Dave. RIP. Even with his brief moment in the sketch as fake ID distributor Troy Kamanawana, Mars was getting big laughs and applause right up until the last minute. Justin Timberlake, you might not want to take too long of a honeymoon, Mars has some serious potential to take your spot. 
What did you think of Bruno Mars' turn as both host and musical guest? Which sketch was your favorite? Least favorite? Sound off in the comments section below. 
[Photo credit: NBC] 
More: 
From Our Partners:

Jaw-Dropping Actor Transformations
(Moviefone)

(Moviefone)