'Saturday Night Live' Recap: Eli Manning Scores, Martin Scorsese Surprises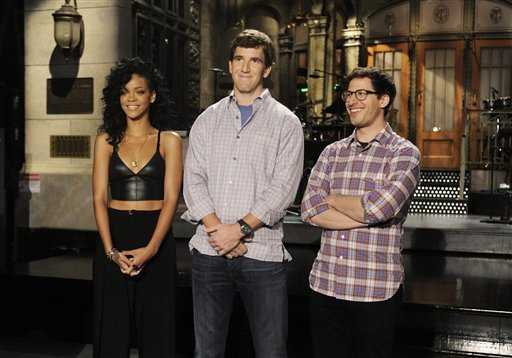 If there's anyone who knows a thing or two about having to prove himself when the odds are stacked against him, it's
Eli Manning
. The two-time Super Bowl champ went in to last night's
Saturday Night Live
with the task of living up to great athlete hosts of
SNL
past, including his older brother
Peyton Manning
. 
While Lil' Manning has always seemed like a sweet and approachable kind of fellow, Big Bro has been seen as the mainstream star thanks to his funny turns in commercials and, yes, SNL. Of course, if there's anything the New York Giants quarterback does best, it's defy expectations. (Just ask the New England Patriots.) 
Kicking things off with a surprisingly funny cold open that poked fun at Fox & Friends and Rupert Murdoch (of course, anything in comparison to yet another bland Mitt Romney sketch seems downright hilarious) first-time host Eli soon took the stage of Studio 8H and looked poised to take New York City by storm…again. 
The relaxed Manning performed a solid, though not particularly daring opening monologue about being a "real New Yorker," in which he suggested that tourists do things like see Cats on Broadway and go to New Jersey for some authentic Italian food at the Olive Garden. Which is completely ridiculous because all real New Yorkers know there's an Olive Garden in Times Square. 
After a faux commercial for Amazon shopping on Mother's Day, which served as a horribly embarassing reminder to not get our moms a Kindle or Fifty Shades of Grey, Manning got his first real shot at showing off his comedic chops during the motion-capture Madden video game sketch. Taran Killam made a brief, but welcome return as Tim Tebow and Jay Pharoah shimmied into his Victor Cruuuuuuuz impression, but it was Eli who ran away with the whole thing playing himself. 
While SNL tapped into the aw-shucks quarterback's vanilla charms, that didn't make them any less funny. Case in point: Eli not being able to come up with a cool end zone dance and instead mimed drinking water, brushing flowing hair, hugging himself, nervously throwing a grenade, and the big winner, eating a sandwich. One can only hope that by next season Manning actually does some of these on the field. Check it out:
Good guy Eli took the backseat for the next sketch in which he played a man on trial who was only truly guilty of mass sexting (a nice little jab at some of his NFL cohorts, eh?) and sketchy internet history searches. The football star easily kept up with the comedic pacing of the sketch and his faces for text message emoticons were the things gifs were made for. But it was his turn as the butt-kicking superhero for little brothers everywhere that followed that solidified his spot as one of this season's best and one of the best athlete hosts. Rivaling
Peyton's classic United Way sketch
, an ad for Eli's "Little Brothers" program, which consisted of the sports star helping younger brothers everywhere get revenge on their torturous older siblings ("I'm your worst f***ing nightmare," he warns one) was the surefire crowd-pleaser
SNL
has needed all season. Watch it below, and "learn to treat your brother with respect, Peyton": 
: 
Of course, Eli couldn't save the day all night. Manning played an Occupy Wall Street organizer in
Bill Hader
's rare misfire, the frequently used, but infrequently funny Herb Welch bit (sorry, but Drunk Uncle is the only crotchety voice of reason on
SNL
) and later as a guy trapped in a game show nightmare for the unnervingly outdated 'What Is This' sketch. (Women are clingy! Get it?!) Worst though came when Lil' Manning
ignored our warning to NOT wear a dress
for a sketch when he donned a gaudy yellow frock and a huge wig for an eye roll-worthy sketch about a drag competition. A drag, indeed. 
Still, they were the rare blips for an episode that was packed with highlights, including a short, but touching tribute to the late
Adam Yauch
. Much like how they paid tribute to
Whitney Houston
earlier this season, SNL paid their respects to
The Beastie Boys
member by showing a snippet of their visit to the show when they performed their classic "Sure Shot." 
Then there was the surprise cameos during Weekend Update from
Sacha Baron Cohen
, in character as General Aladeen, as well as
Martin Scorsese
as himself, being held hostage in order to talk about
The Dictator
. While Cohen's General Aladeen stunts felt dated by the time he dumped "ashes" on
Ryan Seacrest
at the Oscars, it's always fun to watch a legendary director poke fun at themselves and their work ("You think this is torture? I had to sit through 
Aviator
") which
SNL
has done for the past two episodes, first with
Steven Spielberg
and last night with an equally game Scorsese. See it here:
For whatever reason
SNL
opted not to use
Rihanna
for any sketches, despite her previous turn in the viral favorite "Shy Ronnie." Instead, the songstress sang two songs (or, as appearances would have it, lip-synched) during her turn as last night's musical guest. While there wasn't anything terribly memorable from Rihanna's performances of "Birthday Cake" or "Where Have You Been", aside from the pop star's enviable bod or those incredibly over-the-top set pieces, it was refreshing to see a musical guest who wasn't afraid to show how much fun they were having. Rihanna cracked smiles during both of her performances, which was more infectious than either of those songs. 
The latter half of the show, as is so often the case with SNL, took a turn for the weird with the polarizing Helga Lately sketch. Twitter seemed to be split straight down the middle with folks who found the Swedish version of E!'s Chelsea Lately inspired or grating (while Eli's Swedish football player and the idea of "Jersey Fjord" made me chuckle, I found myself leaning towards the latter.) 
The host ended the night on a high note, er, so to speak, with a Cheech & Chong sketch in which Eli played an "all-American wet blanket" who tries to put an end to the weed-smoking duo's fun. Don't worry Eli, the last thing you did last night was put an end to anyone's fun. In fact, viewers should have been awfully proud of you, baby bro. This one was a real winner. 
Do you agree that Eli Manning did a solid job as a surprisingly impressive host who was willing to poke fun at his gee-whiz persona? Or were you underwhelmed by him? What was your favorite part of the night? Least favorite? What did you think of Rihanna's performances? Was it all about Martin Scorsese for you or Kristen Wiig's take on the New Jersey tanning mom? Sound off in the comments section below!
[Photo credit: NBC] 
More:
Watch Eli Manning's Saturday Night Live Promo: 'He's Like a Tree!'