'Saturday Night Live' Recap: Joseph Gordon-Levitt Lets Loose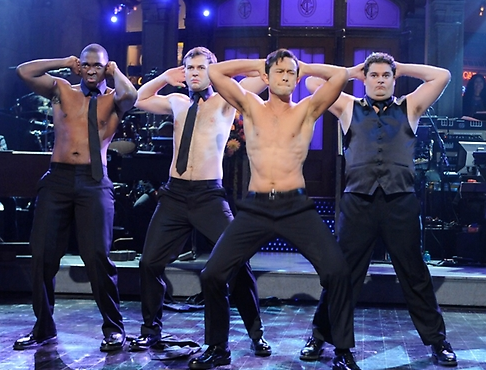 Last week, Seth MacFarlane let it be known that the premiere episode was going to be all about the boys. From the juvenile jokes to skits on President Barack Obama and Ryan Lochte (hell Jeah!), it was a true boys-only club kind of a night. Well, perhaps with Joseph Gordon-Levitt hosting the second episode — and for the second time — the star of such lady-friendly flicks as 10 Things I Hate About You and 500 Days of Summer, women will be more of a focus. Kristen Wiig and Abbey Elliott may have moved on, but that's even more of a reason to make sure Saturday Night Live doesn't lose its funny female niche.
ONTO THE HIGHLIGHTS!
Off to a FINE Start: Things fired off a bit differently this time around as Kelly Ripa's (Nasim Pedrad) big blink-less eyes stared at audiences in the first skit. Yes, it was LIVE! with Kelly and Michael, and the Blind Sideyness of it all was enough to conjure a few belly laughs. Pharoah delivered a spot-on Strahan impersonation, especially when he squeaked through gapped front teeth about how amazing it is that HE GETS PAID to do essentially nothing! Their first guest was good ole' Robert Pattinson (Bill Hader). The smoldering scowl, the gentle hair toss, the brooding… oh it was glorious. I think it's safe to say we've made up for last week's boys show already.
Shirtless Gordon-Levitt!: What an opening monologue, you guys! The episode could have ended right here and it would have been just fine. More than fine! Because you know why? JGL heard a loud cry, a plea, to remove his shirt. And Lord did he listen. I should have known when he first walked on stage, chipper as ever and looking a bit pale in the face. The nerves, of course. And although his Looper line about Ashton Kutcher being the real life younger version of Bruce Willis, or something, I don't know it didn't really make sense, it was quickly forgotten when he segwayed into his Magic Mike number and RIPPED HIS SUIT OFF. At first, he didn't bare it all. He teased us a little keeping a tasteful vest on. But then, he ripped some more. And yes, HIS SHIRT CAME OFF. He has abs! And no hair! Who knew?! No one knew, no one until tonight. This changes everything.
Tres Equis: Or, The Son Of The Most Interesting Man In The World. Creative, catchy accent, manicured facial hair, it was all there! All you need to know: "He can make a woman cringe, just by entering the room." Overall, a short and sweet skit, though I fear JGL's gotten exceptionally attached to this character — he's having way too much fun in all white. I don't think this is the last we'll see of TSOTMIMITW. I don't think so at all.
Tampons and Conservatives: We're back to the female portion of the evening. It doesn't get anymore estrogeny than a tampon commercial, and that is exactly what Vanessa Bayer owned. She was fantastic. I see Wiig in her, I do, and it's getting me all tingly. And what's better than spoofing a fluffy-haired, soft-voiced menstruating lady, you ask? Well, a clan of republicans handing out the latest brand: g.o.b. "Now with wings!", that's what.
Mumford & Sons: The musical entertainment of the night! They were everything you'd expect. The band rocked out, extremely aggressively actually, with "I Will Wait." It was super enjoyable, even for non-hipsters (though they really could have trimmed the facial hair just a bit). I was actually pleased to not hear "Little Lion Man," though let's be honest, an emo song is an emo song is an emo song.
Weekend Update: It's in good hands with Seth Myers, this I know to be true. The one negative thing I can say, it needs to be cut down a tad. Maybe a little more than a tad. I mean, it just seemed to take FOR-E-VER. But it was amusing. After ripping on Romney's tax return release and love of a good spray tan, he focuses on President Obama in a new segment "What Are You Doing?" Oh yeah, and comparing Romney's campaign to Lost was pretty amazing — Is Clint Eastwood supposed to be the smoke monster? Then, Kate McKinnon enters as an impeccable Ann Romney. I just want to hear her say "Beyonce" over and over again. Is that possible yet? Yada yada, Pharoah is here — God bless his impressions — and tackles ESPN's Stephen A. Smith to discuss Tim Tebow and Marc Sanchez.
The Finer Things: This was Keenan Thompson's spotlight act. He and Pharoah, clad in cheetah and army print, are a perfect pair. Sipping out of champagne glasses, the two chitchat about, what else, fashion! JGL enters in Yankees gear for some Fashion Week banter. Actually, they carried on a conversation about Marc Jacobs and Helmut Lang that made complete sense. It was bizarre and pleasantly impressive. Again, getting back in good graces with the women.
Let's End on That Note:There were a few more skits after The Finer Things, but aside from Mumford & Sons back on stage, it was pretty bland. Tim Robinson finally made his appearance as a man being set up with his co-worker's daughter and it was fairly disappointing (for the record, JGL in a dress was not disappointing). What I can gather from this episode is that SNL appears to be JUST FINE. It's off to a great start, and Gordon-Levitt proved for the second time that he can in fact be funny on a whim. "Weekend Update" was the ultimate must-watch-on-repeat video, as was JGL's Tres Equis skit. What did you think of the latest episode? Let us know by sounding off in the comments section below.
[Image Credit: NBC]
Follow Anna on Twitter @thebrandedgirl
More:
Saturday Night Live Recap: Seth MacFarlane Gets Laughs, and the Boys Take Over
Saturday Night Live Premiere: Ushering In a New Era?