'Saturday Night Live' Recap: Josh Brolin's Goatee and Gotye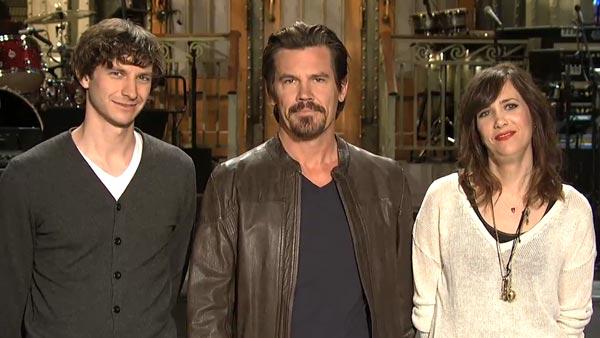 Poor Josh Brolin can't catch a break when it comes to hosting Saturday Night Live. The first time he hosted back in 2008 he was completely overshadowed by the real Sarah Palin's famous visit to Studio 8H and during last night's effort he was all but trumped by musical guest Gotye and a delightful surprise cameo from none other than Steven Spielberg.
But it's not to say that the actor, despite not having a natural knack for comedy, didn't give it his best effort. After an above average cold open about Mitt Romney having a drink (well, a napkin) with former Republican candidates Rick Santorum, Rick Perry, Michelle Bachmann, Newt Gingrich, and Herman Cain singing their swan song (which, as it turns out, is a parody of Green Day's "Good Riddance") Brolin hit the stage.  
The star had a charming-enough, if not ultimately forgettable (though not "career-endingly stupid") opening monologue in which he poked fun at his '90s goatee and tested out his spot-on Tommy Lee Jones imitation featured in the upcoming Men in Black III while Jay Pharoah served his one apparent purpose on the show. The minimally used cast member brought out his Will Smith impression once more, but as impressive as it is, Pharoah remains the most one-note SNL person on the cast. See for yourself:
The night got off to a strong start with a hilarious behind-the-scenes look at Game of Thrones. Turns out, George R.R. Martin (played by Bobby Moynahan) isn't the only consultant on the wildly popular series, but a 13-year-old boy (played by Andy Samberg) who suggests all the series' graphic sex scenes. The well-executed sketch, much like their take on Downton Abbey earlier this season, could be enjoyed by fans and non-fans alike. ("This all aired on television after Rango!" They're not wrong.)
That ushered in the return of the, like, totally polarizing Californians. While the sketch always runs a little too long, my main issue is the people that most appreciate the jabs at Valley Girl accents and traffic chatter are enjoyed by those who will watch the show on a delay three hours later. But, a breaking Bill Hader made it worth both coast's while. But, there was no salvaging the baffling "America's Next Top 'Empire State of Mind' Parodist" sketch. With no apparent reason other than to give Pharoah something to do (this time his Jay-Z impression) the sketch was simply outdated references (the "Chocolate Rain" guy, people doing "Empire State of Mind" parodies on YouTube) about an overplayed song. Nothing to sing about here, this was a dud from the concept. 
The first of two (yes, two) Digital Shorts was the bound-to-go-viral return of Samberg and Hader's beloved "Laser Cats." The seventh installment of the delightfully low-budget saga featured the assistance of none other than living legend Steven Spielberg. The director clearly had fun playing around in the silly sketch, which put the Laser Cats in some classic Spielberg scenarios. Watch the premiere of "Laser Cats 7" below: 
Gotye made his first of three (!) appearances on last night's show, kicking off with his smash hit "Somebody That I Used To Know," which featured guest vocalist Kimbra and sounded just as haunting live as it does the 723rd time it did on my iTunes playlist. Plus, the musician looks much more handsome without being covered in paint, something Samberg and Taran Killam poked fun at during the second Digital Short, which featured Gotye himself being a good sport. The singer also performed his beautiful "Eyes Wide Open", making for one of the best musical guests this season. Check out the singer in the Digital Short below: 
The rest of the episode was something of a lull with a subpar Weekend Update in which Seth Meyers asked "What Are You Doing?" (it's no "Really?!") and then inexplicably gave Kristen Wiig and Fred Armisen another chance to trot out the unbearably annoying Kat and Garth.  The impression-filled Piers Morgan sketch that followed had some amusing enough celebrity skewers, including Brolin as the ultimate-foot-in-mouth Ozzie Guillen and Nasim Pedrad taking aim at Kim Kardashian. ("I'm a zero threat!") But while last week's take on Andy Cohen's Watch What Happens Live was hilarious, this overlong sketch had too many misfires (Armisen's Ice-T and Pharoah once again doing his Kanye West) to be even nearly as enjoyable. 
The night ended on a low note with two back-to-back sketches that didn't quite work. While the slo-mo hallway had its moments and the concept was clever, it felt as slow moving as the hallway it was based on. But it was no worse than the episode ending prom committee sketch. The bit was virtually laugh-free and Brolin's drunk teacher was certainly no Drunk Uncle.
I just realized that was only the fourth time I mentioned Brolin in this entire recap, but really it's through no fault of his own. Aside from the terrible finale, the Oscar-nominated actor wasn't given any sketches of his own and only played in the background as a supporting player. Brolin wasn't bad by any means, but there was also little room to find out if he was good. Maybe the third time will be the charm if Brolin ever returns to Studio 8H. Speaking of chances,  Eli Manning is hosting on May 5 to try and follow in brother Peyton's footsteps as a great athlete-turned-host. (Nice catch, commenter!) 
What did you think of last night's episode? Do you agree that Brolin played second banana to the Saturday Night Live cast? Were you just as wowed by Gotye? Or was it all about the Steven Spielberg cameo? Sound off in the comments section. 
More: 
Josh Brolin's Saturday Night Live Promo: Watch 
Saturday Night Live Recap: Sofia Vergara and One Direction Make Some Noise