'Saturday Night Live' Recap: Seth MacFarlane Gets Laughs, and the Boys Take Over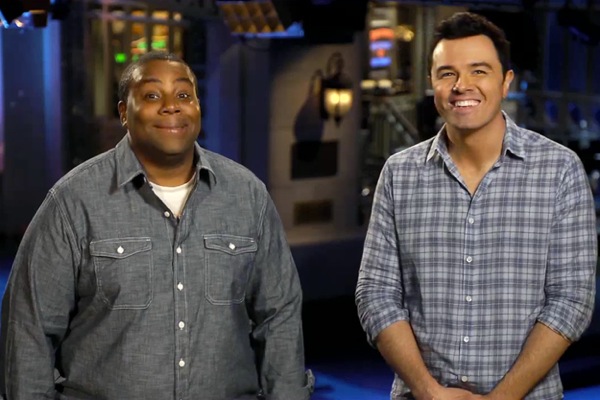 It was appropriate that last night's new season of Saturday Night Live premiered right smack in the middle of the presidential election season. Because just like in politics, where sure, you have a Hillary Clinton or Condoleezza Rice, it's really all about the guys. President Barack Obama and Mitt Romney to be exact. Yes, there were a few women sprinkled throughout the show, but for the most part it was a boys-only club filled with juvenile jokes and lots of giggling. (Okay, maybe that last part is more a girl thing.)
Season 38 kicked off with a cold open featuring series newbie Jay Pharoah making his SNL debut as the P.O.T.U.S. Fans of the show know Pharoah for his near-perfect impersonations of Denzel Washington, Will Smith, and Jay-Z. As much as I have loved Fred Armisen's portrayal of Obama these past years, I was anxious to see how one of my cast crushes would do. (You know what they say about a guy who can make a girl laugh? Well his dead-on Denzel has me in tears. Every time.) Armisen made the introduction — and audience members laugh — by saying, "It is my distinct honor to introduce the President of the United States — wouldn't want his job, right?" Pharoah's first attempt doing the head of state on live TV was a good one. And if you closed your eyes you would have sworn it was Obama — even though the young comedian seemed nervous. After all they are big shoes to fill, or in this case, big ears. What? Armisen can do it, but I can't?
After the credits ran (giving us a look at this season's newest faces) it was first-time host Seth MacFarlane's opening monologue. Typically one to be behind the cameras, MacFarlane is the man — or rather, the voice — responsible for Family Guy, American Dad!, and the box office blockbuster, Ted. In addition to voices, he also acts, animates, produces, directs, writes, and sings. Translation: this isn't his first time wearing a lot of hats. (Which is good because he was in almost every skit.) MacFarlane chose to go with this strength, opening the show with the help of some of his famous friends — also known as "the voices in his head." In addition to voicing the characters he has become most known for (we're talking about you Stewie and Brian), he also treated us to George Takei from Star Trek, Back to the Future's Marty McFly, and Kermit the Frog.
MacFarlane's voices and versatility would continue throughout the show, and would help contribute to many of the night's funniest skits. His skills came in handy when he played a teacher of a puppet class — because when Elmo's not available — who better to teach it than someone who can do multiple voices? He continued to make us LOL as a stuttering sergeant and a laid-back hat salesman whose vocabulary included words like "bro turkey" and "righteous." Though he was quickly overshadowed in the Lids skit when Korean rap sensation Psy made an appearance — "Gangnam Style." My favorite "character" of his by far was his impression of Olympic swimmer Ryan Lochte on Weekend Update. Check out the hilarity here:
In preparation for what is sure to dominate SNL over the next few months, the show went heavy on the latest topics of the Presidential race. Nobody is a safe target, but the show's liberal leanings are obvious. You may not be in love with Obama anymore, as Pharoah admits in the opener, but opponent Romney (played by Jason Sudeikis, at least until January) is so out of touch that he's actually our current Prez's biggest weapon for re-election. "Obama" called him his "Christmas Miracle." Sudeikis takes aim at Romney's ability to make everyone uncomfortable, and even newly-announced VP running Paul Ryan — now played by Taran Killam — is taken to task for stretching the truth of his athletic achievements (so he may be bad with math, but he'll still balance our budget!). In a further tease to the Republican faithful, a pre-taped "promo" touted a new one-man stage show featuring GOP convention oddball Clint Eastwood (Bill Hader) having random conversations with his now famous empty chair. Check out the first of what was many of last night's political parodies:
Reminiscent of his MTV Video Music Awards performance from last month, when Odd Future singer Frank Ocean wowed audiences (subsequently upping the sales for his debut album, Channel Orange, by 49 percent), he took to the stage for a moving musical performance of "Thinking About You." And despite being dressed in his all too familiar trademark bandana and dark threads, there was something different about his second song, "Pyramids." In case you missed it, check out what he did — and who joined him onstage.
Since unfortunately you can't have a show with 100 percent winners, tonight had a few lame skits to pass the time. Armisen as a crass over-50 sex expert — think Dr. Phil meets Dr. Ruth — was far from high-brow comedy, and took a cue from Romney; making us all a bit uncomfortable. Kenan Thompson can do a good Steve Harvey, but the only thing amusing about this slow sketch was seeing MacFarlane dressed in one of Harvey's over-the-top blue suits complete with cheesy mustache. The host with the most followed it up with a blind date skit that reminded me of the movie Clueless: "My friend Kelly was like he's so great, and I was like, are you sure? And she was like, yeah." At first I was all like, this is funny, but then I was like, no, not anymore. And speaking of not very memorable, I'm like pretty sure no one will remember the final skit that had MacFarlane playing one of two Amish dudes selling wooden spoons on this new thing called "the Internet." Though if you look up the website they were promoting (woodenspoonwarehouse.com) it redirects you to the SNL site.
So, what did you think of the Saturday Night Live season premiere? Were you a fan of the boys club comedy, or are you looking forward to seeing more of the new girls? Excited for next week's show featuring Joseph Gordon-Levitt and musical act Mumford & Sons? Let us know by sounding off in the comments section below.
[Image Credit: NBC]
More:
'Saturday Night Live' Premiere: Ushering In a New Era?
Great Job, 'SNL'! Jay Pharoah Set to Take Over Obama Impression This Fall
Emmys Idle Threats: Give Bill Hader an Emmy or I'll Sic DJ Baby Bok Choy On You