'Saturday Night Live' Season Finale Will Mark Bill Hader's Last Appearance: Our 5 Favorite Moments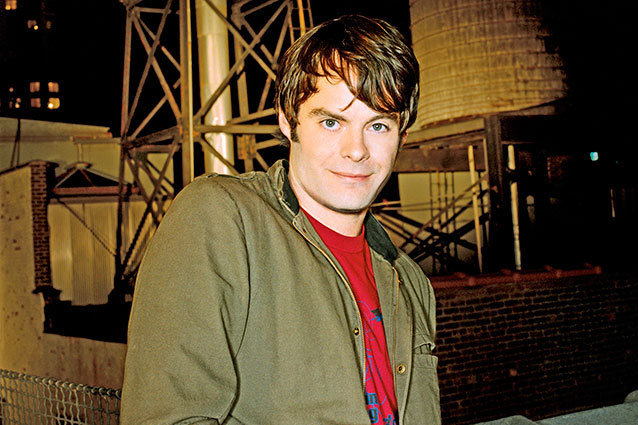 Musical guest Kanye West might not be willing to make a fool of himself for the sake of comedy or self-awareness on the season finale of Saturday Night Live tonight (he is not a celebrity after all, just an exceedingly wealthy person who does everything in his power to stay out of the spotlight), but thankfully host Ben Affleck, who will join the five-timers club, certainly has had no problem doing that on the show. 
Of course, no one has been more willing to go the extra mile for a laugh quite like departing cast member Bill Hader. The hilarious jack-of-all-trades was always the best part of every sketch and, let's face it, he's created one of the all-time great SNL characters with Stefon. While his well-meaning but misinformed Weekend Update city correspondent is no doubt Hader's crown jewel during his seven seasons on the show, the multi-talented performer had a long roster of amazing moments. 
Tonight's episode will unfortunately mark Hader's last (it could also be the last time we see Fred Armisen and Jason Sudeikis as cast members, too), so that means no more Stefon, no more fake game show hosts, and no more spot-on impressions of Al Pacino. In anticipation of the Season 38 finale and Hader's farewell, we narrowed down the star's five best moments on SNL. It was not easy. 
You know it's that thing where you'll be quoting Stefon for years and this was the one that started it all. (Editor's Note: in a total full circle moment, Stefon actually popped up in a Ben Affleck-hosted episode back in 2008, but this was his first time he was front and center). 
The only person you wanted to see more on Weekend Update was Hader's bats**t crazy take on James 'The Ragin' Cajun' Carville. 
Seriously, have you ever seen a better Alan Alda impression in your life?? You can even hear the amazed audience react to it. 
Ohhhhh noooooooooo, you like his Keith Morrison impression, too? 
Hader made the quintessential grumpy old man. No, not Clint Eastwood (though that was pretty spectacular, too) but depth perception-impared and all-around terrible news reporter Herb Welch. 
We won't miss Season 38 very much, but you better believe we'll miss Hader a hell of a lot. Saturday Night Live, with host Ben Affleck and musical guest Kanye West, airs tonight at 11:30 PM/ET on NBC. 
Follow Aly on Twitter @AlySemigran and Hollywood.com @Hollywood_com
More: 
'Saturday Night Live' Promo: Ben Affleck Makes Bill Hader Lose His S**t
Bill Hader is Leaving 'Saturday Night Live' 
Kanye West Rants Angrily About 'SNL'  
---
From Our Partners:


Zoe Saldana Strips Down For Magazine (Celebuzz)


33 Child Stars: Where Are They Now? (Celebuzz)