'Saturday Night Live': Should Series Address Sandy Hook Tragedy?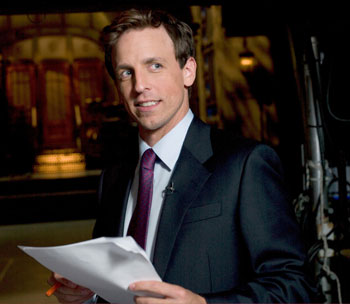 Saturday Night Live, sadly, has become accustomed with confronting tragedy. Terrorist attacks, shootings, anthrax scares in their own office — the sketch comedy show has lived through the same horror as Americans who sit in front of their television sets every Saturday night at 11:30 ET. Tragedy has even worked its way into the fabric of the show itself — SNL, along with Mayor Rudy Giuliani, famously became the first outlet to tell audiences in September 2001 that it was okay to laugh following the 9/11 attacks. "Can we be funny?" Executive Producer Lorne Michaels asked the mayor. "Why start now?" Giuliani answered.
But, following the tragic events at Sandy Hook Elementary in Newtown, Conn. — where 27 people, including 20 children, were gunned down by a shooter — it's a question SNL must be asking itself again: Can it be funny? The entertainment industry, like it did following The Dark Knight Rises shootings in July, has reconsidered its programming and schedules following the tragedy: Paramount postponed its Jack Reacher premiere in Pittsburgh, Penn., while Fox replaced new Family Guy and American Dad episodes with reruns out of sensitivity. But SNL, with host Martin Short, is still holding strong — its holiday episode is still scheduled to run Saturday night. So can they be funny? And, more importantly, should they?
SNL, particularly since its widely praised lampooning of the 2008 election, has transformed itself into an outlet just as associated with current events and national discourse as any CNN, Fox News, or MSNBC news program. Viewers tune in to see what SNL has to say about the election, about Obama's cabinet, about the fiscal cliff. But when the biggest news story of the week centers on the massacre of 20 children, how can SNL respond? A cold open about gun control would seem just as jarring as a cold open ignoring the event completely.
It's unchartered territory for the sketch comedy show. While SNL did provide necessary laughs following Hurricane Sandy's destruction via a silly sketch surrounding Mayor Michael Bloomberg, SNL has never aired an episode so quickly after a tragedy like Sandy Hook. The sketch comedy show was on break following the 1999 Columbine tragedy, and, while SNL did air an episode after the Virginia Tech shootings that ignored the massacre, the series had breathing room between the tragedy, which took place on a Monday, and their new episode. (SNL, however, did have to pull a gun-centric digital short from reruns that unluckily aired the weekend before.)
But, if SNL's treatment of tragedy in the past has proven anything, it's that we should trust the sketch comedy show. It's likely we'll see a moment of silence, a call for donations, or some hat tip that shows the series' sensitive nature. Can SNL be funny? It's a safe bet it will be — but it will also be appropriate.
What do you think? Should SNL address Sandy Hook? Let us know below.
<a href="http://polldaddy.com/poll/6771575/">Should 'SNL' address the Sandy Hook tragedy?</a>
[Image Credit: NBC]
More:
Tom Cruise Premiere Postponed Due to School Shooting
Syfy Pulls 'Haven' Episode That Deals with School Violence

Bar Refaeli Strips Down for New Underwear Campaign (PHOTOS, VIDEOS)

Kim Kardashians Best Bikini Moments (PHOTOS)