'Saturday Night Live Weekend Update Thursday': Let's Get Political!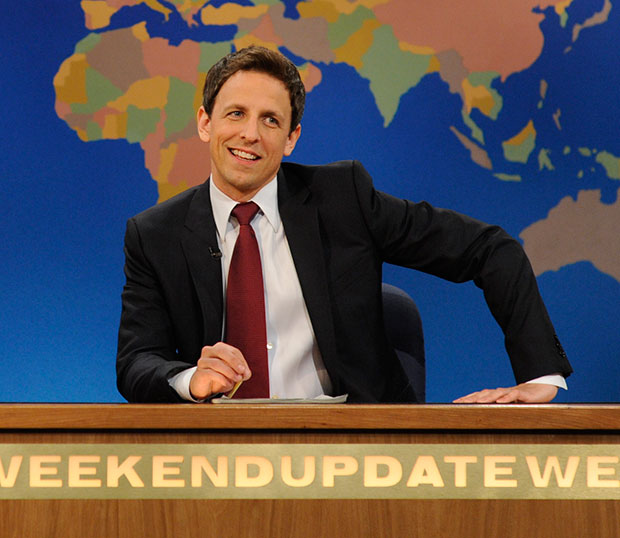 Sure, the race for the Presidency technically started when Commander-in-Chief Barack Obama and GOP candidate Mitt Romney accepted their nominations from their respective parties, but as far as we're concerned, the race really begins when The Daily Show and Saturday Night Live get started in on the fun. With The Daily Show having already paid visits to the DNC and the RNC, it's finally SNL's turn to weigh in on this year's election. 
But why wait for the weekend to get brilliant political skewering from the same show that changed
Sarah Palin
's game for good in 2008? ("I can see Alaska from my house!") Beginning tonight,
Seth Meyers
will man the Weekend Update desk a few nights early for 
Saturday Night Live Weekend Update Thursday
, a half-hour primetime special that will satirize the race between and Obama and Romney, perhaps with cameos by some of the candidates themselves. (Or, at the very least, the
SNL
stars like
Jay Pharoah
and
Jason Sudeikis
who play them.) 
SNL already got a bit of a head start on Saturday during the Season 38 premiere with a spot-on POTUS impression cold open and hilarious anti-Romney commercial parodies, not to mention a visit from Bill Hader's growling Clint Eastwood and his infamous chair. But with Election Day edging closer (just seven short weeks away) and news prime for the comedy picking emerging every day (thanks, secret waiter cam!), more SNL during an election year always gets our vote. 
Saturday Night Live Weekend Update Thursday airs — you guessed it — live from Studio 8H tonight at 8 PM ET on NBC. A second special will air the same time next week. 
[Photo credit: NBC] 
More: 
We Can Thank Mitt Romney For Keeping Jason Sudeikis on SNL… For Now