The Rewind Button – 'Saved by the Bell'
Ever notice how television is just too good lately? Once upon a time though, the TV landscape was littered with lots of bad programming, like Saved by the Bell. Remember that show? If you grew up in the '90s, it would be damn hard not to. Let's hit the rewind button for a minute and revisit one of the guiltiest pleasure TV shows of the boom boom Clinton-era (no pun intended).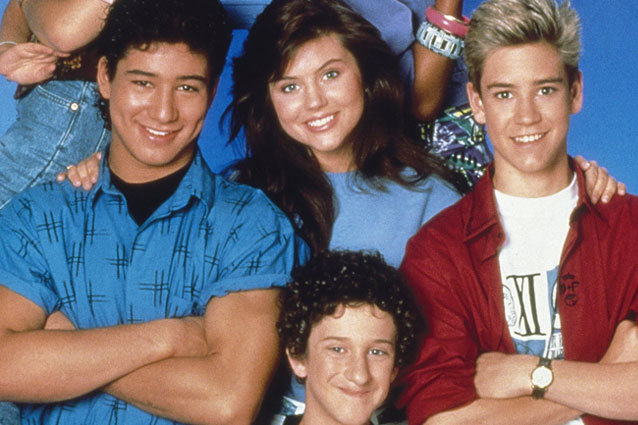 NBC
Zack Morris Was the Epitome of Cool
He got all the ladies, occasionally broke the fourth wall, and wore more product in his hair than an '80s rock star. For fans of the series, Zack Morris (Mark-Paul Gosselaar) was the quintessential cool dude slacker. He also dated Kelly Kapowski (Tiffani-Amber Thiessen), the G-rated fantasy of every teenage boy in America.
Sometimes You Learned an Important Life Lesson
There was the occasional episode where the writers would pack heavy themes into the show, like when Jesse Spano (Elizabeth Berkley, later of Showgirls career-ending infamy) got hooked on caffeine pills and nearly had a breakdown. Zack eventually came to her rescue, however, and by the end of the episode we learned that drugs were dangerous and bad, and that apparently, caffeine pills were a thing that existed. (Who knew?)
The College Years Sucked
When the show ended in 1993, Zack, Kelly, and the rest of the crew all signed on for a spin-off series called Saved By The Bell: The College Years. The show was doomed from the start. For one, it aired in primetime on Tuesday nights, the original having gained popularity on Saturday mornings, and the only promising attribute new cast member, and former NFL player, Bob Golic brought to the new show (aside from bad acting) was an impeccably maintained mullet. Bless him for that! The network eventually wised up and cancelled The College Years after its disappointing first season. 
More:
Canceled Shows With Amazing Soundtracks
Watch A Final 'Bunheads' Farewell Dance
Miley Is The Real Heisenberg
---
From Our Partners:


40 Most Revealing See-Through Red Carpet Looks (Vh1)


15 Stars Share Secrets of their Sex Lives (Celebuzz)