If You Haven't Been Watching 'Scandal,' We Can't Be Friends Anymore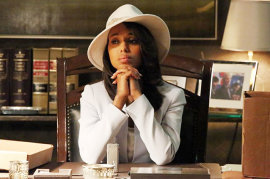 Richard Cartwright/ABC
On October third the highly anticipated third season of Scandal will begin, and fans of the show (AKA Gladiators) will most likely be unreachable in case of an emergency. If you don't know what a Gladiator is – or why a group of people would call themselves that based on a fictional television series created by Shonda Rhimes – then your existence is truly an anomaly right now. Olivia Pope, the white hat, Gladiators, Olitz—everyone. These are terms that you need to know. And if you don't, please get thee to Netflix, Hulu, BET or ABC immediately so you can get caught up. It's fine. We'll wait.
Scandal is one of those rare shows that had a good first season,  followed by a mind-blowingly brilliant second season that finally got it the critical attention it deserved. The ABC drama is set in Washington D.C., and was originally inspired by real-life crisis manager Judy Smith. This woman was Monica Lewinsky's lawyer back when… well… Monica Lewinsky seriously needed a lawyer, and her story makes for must-watch television.
With Emmy nominations for its lead actress (the incomparable Kerry Washington) as well as some of the minor characters, it's clear that everyone who has anything to do with the show is pulling their own weight. Now that the Daddy issues are coming into play, and the government scandals are heating up, we can all sit back and enjoy another amazing season.
More:
Lisa Kudrow Joins 'Scandal'
The Cast & Creator Of 'Scandal' Discuss The Season Finale
Kerry Washington And Craig Robinson Talk 'Peeples'
---
From Our Partners:


40 Most Revealing See-Through Red Carpet Looks (Vh1)


15 Stars Share Secrets of their Sex Lives (Celebuzz)