'Scandal' Finale Preview: Star Kerry Washington Dishes on the Big Reveal — EXCLUSIVE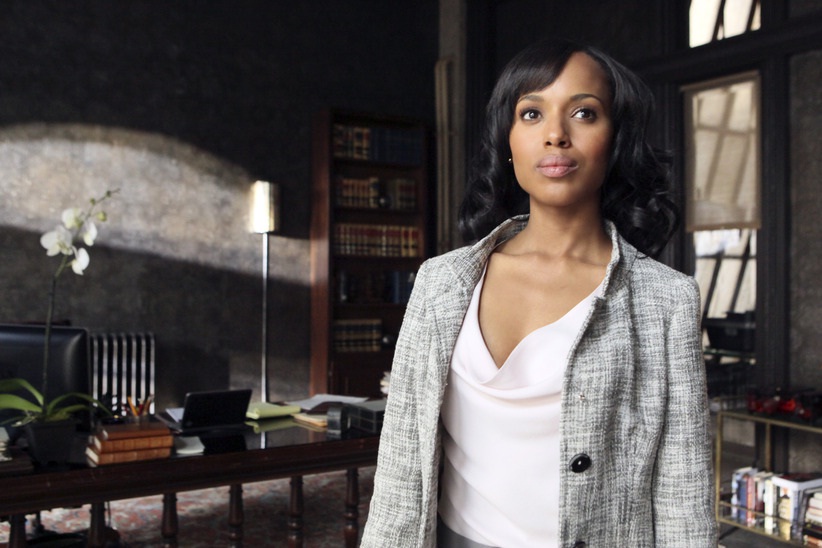 Anytime a show gets picked up for Season 2 after only six episodes, it's obvious they're doing something right. ABC's Scandal has been a short, yet wild ride: A lyin', cheatin' President, murder at the White House, and prostitution add up to a hit show for the graceful, yet strong Kerry Washington, who plays big-shot fixer Olivia Pope. Hollywood.com caught up with Washington to chat about the upcoming Season 1 finale "Grant: For the People." The 35-year-old New Yorker said the cast has been chomping at the bit every week for the next shocking script, and the finale was no different. With the President's infidelity on the brink of exposure and the unsolved murder of a White House intern, Scandal's finale is poised to knock our sensible shoes off. Washington dished on the outrageous episode – one she claims will have everyone begging for more.
Cat Fight!
The finale rumors include the highly-anticipated face-to-face confrontation between First Lady Mellie Grant and Olivia – something every Scandal fan has been begging for since the show premiered. Washington says she is floored by her adversary calling out Bellamy Young (who plays the First Lady) and Matt Letscher (who plays Billy Chambers) claiming they'll both "blow you away" in the finale. Then again, we knew Young's turn will be fantastic – who doesn't love an old-fashioned cat fight over clandestine romance?
Quinn's Other Identity
The teaser clip (below) not only shows Quinn (Katie Lowes) covered in blood after her reporter beau Gideon who Billy Chambers stabbed with a pair of scissors (vicious). At the very end of the trailer, Olivia tells Quinn not to call the cops because they'll "find out who you really are." Okay, we're listening… Washington is kind of enough to add to the suspense. "It's not really that simple. Like most things on Scandal, it's a little more complicated," she says. "But obviously this has been a relationship from the beginning that has been a little bit problematic. So, her ties to him continue to be a source of complication for the office." Who could she be? Someone in witness protection program? The President's illegitimate love child? Optimus Prime?
That Silly Billy
Billy Chambers, you've just stabbed a man with scissors. What are you going to do next? Well, he's certainly not going to Disneyland. "He's suddenly standing in front of the press, sort of stating his own version of the story, so it's very exciting," says Washington.
Billy resigns as the VP's Chief of Staff and claims he's telling the world the truth about his 'love' affair with Amanda Tanner – who he just had killed, no biggie. He proactively admits Amanda was pregnant with his baby, but that the president was taking advantage of her and using his power to sexually abuse her. But that's not even the best part. He says the audio sex tape is of Amanda and President Fitz. Busted! Sort of. (Fans of the show know that voice is actually Olivia.) Might Olivia have to tell all in order to save the President?
A Major Reveal, and a Painful Scandal-less Summer
"At the end of this week's episode, they'll be a major reveal that will be really exciting," adds Washington. "There will be an answer that people have really been looking for. It's very fulfilling. When I read it, I was like, 'Oh, wow … good … great!' It's a nice closure. But then there's another cliffhanger that will make everyone scream at their TVs." Of course there is. With shows like this, there's always a catch!
Star-Crossed Lovers
Now, Olivia and the President have had a rocky road to travel, but it's not devoid of love. Washington says she hasn't fully decided where she wants that forbidden relationship to go. "I don't know," she laughs. "I don't really have a dream scenario for them." And to that we offer the wise words of Jim Carrey in Dumb & Dumber: "So, you're saying there's a chance!"
From Washington to Tarantino Territory
Washington not only has a hit show on ABC, but she is currently playing the female lead in surefire blockbuster Django Unchained, the long-awaited film from Quentin Tarantino and starring Leonardo DiCaprio. She added that because of the movie, she was the last to know that Scandal was renewed for Season 2.
"Tarantino doesn't allow phones on set," says Washington. "I was working, so literally it was all over the media. The whole cast and crew knew, and the producers of the movie were [hinting] like you should go back to your trailer and check your phone."
But it seems she'll recover. "Today I go to work with Sam Jackson, Christoph Waltz, Leonardo DiCaprio, and Jamie Foxx! All of us being guided by Quentin Tarantino. It's a really profound experience," she says. Yeah, she'll be alright.
The season finale of Scandal airs 10 PM (ET/PT) MAY 17 on ABC.
Follow Mike Rothman on Twitter @TheRealRothman
[Image Credit: ABC]
More:
ABC Renews Revenge, Scandal, Cancels GCB
LOST Star Henry Ian Cusick says His Scandal Character is The Anti-Desmond
Django Unchained Cursed? Fourth Star Drops Out of Quentin Tarantino Western