'Scandal' First Lady Bellamy Young Promises Conspiracy Theory Answers – and More Questions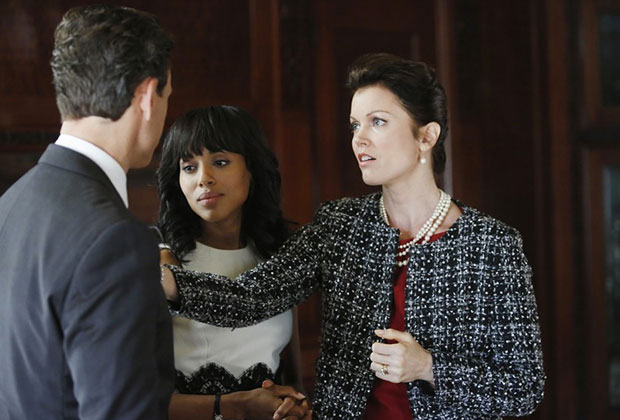 It's very possible you're still screaming in shock/horror/surprise after the monumental reveal that the person who shot the president on ABC's Scandal was actually Huck, beloved member of Pope and Associates and one of the last people you'd expect to be behind the assassination attempt.
Star Bellamy Young, who plays First Lady Mellie Grant, promises that although you'll have plenty more questions following Thursday's "Blown Away," you'll at least get a few answers about Huck's involvement in the shooting.
"You'll find out why he was in that room, how he got there, who got him there, what's going on in that," Young tells Hollywood.com. "It's not one person who decides one day to shoot a president, so there's a sinister tapestry of players who will slowly emerge as complicit in this enterprise. You know that it was Huck standing there with the rifle, but ['Blown Away'] will slowly peel away the hows and the whys and the whos. But it'll just make you ask more questions! You'll find out a ton and you'll want to learn an avalanche more."
Mellie's focus during "Blown Away" will first be on her sick husband. "Fitz is still in the ICU so this episode is mainly focused on Olivia Pope and Associates and definitely Huck, but Tony [Goldwyn], President Grant, is still in extremely dire straits. I am by his side at the hospital trying to will him through this," Young explains. "You don't even have the luxury of worrying about yourself when someone you love is in that situation. When you're sitting by his death bed it's not really 'Oh, woe is me,' so I think Mellie is focused, using every nanoparticle of herself to will him through this moment."
After her husband is out of the woods, though, Mellie will get back to her driven self. "Once it's not this dire moment, it's this flashing red light that Sally Langston is president, so there are things to be handled — like getting Sally Langston out of the Oval Office. That will play out in coming episodes. There's lots of antler-locking and other nefarious doings. Mellie has to take care of Fitz. Once we can get him stable, there's a whole agenda that I've got to get a move on."
There's also that pesky election-rigging storyline, which might not come into play during "Blown Away" but will certainly return during the rest of Season 2. "You will see a lot of fallout about that, a lot of whys and wherefores. You'll learn a lot more about how it came to pass and you'll see a lot about the consequences in episodes to come. That is a juicy, juicy storyline. That has more twists and turns. Oh, these writers! They're incredible."
Plus, let's not forget the whole matter of Mellie still being pregnant. Young pleads the fifth in revealing when we'll actually meet America's Baby, saying cryptically, "I can tease that in this episode, a baby is definitely coming. If you watch the episode, that can mean — I don't know what that means."
Other mysteries we'll be left pondering until the show comes back in January, Young says: "Is Fitz going to pull through, and if he does pull through is he going to be compromised? I mean, he was shot in the head. If he pulls through how will he re-join this life, or will he choose to? And where does that leave him and Liv; where does that leave him and Mellie? Oh, there's so much. There's so much!"
Here's what you can expect from "Blown Away": "At the end of the episode, they will have brought for everyone such a sort of precipice-dangling moment in their lives. You'll just be ripping out stitches to get to January 10. There's so much to find out! Particularly by the end of the episode for Huck; I worry senseless. I love Guillermo [Diaz] so much it defies all reason and logic. By the end of this episode I was just a little pile of worry. And when you think about what's to come, oh! I can't wait to talk about everything that's coming up."
Scandal airs Thursdays at 10 p.m. on ABC.
Follow Jean on Twitter @hijean
[PHOTO CREDIT: ABC]
More:
How Kerry Washington Handles Scandal Questions Like Olivia Pope
ABC Orders Full Season of Scandal
Kerry Washington Hails Shonda Rhimes at GLAAD Media Awards
You Might Also Like:

6 TV Kids Who Vanished