Screen Actors Guild Awards: Why the SAGs Are My Favorite Awards Show — VIDEO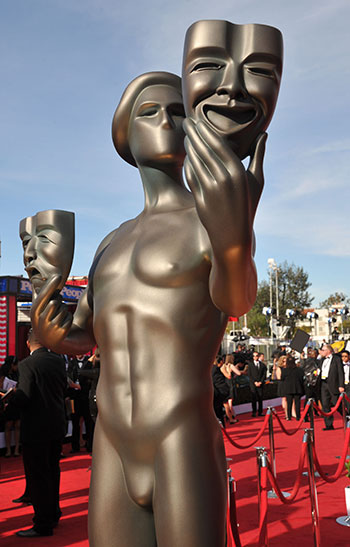 I love the Screen Actors Guild Awards. In fact they are my favorite of all the kudosfests that proceed one after the other this time of year. Now, mind you, the SAGs don't have anywhere near the history of the Oscars, or even the Golden Globes. In fact, when it airs tonight at 8:00 p.m. on TBS and TNT it'll only be the 19th ceremony in the awards history. So it isn't the lore that hooks me. It's the SAG Awards very concept: the idea of actors honoring actors for their achievements in the craft.
Okay, I just sounded like James Lipton there. When I said something similar to the Hollywood.com staff the other day my colleague Shaunna Murphy instantly responded, "Nerd alert!" Well, guilty as charged. But this is an awards show that highlights all the different types of screen performances that add to the richness of film and TV and sometimes go unrecognized. Actors like voiceover artists, stuntmen, performance capture practitioners, and even extras. No one is left out at the SAG Awards. But there are also five other reasons that I love the SAGs, and I have video evidence to back up my case. Here's why I think they're great.
1. The "I am an Actor!" Speeches That Open Each Ceremony
2. They Allow Winners to Go On Tangents In Their Speeches and, gasp, Even Get Emotional
3. Since All the Attendees Are Part of One Big Acting Fraternity, They're Allowed to Cut Loose
4. There's No More Supportive Awards Show Crowd
5. Sometimes the SAGs Get It Right When the Oscars Get It Wrong
Will you be watching tonight?
Follow Christian Blauvelt on Twitter @Ctblauvelt
[Photo Credit: Getty Images]
More:
Hollywood.com's 2013 Oscars Hub

20 Hottest Celebrity Bikini Bodies