SDCC 2011: 'Walking Dead' Lurches Into Comic-Con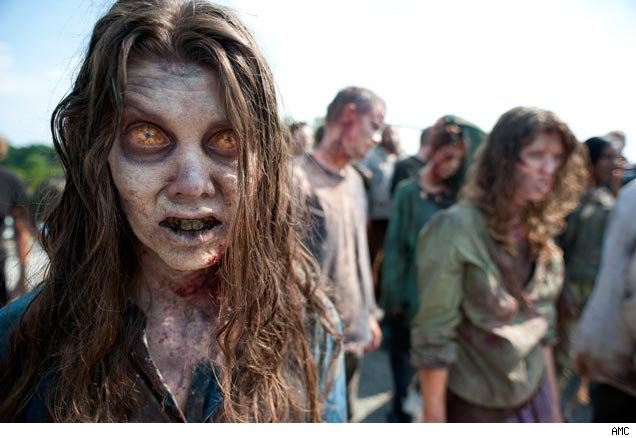 The Walking Dead drew out zombie fans of all calibers at San Diego Comic-Con last year, and with the success of the AMC show, this year is no different. In fact, word has it the line for Ballroom 20, where the panel is held, saw 9,000 members of the living awaiting word from the men behind the show. Creators Robert Kirkman and Frank Darabont along with stars Andrew Lincoln, Laurie Holden and Sarah Wayne Callies were on hand to talk about what makes the show such a hit and what we can expect to see next season.
First up, the panel reveals the all important premiere date! Sunday October 16 at 9 p.m. as part of AMC's annual FearFest!
Here are a few other need-to-know notes:
Frank Darabont offered to shoot moderator Chris Hardwick (Nerdist Podcast) in the face and make him a zombie. "You can shoot me in the face," says Hardwick. (Us too, Mr. Darabont. Us too.)
"The coursework is going back and reading Robert's comics." -Darabont
The tagline for Season 2: "The end of civilization… Was just the beginning."
"It picks up 2 seconds after the end of season 1. It literally begins with them driving away from the CDC" -Darabont
In a zombie apocalypse: "I'd jump off a bridge." -Kirkman "You need a headshot. Read the comic, learn the rules Robert!" -Hurd
Makeup genius/wizard Rick Baker is a fan: "I got a great phone call from Rick Baker saying how much he loved the zombies on the show." -Greg Nicotero
"You just turn up. Learn your lines. And get out of the way… Because the words are so cool to say." – Andrew Lincoln
"I'm now embarrassed because I haven't take Andrew Lincoln to the Cracker Barrel." -Kirkman
 (via The Walking Dead Official Twitter)
"The idea of the show is that people get eaten or torn apart. That's not something you see on TV every day." -Robert Kirkman
"I immediately thought of it as a TV show. I read the first comic and went, AH!" -Frank Darabont
"I have a pedigree with a bunch of zombie projects, and we took a lot of the look form the artwork. Every character has contacts and prosthetics. We cast each and every zombie character and put them through Zombie School in Atlanta." -makeup artist, consulting producer Greg Nicotero
The trailer shows us that the photo released yesterday of Lori hiding under car comes with a particularly nasty walker onslaught on Atlanta. Trailer ends on the farm — fans of the comic books probably know what this is about.
"You work as hard on a failure as you do on a success… I was worried that I had jinxed it because I loved it so much. It's hard to overstate how much you love it. We thought, well we only got six episodes, but now that we get a second season, we can REALLY scare you." -Sarah Wayne Callies (Lori)
"It's a good thing that i don't have the final word in casting. I'd just cast people I want to hang out with. Ed O'Neil, John Stamos." -Kirkman
Oh the typical, I-do-All-My-Own-Stunts bit from Andrew Lincoln: "I did pretty much all my own stunts, except for taking the horse down. Oh, and the driving. i only learned to drive four years ago."
Carl will get a bigger role next season, the actors are all so proud of him. He's going to blow our BRAINSSS. That's all they can tell us. Of course.
(via ScreenRant)
"This year we have a room of writers who know the show." – Frank Darabont
"It's a bit of pressure knowing that everybody loves the show. And there's expectation now" says Kirkman. It's "empowered us to try harder."
"I think the plan is to get there but it's not something we can rush. We have to take our time with it." -Kirkman on Rick in the show versus Rick in the Comics
The fake blood on the show doesn't taste too bad; it's made of corn syrup. They've perfected the makeup process to 90 minutes per walker.
 (via HitFix)
In reference to the trailer: "Did anyone else just poop a little?" -Chris Hardwick
"It's all about slim chances now…slim chances are better than none." -Rick Grimes in the Season 2 Trailer
Jon Bernthal thinks we Walking Dead fans are badass. Knows we're hungry. Wants to feed us. (We're appreciative.)
"If you're a fan of The Walking Dead graphic novel I think you're really going to love this season" -Laurie Holden


(quotes and photo via E!)
The undead series crawls back to the small screen this October on AMC. Be sure to tune in then for all of the gory details.