'Seinfeld' Alums Get New Gigs: George Heads to 'Community', Kramer to 'Giant Baby'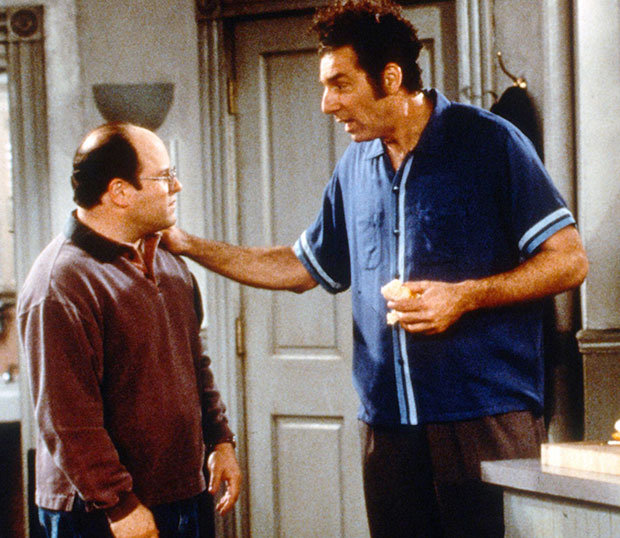 It is quite unnecessary to ever ask anyone who their favorite main character on Seinfeld is. First of all, there are only two possible answers. And second, you can tell straight away just by knowing someone, by affording a second of contemplation toward this person's general attitude and sensibility, which of the two possible answers he or she will pick. The cynics, the worriers, the "dark and disturbed" lot who qualify life by its day-to-day horrors will invariably pick George. And then there's the other sort: the dreamers, the impulsive head-in-the-clouds community, who will always pick Kramer. The world is divided by its Georges and its Kramers, both substantial components to any dysfunctional society worth its salt. And be you a George or a Kramer, a Costanza or a Cosmo, an Art Vandalay or a Dr. Van Nostrand, you will be intrigued by the news that hits the television world today: Jason Alexander and Michael Richards have earned new TV gigs. Alexander will be guesting on a Season 4 episode of Community, while Richards has been cast in the pilot of Kirstie Alley's TVLand series Giant Baby.
Alexander broke the news himself via Twitter on Tuesday: "Filming a crazy episode of COMMUNITY this week. Can't say much about it but it's a fun one." No details have been revealed about Alexander's character, but it is worth noting that this will be one of the few episodes of the season not to feature Chevy Chase (as the actor recently announced his immediate resignation from the program).
Richards' news, reported by Entertainment Weekly, reveals that he will be playing a limo driver to Broadway star Maddie Banks (Alley) in the pilot of the comedy series, which will focus on Maddie's attempts to reconnect with the now-grown son she once gave up for adoption. Alley's fellow Cheers alum Rhea Perlman will costar on the show.
Each of these bits of news is interesting, although uniquely. We have Alexander paying a visit to the low-rated cult phenomenon Community, a critically adored, often experimental take on the art of the modern sitcom, created by and for people who love, understand, and have seen way too much television. Among those people, Seinfeld fans are plentiful. It was this show that launched a new attitude toward television comedy, a new postmodernity that made possible the likes of Community and its contemporary peers. Naturally, the people who watch Community are people who also watched Seinfeld (though you can't necessarily claim the reverse). As such, nobody is going to hear about Alexander coming to Greendale and not be pretty excited over it.
Richards on Giant Baby is an entirely different story. We don't know much about Alley's developing program yet, but there is an undeniable negative stigma attached to TVLand original series. Hearing of Richards' involvement with the show might disappoint adoring Seinfeld fans; and hearing of the show's involvement with Richards might disgust many who are still upset about his offensive tirade circa 2006. But anyone who caught Richards' appearance on the final episode of Jerry Seinfeld's web series Comedians in Cars Getting Coffee knows that this is a very interesting man we have at our disposal. A bizarre, arguably troubled, invariably entertaining and somehow kind of sophisticated force of living outsider art. And good or bad, his involvement enough, a rare acting turn for the Richards of late, is at the very least interesting.
The Seinfeld Cast and Creators Since Seinfeld
Larry David hasn't exactly been grasping at straws for creative outlets since his leave from Seinfeld in 1996, and the program's eventual conclusion two years later (he returned to write the generally detested finale). David launched his HBO series Curb Your Enthusiasm in 2000 (can you believe it was that long ago?), and has sat pretty at the head of the series' eight revered seasons.
Julia Louis-Dreyfus, Seinfeld's Elaine, has herself experienced a good deal of television success. Her starring role on the network sitcom The New Adventures of Old Christine, which aired from '06 to '10, earned her a couple of Emmys, and her more recent turn on the HBO comedy Veep is reminding us just how gifted a performer Louis-Dreyfus is, even (or especially) when she's playing a character who is wholly unlikable.
Seinfeld co-creator, star, and namesake Jerry Seinfeld hasn't exactly remained as large a constant on the small screen — ventures have included the short-lived Marriage Ref and guest appearances on Curb, 30 Rock, and Louie, not to mention his starring role in the animated Bee Movie (which he cowrote), his return to the stand-up game, and the often interesting web series Comedians in Cars Getting Coffee.
And then there were two. Alexander and Richards. George and Kramer. Koko the Monkey and H. E. Pennypacker. Both of whom have vied, unsuccessfully, to headline their own shows — for Alexander, Bob Patterson and Step It Up; for Richards, The Michael Richards Show. One of whom has effectively ruined his reputation with an offensive tirade during a stand-up routine six years back. The other of whom hasn't really done much of anything, other than narrate whatever Clipaholics is. And of course, each has appeared as himself on Curb.
Will you be tuning in to watch Alexander on Community and Richards on Giant Baby?
[Photo Credit: NBC]
More:
Michael Richards Opens Up to Jerry Seinfeld About Infamous Tirade: 'It Broke Me Down'
'Community' Casts James Brolin as Jeff's Father, Embarks on Most Important Arc of the Series
The Best and Worst TV Episodes of 2012 — Staff Picks

Harry Styles Spotted Outside Taylor Swift's Hotel Room The Morning After Their Date Night (PHOTOS)

Fall Bikini Bodies: The Good, The Great, The OMG (GALLERY)