Seth MacFarlane's Racism Controversy over 'Dads' Pilot: Will He Reshoot Scenes?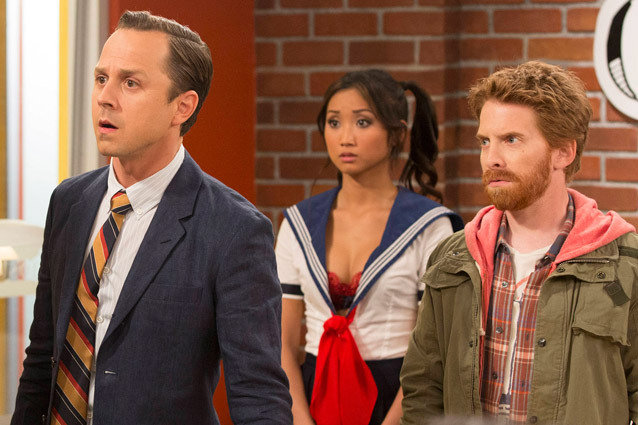 Seth MacFarlane's new show Dads, which premieres on Fox this Fall, has been getting quite a lot of buzz. The premise of the show is two drastically different best friends, Warner (Seth Green) and Eli (Giovanni Ribisi), who together own a video game company that they founded in college. Their fathers David (Peter Riegert) and Crawford (Martin Mull) respectively, move in with their sons and invade their established and not so established lives. The concept of the show seems as though it could have the potential of a feel good, pithy comedy. However, the trailer is awful and it seems to be an overly cheesy sitcom rife with terrible jokes. 
On top of the fact that the jokes are  just bad, they have a very strong racist undertone to them, especially towards Asians. The Media Action Network for Asian Americans (MANAA) sent a letter to those in charge at FOX entertainment asking for the racist scenes to be reshot before the pilot premiered. Guy Aoki, the president, stated in the letter, "Fox has an opportunity to fix fatal flaws in the pilot and to improve the show's chances for success when it premieres next month. We are asking you to reshoot the inappropriate scenes of the pilot. Considering the consistent feedback from our community and television critics in general — and the creators saying they hadn't properly defined their characters nor gotten used to their actors when they shot that first episode — this sounds like a no-brainer."
The MANAA are well intentioned, and raise a good point. However, this is a creation of Seth MacFarlane, who is known for his outrageous humor. His biggest successes being Ted and Family Guy. Both projects were extremely rude and crude, Ted was a massive grossing hit and Family Guy  is a cult favorite. A colleague of mine brought up a great point: it's much easier to get away with this kind of humor when its hidden by a talking baby or stuffed bear. That doesn't mean that a talking bear makes what's being said okay, but without this mask, his comedy is harder for an audience to swallow, especially within the context of a show that's disguised as a family sitcom. 
It's no news that exploiting stereotypes, racist jokes, and sexism sell. The proof is in the ratings, and it applies to the majority of television we watch. If we didn't watch it, producers wouldn't make it. Period. Obviously, MacFarlane doesn't see the need to change his formula and the chances of him reshooting these scenes are zero, because people will probably watch Dads. The onus really lies with the audience. MacFarlane will tweak the show based on the audience's reactions. If his ratings drop, he'll most likely tone it down.
Follow Hollywood.com on Twitter @Hollywood_com | Follow Maité on Twitter @MaiteCubilette
More: 
Fox Fall 2013-2014 Schedule 
CBS Fall Premiere Dates: When Will Your Favorite Shows Return? 
'Big Brother' Contestant Amanda Zuckerman's Racist Comments
---
From Our Partners


Stars Pose Naked for 'Allure' (Celebuzz)


20 Grisliest TV Deaths of 2012-2013 (Vulture)