Our Thoughts, Hopes, and Worries About Seth Rogen's 'Preacher' Series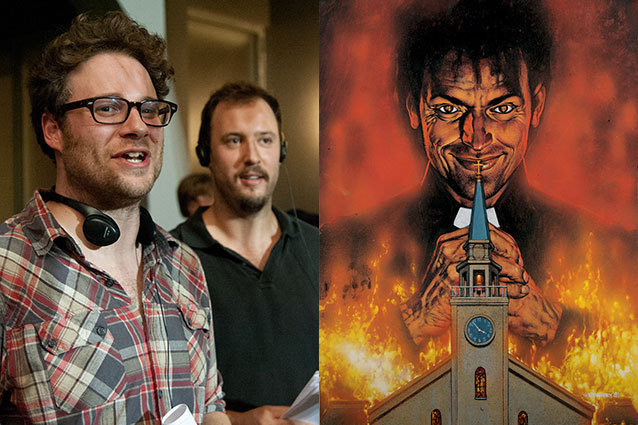 Sony via Everett Collection / DC Comics
Seth Rogen and Evan Goldberg are about to get blasphemous. The comedy duo is set to executive produce and write the pilot for the upcoming AMC adaptation of Preacher, a classic comic book series by Garth Ennis and Steve Dillon that tells the story Jesse Custer, a reverend who loses his faith after learning that God is real but has abandoned his post in Heaven and is no longer answering humanity's prayers. Jesse gains a mysterious power and travels across America to track down God so that he can answer for abandoning his creations in their time of need. 
Needless to say, this is some pretty edgy stuff. Preacher is a dirty tale full wanton chaos, angels behaving badly, saints of murder, crabby Irish vampires, and a preacher that speaks the true word of God. Comic book fans have exalted the series to classic status, and now the rest of the world will be getting a taste of the series on TV. Fellow comic book series The Walking Dead has given AMC one of television's most watched shows, and the network is looking to replicate the success with another hot comic book property. We're incredibly excited to see Preacher make its way into mainstream pop culture, but we do have some reservations about its leap onto the small screen. Here are our thoughts on the upcoming Preacher adaptation.

Seth and Evan are huge fans
When the series was first announced, we were worried that the Preacher adaptation would land in the laps of some half-interested producers who would crank out a souless adaptation of what has become an exeedingly special property to comic book fans. When we learned that Seth Rogen and Evan Goldberg were tasked with writing and producing the pilot, we had our reservations, but it turns out that the duo are longtime fans, and adapting the comic is something that the pair has been dreaming of doing for years now. "This is amazing! We've tried for seven years to work on Preacher and we're so psyched AMC is finally letting us." Rogen said about bringing Preacher to television "It is our favorite comic of all time, and we're going to do everything we can to do it right. Humperdoo!" Knowing that Preacher is in the hands of a couple of real fans is certainly comforting. "Humperdoo" indeed!
But Preacher isn't a stoner comedy
Their high stakes hijinks in This Is the End and tPineapple Express have made Seth Rogen and Evan Goldberg stars in the comedy world, but Ennis' book opperates on a completely different wavelength than much of the duo's body of work. Preacher is many things: a western, a black comedy, a horror story, a satire, but it's not a stoner comedy. Preacher is outrageous in a very particular way, and Rogen and Goldberg are going to need to hone in on that special something to create a real-deal Preacher television show. Leave the poop jokes at the door.
It's way too dark even for AMC
We admit, calling Preacher a black comedy isn't doing it justice. It's a dark, disturbing, disgusting little comic book that redefines gallows humor, and everyone is a target for it's warpath of satire: the South, the North, Heaven, Hell, and even God himself don't escape without a good lashing. A cable network like HBO, Starz, or Showtime would probably be a better fit for material with such seedy elements. Simply put, there's just no way a basic cable network like AMC is going to be able to adapt a property like Preacher without a few power washes. It will be tough to do the series justice while remaining within the parameters of basic cable propriety.
Thankfully, it's on TV and not a film
Unlike many superhero comics that are usually separated into story arcs, and can usually be reset at the beginning of each new arc, Preacher is a gestating epic, whose story spans through 66 serialized issues. There's no way that a single two-hour movie could encompass the entire story, and splitting the story into a series of films wouldn't quite work out either. The rythm of the story, like most ongoing non-superhero comics, fits better in a television-like structure. The story is just too serialized, and would need too many films to tell it. Like AMC's other prized comic commodity, The Walking Dead, Preacher would work much better on television where the storytelling can breathe and relax through multiple season and episodes.
It wont be nearly as successful as The Walking Dead
Even though AMC has found incredible success with comic book adaptations before with The Walking Dead, Preacher just doesn't have the same mass appeal as the popular zombie show. The show's subject matter is ripe with material that can and will offend people, but honestly, if this new Preacher series doesn't start at least a dozen online petitions demanding that it be taken off air, then it's not doing the source material justice.