Sex and Skinny Girls: Bethenny Frankel Talks Talk Show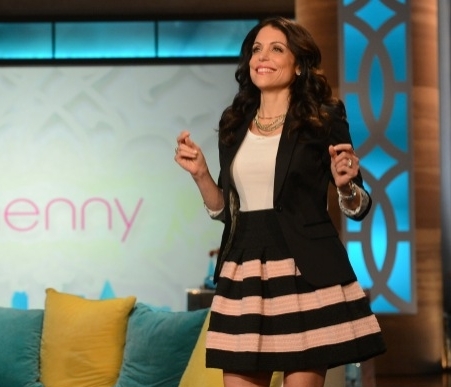 At this point, competition reality star turned Bravo reality star turned margarita mogul turned author turned known mom Bethenny Frankel has worn more hats than a member of the royal family, but that hasn't stopped her from entering what might be her final frontier — today, she makes her debut as a talk show host. And while Frankel's other televised endeavors have inarguably centered around Frankel's rags-to-riches quest for fame, the outspoken star is insistent that her latest venture is all about you. (Well, if you're female.)
Hollywood.com sat front and center for the Los Angeles taping of the first Bethenny last week, which will air in six different markets on Monday. After the show, we chatted with the clearly excited star about the taping, while her infamous dog Cookie yapped in the background.
First and foremost, Frankel was quick to distance Bethenny from her other television projects, saying that her new show won't incorporate her family like Bethenny Getting Married or Bethenny Ever After. Frankel's husband Jason Hoppy was in the audience for the premiere's taping, but only to help publicly dismiss the divorce rumors that have been circulating all year. "[The show] is away from my home and personal life, that's one of the nice things about it," Frankel says. But she did add that Hoppy is one of the first people she turns to for advice on the show's daily topics, which — if the premiere show is any indicator — will frequently involve sex. "We talk about [show topics] every day," Frankel says. "He has really good ideas. I'll talk to my assistant, I'll talk to the person doing my hair, or the camera guy. Everybody has something that they're talking about with their girlfriends, and that's what the show is about. It's not rocket science."
Indeed, throughout our interview, Frankel kept coming back to the fact that the show was more for the fans than for Frankel herself. She emphasized that audience members should be comfortable discussing taboo topics on her show, though it must be noted that the sex questions directed at guest Dr. Raj were pre-assigned. ("They told me to ask that," said the slightly embarrassed girl sitting behind me, who was told to proclaim that she frequently masturbates.) "I wanted to make something really comfortable," Frankel says. "I want people to feel open; I want it to be no holds barred. You can feel free to talk about things, because other women are going to be also. It's like a girls' night out, during the day."
According to Frankel, the laid-back friendly atmosphere also applies for her celebrity guests. Vanessa Williams was the main guest on Monday's show, though Kevin Nealon, D.L. Hughley and Mike Catherwood also appeared as Frankel's "man panel." (Their topics included breast feeding, and why black men like large rear-ends.) "It's not really a celebrity talk show," says Frankel. "We will have a celebrity every day — I have some incredible celebrities coming on. I had Lea Michele on yesterday, Ellen Degeneres was on, Vanessa Williams. But the reason that they were on wasn't because they're big famous celebrities, it's because they have something to say about a particular topic. I don't really care if a famous person wants to come on the show unless they have something interesting to talk about. It's just not that kind of show. It's like saying, 'Oh, let's go to dinner on Tuesday. It will be fun.'"
Hollywood.com can confirm that the atmosphere on set was very relaxed and casual, and the same can be said for the show's host. Frankel was a natural on camera, and she frequently cracked jokes and interacted with her fans when the cameras weren't rolling. Despite the familiar territory of the sex-talk route, the show could very well be a major hit — which would mean that perennial New Yorker Frankel would have to permanently move to — GASP — Los Angeles. Frankel would miss her beloved city, but is open to the Sunshine State if her show takes off, despite her current issues with her living situation. "Perhaps [I will move to Los Angeles] if it's good for the family, and it's good for the show," she says. "It seems like something that could happen, because I feel like the show is going to be really successful. We had a flea infestation in our house, and that was very stressful the first two weeks. But once the show started filming, my family is getting into a rhythm and we're all really excited."
Obviously, Frankel has come a long way since her Real Housewives of New York City days. But she hasn't forgotten them completely. "I haven't checked in at all," Frankel admits of the new season, which premiered last week. "The new one, Aviva [Drescher] — I actually cast her. I haven't seen the show yet, but Andy Cohen has said to me, 'Thank you for casting her.'" Que Viva!
Check out showtimes for Frankel's show here.
Follow Shaunna on Twitter @HWShaunna
[PHOTO CREDIT: FOX]
MORE:
Bethenny Frankel: I Want Mila Kunis To Play Me In My Movie
Bethenny Frankel's Novel: 7 Examples that Clearly Prove 'Skinnydipping' Is Not Fiction