'Shameless' Season 3 Premiere: How To Smuggle Cocaine Across the Border and Other Fun Facts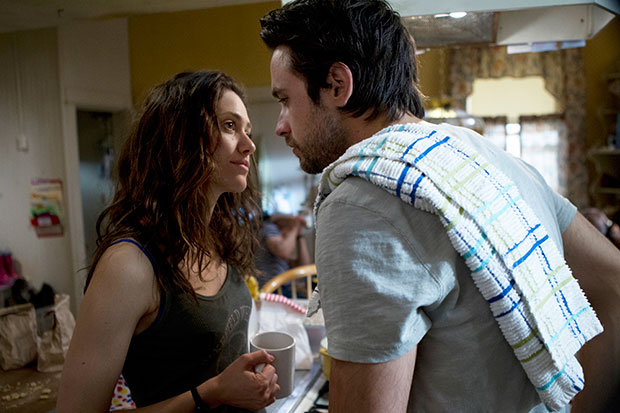 Now that we've all had enough time to discuss the best and worstGolden Globe moments, gush over the amazing Girls return, and witness the long-lost Happy Endings kickball episode, it's time to talk Shameless. The Gallaghers are the only family who can make us laugh, cry, gasp, and squirm all in one hour. "I think at the core the thing that makes the Gallagher family so appealing is that it's a family, and blood is thicker than anything." William H. Macy said to Hollywood.com. "You can burn down their house, you can steal their car, you can take a job away, but if you try to split up the family you will see ferocity like you've never seen before." The dramedy returned with so many hilarious, disgusting and downright bizarre moments that our heads are still spinning. Let's go through the dys-fun-ctional facts of what we learned together:
– If you take part in bizarre — and intrusive! — bedroom behavior with Sheila Jackson, then you can smuggle 18 packages of cocaine across the Mexican border. Okay, wait, make that 19. Apparently Frank kept an extra one as a souvenir.
– Lasers make the best weapons. Don't believe us? Just look at the hunk of junk that tried to battle Lip's high-powered droid in the robot rumble.
– If you drink from a juicebox and are holding a mop, Fiona will not be attracted to you. In fact, she'll think you're a Mr. Mom, and there's absolutely nothing sexy about that.
– If you're looking for a job that pays well but completely strips you of all your dignity, then biohazardous waste clean-up is exactly the job you need!
– Kev and Veronica have discovered that if you perform sexual acts together on the internet, it does pretty well. But if you add a historic twist to the sexy scenes, then it's both educational and exciting.
– If you agree to marry a drug lord's daughter but you're living with another woman, you're probably going to get in trouble. Or if you're like Marco, Estefania's lover, you'll be shot multiple times, chopped up in itty bitty pieces, and fed to the fishes.
– Even if you're the world's most alcoholic, irresponsible, and unreliable father, your youngest daughter will always love you. Well, at least until next week's episode.
What did you think of the season three premiere of Shameless? What is your favorite dys-fun-ctional fact from "El Gran Canon"? Spill your thoughts in the comments below!
Follow Leanne on Twitter @LeanneAguilera
[Photo Credit: Showtime]
MORE:
'Shameless' Season 3: Everything You Need to Know Before the Gallaghers' Return
'Shameless' Season Finale Recap: This Is What a Family Looks Like
'Shameless' Recap: Thanksgiving With a Side of Tragedy

Craziest Celebrity Swimsuits (Celebuzz)