'Shark Tank' Recap: Don't Bounce Out of This Deal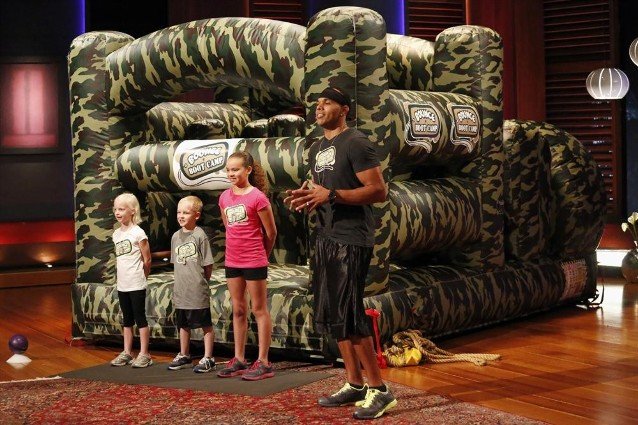 ABC
This was the first new episode of Shark Tank in 2014 and it was quite a good one. Then again, I may have just been really hungry for a new episode after the Christmas/New Year's lull.
First in Tank
First was Thomas Hill, a former NFL Draft Pick who had been let go due to an injury that he had suffered in college. Tired of seeing kids be obese, he created Bounce Boot Camp, which was an inflatable bouncy obstacle course that also had stations for other exercises. He wanted $30,000 for 20% and had visions of one in each city in America. It would cost $40,000 for someone to get one. The problem was that the Sharks found the business model to be flawed. He was also only devoting one day a week to this, since he had a job as a pharmaceutical rep. That is fatal to try to get a deal with a Shark. They need nearly fanatical devotion to that product, but they gave Hill a lot of good advice since they loved what he was doing and sent him on his way to go out and hustle.
Second In Tank
Next in the Tank was Dr. Jim Lewis, a forensic pathologist who was selling Wall Doctor RX. I was glad he wasn't marketing home forensic equipment. He wanted $150,000 for 20%. The product was a patch that was placed over a hole in any wall and then two days later, removed, leaving a spackle -like substance over it which would need to be sanded over. Sensing a great opportunity, four sharks – Kevin O'Leary, Robert Herjavec, Lori Greiner and Daymond John made individual offers of varying amounts and equity, ranging from twice what Dr. Lewis asked for all of it to $150,000 for 15%. The doctor tried to get a little too cute, asking Greiner and Herjavec to work together, with both of them balking quite hard at it despite his cajoling. Only the fact that they loved the product kept them from telling him to sticking it where the sun don't shine. Dr. Lewis finally took Herjavec's deal but was made to sweat since Herjavec didn't like that he had originally wanted Greiner to join with him. He was acting like he was going to retract his offer, but finally relented, making everyone happy.
There was an Update about Nuts and More, who had gotten a deal with Herjavec and Mark Cuban. Things were great: they had generated $1 million in 7 months after they appeared on the show. The company had grown to 12 employees and locked in a deal with Whole Foods.
Third In Tank
I admit that I was befuddled at how Eyebloc even got on the show. The presentation started with C.J. Isakow stomping in, wearing sunglasses. He looked like a heavier version of Andre from The League. He immediately jumped into a pitch about how webcam security is at risk, with hackers being able to to take over the camera and view what is going on. His product? A little doohickey that could be placed over the pinhole of the webcam. He was charging nearly $10 apiece. and wanted $50,000 for 10% of his company. The Sharks correctly laughed him out of the room, pointing out that they could just stick a Post-It note over the hole and not pay 10 bucks for it. He had sold a whopping 45 of them. I'm astonished the producers thought this might even be something the Sharks would consider.
Last In Tank
The last entrepreneurs were Brian Whiteman and his "Baby Mama" Julie. Yes, he actually introduced his wife like that. They wanted $150,000 for 20% of Groovebook, an app that allows people to get a book of photos from pictures from their smartphone for $2.99 a month, they could get a book of 100 photos that were perforated for easy removal. They showed a picture of young John, which prompted a bunch of "You had hair?" cracks. The thing that made them able to do that for so cheap is that they owned their own printing press. They were still far from even being close to breaking even and they wanted to keep the prices low so that everyone could get them, a sentiment that made all the Sharks roll their eyes. Cuban and O'Leary eventually joined for their own deal after the Whitemans almost shot themselves in the foot with a new $6 million valuation, where they would handle the one-off things and the Whitemans could still own some equity, whereas Herjavec and Greiner wanted 50% of the company. Both sides were basically yelling at each other that their deal was horrible (I love when billionaires get snarky at each other). The Whitemans took the Cuban/O'Leary offer of $150,000 for 80% of the rights to license Groovebook (I have to keep reminding myself not to type GrooveShark) to other companies. It ended with Whiteman sweeping his wife off her feet and carrying her off the set – I think that was a make-up for the 'baby mama' intro. 
Highlight Of The Night
Seeing Cuban, Herjavec and John act like little kids horsing around with each other in the Bounce Boot Camp segment. It's like they all became 12 years old again.
Best Quotes
"I think I ripped my trousers. But I'm good." — John after doing the Bounce Boot Camp.
"It got a little confusing there." — Herjavec to Dr. Lewis after they had sealed their deal with a hug.
"Only to you, Robert." — A clearly exasperated Cuban immediately thereafter.
"Don't lose those (samples). I've already sold them on Amazon." — Isakow to the Sharks when distributing examples of Eyebloc.
"You could use this as home plate in your cockroach baseball league." — Cuban commenting on Eyebloc.