'Shark Tank' Recap: Muddied Distractions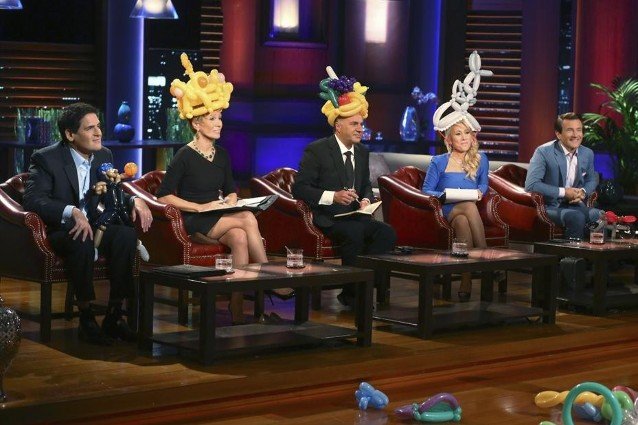 ABC Television Network
First In Tank
The first entrepreneur was Lauren Padawer of Alaska Glacial Mud, which creates all-natural facial masks and other skin care products you might find at a beauty spa. She wanted $100,000 for 20% equity. The problem was that she had very weak sales and that was what kept the Sharks from biting on the deal. They pointed out that the spa business was very difficult to break into and that she didn't even have a retail presence. They were more impressed by the fact that she was a commercial salmon fisherman who ran her own ship and pulled in $100,000 a year – Barbara Corcoran wanted to buy into her fish business.
Second In Tank
Mike Barzman and Bryan O'Connell (who looked unsettingly like Henry Thomas of E.T. fame) were pitching Invisplug – extension cords that blend in with the floor. They wanted $125,000 for 10% equity, a valuation that the Sharks immediately pointed out was way too high. Several sharks immediately jumped out, but Lori Greiner made an offer. She offered the $125,000 and they haggled on royalties, but eventually she refused to budge at $1 per unit until she got her investment back and then 25 cents in perpetuity after that – a deal structure that Kevin O'Leary usually offers. Robert Herjavec's interest was piqued and offered the same deal, no royalties and a 20% equity contingent on them agreeing right then and there. Like idiots, they dithered and asked to be able to confer and Herjavec retracted his offer. Fortunately for them, Greiner didn't do the same and they took her deal.
Update
Tom + Chee, a soup and sandwich restaurant that first appeared on the show last May, was doing really well, having grown to 80 employees and hit a million in sales in just three months after the company's founders appeared on the show. Barbara Corcoran, who was their investor, got her own sandwich on the menu. She also has her own doll, though I'm afraid it might be making an appearance in a new Child's Play movie…
Third In Tank
Greg Cronin and Dr. Stephen A. Coachys were pitching LockerBones, a series of easy-to-install locker shelves to help students stay organized. They wanted $175,000 for 10%. There were two issues: first, they were initially going to sell on consignment to Amazon, which meant they would have to take any unsold units, and second, they only had a design patent, not a utility one. They had also stayed away from Staples, which almost caused O'Leary to have a conniption fit at their short-sightedness. They got lucky though: Greiner and Robert Herjavec combined for their price, but took 50% in equity.
Last In Tank
The final entrepreneur was Balloon Distractions, a company that sent people to make balloon items to distract unruly kids. The pitch opened with balloons falling from the ceiling and he gave the Sharks personalized balloons for them. It was run by Ben Alexander, who seemed to be an overgrown hyperactive kid himself. He was so overly emotional that he had to stop a couple of times to keep from crying. Of course, the Sharks were worried that he was like that all the time. His presentation was pretty much a rambling mess, though the gist was that he wanted to franchise. He wanted a recruiter. The problem for the Sharks was two-fold: he hadn't recruited the right salespeople for different regions, and he was not focused or organized. None of the Sharks invested and O'Leary even stomped on some of the balloons after Alexander left.
Best Sight
It was a tie between seeing O'Leary wear a mud mask and conduct his line of questioning while still wearing it and seeing all the Sharks with balloon hats on their heads during the Balloon Distractions pitch.
Dumbest Entrepreneur Move
Again, a tie: between the InvisiPlug people dithering their way out of a deal with Herjavec, and the LockerBones people not even considering selling their product to Staples. O'Leary nearly had a coronary at that. Bad distribution strategy. He was so unfocused and babbling that Mark Cuban had to yell at him.  No Sharks bit, but they gave him good advice.
Most Dated Reference
O'Leary doing a Dr. Evil pinkie finger to mouth gesture and saying "One Million Dollars!" I think the last time that was relevant was when President George W. Bush was in his first term.
Best Quotes
"That's a Kevin deal." — All the other Sharks to Greiner at her first offer to the Invisiplug people, since it involved royalties, an O'Leary staple.
"I have to ask an important question: Are you like this all the time?" — Mark Cuban to Alexander during the Balloon Distractions pitch
"I'm very worried you may spontaneously combust." — O'Leary to the overly-emotional Alexander
"You don't want to piss off the clown community!" — Herjavec responding to Alexander's saying that the clown community had been belittling him online after he opened Balloon Distractions
"SHUT UP!!!" — Cuban to Alexander after the entrepreneur went off the rails for the 50th time when Cuban was trying to give advice.