'Shark Tank' Recap: Sock It To Me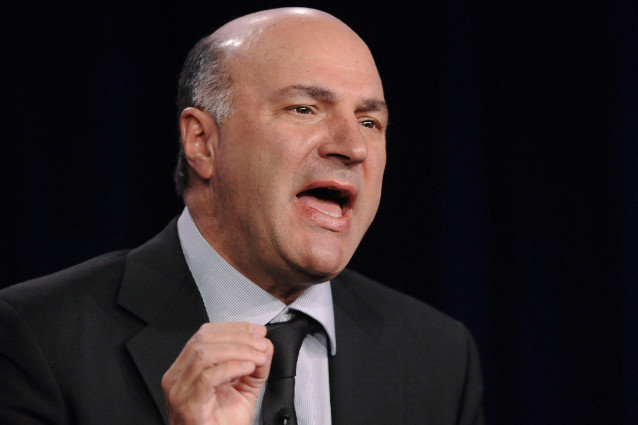 ABC
After last week's episode where all the would-be entrepreneurs got chomped when it came to deals, would this one be more fruitful? 
First In The Tank
First came Yubo, a customizable and easily-cleaned lunchbox that was created by Paul & Cyndi Pedrazzi. They wanted $150,000 for a 15% stake. They presented it as an alternative to regular lunchboxes, which only have a set design and get dirty really fast. This one was able to be taken apart for dishwashers and also people could create their own designs. Their presentation was really energetic and they gave out cute customized ones that had caricatures of the Sharks on them.After they finished the presentation, they sent their two daughters to model the lunchboxes out of the Tank. It's never good for kids to see Mommy and Daddy potentially get raked over the coals.
They went into further detail: they had been in the market for four years, they owned the trademark for Yubo and Cyndi had a grander vision, selling them at amusement parks. They wanted Disney, but they would need a Shark for that.
Things always seem to be going smoothly in many pitches and then a problem surfaces. This one was no different. They had given an industrial designer a 20% stake and a royalty of 5% to 1% on sliding scale. 5% of sales. Then they uttered the two worst words EVER: In Perpetuity. Every Shark nearly slapped their foreheads simultaneously at that.
The fallout was swift. Mark Cuban and Barbara Corcoran were out fast – Cuban didn't like the royalty and Corcoran took issue at the size of the boxes, finding them too bulky. In a really dumb moment, Cyndi tried to stop Cuban after he said he was out. "Just let me stop you there…" "You can't stop him…he's OUT" retorted Corcoran. Even Cuban smirked at that.
Kevin O'Leary thought the whole idea had merit and offered them $150,000 for 10% plus the same royalty deal that the designer had. Robert Herjavec stirred the pot and offered $150,000 for 30%. He wanted them to make a decision fast. Lori Greiner decided to throw her hat in the ring and after there was a commercial break to raise the dramatic tension, she offered 150,000 for 20% and also added that she's in good with Disney. O'Leary, sensing that it was a major sticking point, dropped his royalty and offered the same amount and a 20% stake that would drop to 12.5% if they paid him back in 18 months. Not one to be denied, Greiner offered $150,000 for 15% that needed to be paid back in 15 months. Herjavec sweetened his pot by offering $150,000 for 15% and no loan. O'Leary, also known as Mr. Wonderful, offered more pressure: if they paid back in 18 months, it would drop to a 10% stake.
The entrepreneurs asked if any Sharks would team up and Herjavec said he would team up with Mr. Wonderful. That sealed the deal and the prospect of another shutout was vanquished quickly.
There was an update on a previous success: DropStop, which keeps keys from falling in the side of car seats. It was a Greiner deal and it's done really well, creating jobs and $5 million in sales since it aired five months ago. They projected $15 million in sales. They got into 3,500 Walmarts and as a sign of good PR, they also donated DropStops to a police department.
Second In The Tank
Kelly Coughlan and Jenn Deese were pitching Pursecase. They wanted $55,000 for 12%. It looked like a cellphone case with a handle and could hold credit cards and licenses in a side pocket.It also had a compact mirror.
Herjavec immediately said that he saw cases like that in Europe, but they didn't have pockets. They were making these for iPhone 4 and 5 and were filing a utility patent for the functionality of the flap. They had $33,000 in preorders and they impressed the Sharks with their margin. Then like the previous entreprenerurs, they had given up something early. They gave 15% equity to a manufacturer, but this time no royalties, and even nicer, they had a million-dollar credit line. What they needed the money for was to make molds for Samsung Galaxy. Greiner then mentioned that she sells something similar to that, but they apparently didn't do research.
Herjavec immediately bowed out and Corcoran thought it should be more streamlined. She was out. Cuban hated the accessory for tech market. He was out. Kevin offers $55,000 for $1 a unit and then .75 in perpetuity. Greiner jumped in. She used her favorite phrase, whether something is a hero or a zero and she saw it as a hero. She offered $55,000 for 15%. The two girls took about .3 seconds before accepting the offer. Herjavec, dumbfounded they hadn't even acknowledged O'Leary's offer, was channeling Home Alone, saying, "WHAT ABOUT KEVIN?!"
That was two straight deals.
Third In the Tank
The third entrepreneur was Joe Dauenhauer, who had a wicked Boston accent. His company was Chocomize, where people could create chocolate bars online. He wanted $500,000 for a 10% stake. The Belgian chocolate was really good, and customers could put edible pictures on the bars. He made customized ones for the sharks. The sales were good, he did $440,000 this year, though that was a slight dip from year before. He said there there are repeat orders and they were aiming for corporate sales. He says a Shark will be getting money back in 3 to 4 years. He has partners though, which can eat up equity and Cuban was immediately arguing that it was not proprietary.
O'Leary was the first to make an offer. He wanted Dauenhaer to leave to leave his partners and that he would give $500,000 for a 25% to start from scratch to make Mr. Wonderful's Chocolate.
The dominoes fell fast. Herjavec, Cuban, Corcoran and Greiner got out in really quick order. So it was back to Mr. Wonderful. Dauenhauer couldn't accept his deal and O'Leary snarked that he was going to make his "You're Dead To Me Bar" and send it to him. No deals. It wasn't going to be a perfect game this episode
Fourth in The Tank
In the previews for this episode, Herjavec was seen as saying, "Don't mistake my kindness for weakness" and it was going to happen in this one, so it looked kind of grim for a deal.
The entrepreneurs were Rick and Melissa Hinnant and the company was Grace & Lace, which made frilly socks for those who wear boots. They wanted $175,000 for a 10% stake and they had over $1 million in sales with no marketing, which nearly knocked the socks off the Sharks (har har). What helped was the canny use of social media, including Facebook, Twitter and Pinterest. They sell for $34 per pair, for a cost of $5 each.
Greiner couldn't get into it and she was out. Rick said they need a strategic partner, which prompted Corcoran to make an offer – $87,500 and 5% if they could get another Shark. O'Leary offered $175,000 for 20% and would drop to 10% when they repaid the loan.
Herjavec thought they needed guidance. He offered $175,000 for 10%, which is what they wanted. Now it got really messy, really fast. Instead of grabbing the deal, they asked if Barbara can come into the deal with Herjavec, who then got mad. He'd met their offer and they still wanted to to hear others. Herjavec wanted an immediate answer. To compound matters, they asked if they could go outside to discuss the offer. Now, if you had high-def TV, you could actually see the steam coming out of Herjavec's ears. He withdrew his offer and said he was out.
Cuban, despite their waffling, made an offer. Again, they stalled and asked to go outside and discuss it. By now, even Greiner was shaking her head at their tactics. Not to be denied, Corcoran offered, and after what seemed like an eternity of the two entrepreneurs staring at each other, they accepted her offer over Cuban's while all the other Sharks shook their heads again.
Three out of four netted a deal, which was a marked improvement over the previous episode.