'Shark Tank' Recap: Spirit Hoods In The Material World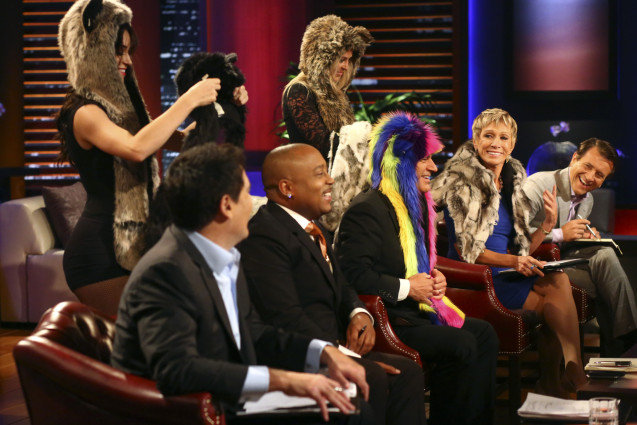 ABC
After a week off, the Sharks were ready to have people back in the tank for a new episode. Would they build on the relative success of the previous episode or would all the entrepreneurs walk out with no deals in hand?
First
The first people in the Tank were Marley Marotta and Alexander Mendeluk from Spirit Hoods. They wanted $450,000 for a 15% stake . The hoods were faux fur hats that had flaps along the sides to protect people's hands in cold weather.There were also built-in speakers. This segment provided me with one of the major highlights of my life – seeing Kevin O'Leary wearing a multi-colored Spirit Hood. Seriously, it looked like a furry rainbow was perched on his head. They tried to get Mark Cuban to wear one that was in the colors of the Dallas Mavericks, but he wasn't feeling it. Spirit Hoods said they were more than hoods, they were looking for a lifestyle brand. What gave the Sharks pause was the fact that there were a large number of imitators out there and also they were a possibly rapidly depreciating company. The net result was no Sharks buying in – though Daymond John did make an offer for 50% of the company, but they tried to renegotiate, which offended his sensibilities and he withdrew.
There was an update about Cuban and John going to an entrepreneur conference and they also showed casting calls for Shark Tank. The point that was driven home was that the Sharks haven't met any of the entrepreneurs before. They only know their first name.
Second
Next in the tank was Jan Goetgeluk from Virtuix Omni. He wanted $2 million for 10%, which raised all the Sharks' eyebrows. The Omni was a virtual reality game which also featured an omni-directional treadmill, which made for a really immersive experience. Robert Herjavec, being the big tech geek, tried it out and nearly fell. The company had raised a good amount of its money from Kickstarter. The main sticking point was the fact that it relied on the visual aid, the Oculus Rift, and all the Sharks were worried about it becoming obsolete very, very quickly. All the Sharks fell out in pretty fast order, since Goetgeluk was trying to get them to buy into a vision two years into the future. Barbara Corcoran also didn't like the size of the thing, saying that any husband who bought it for a home would be in deep trouble, possibly divorced.
Third
The third people in the tank were two tough mothers named Jocelyn Fine and Kelly Dineen from New Jersey. They were selling FoHawxs – add-ons to any biking or skating helmet to make them 'cooler'. The add ons made the people wearing them look like Roman Centurions. I kept expecting one of the kid models to belt something out about Caesar. They wanted $150,000 for 30% of their company. It quickly became apparent that their sales were not as good as what the Sharks needed to invest, despite the items being in many stores. O'Leary even had to bark, "Wake up and smell the bankruptcy!" The two women were still defiant despite no Sharks biting, and O'Leary didn't even try to make one of his ridiculous offers that featured royalties. There was a lot of fiery debate on the entrepreneur's side, but the Sharks didn't see them as being rooted in reality. Fine even nearly broke into tears after all the Sharks bowed out. It looked like it might be another week of no Shark deals. .
Fourth
Last in the tank was Al "Bubba" Baker, a former NFL player, along with his daughter. The Sharks didn't seem intimidated by the fact that he was big enough to flatten all of them if they made him mad. He had created the De-Boned Baby Back Rib, a boneless rib that only needed 2 minutes in the microwave to be ready to eat. He wanted $300,000 for 15%. He had two patents on it-  a first in the Tank, according to O'Leary – patents for food and the process for making it. The main thing that separated it from others was that he cooked the ribs with the bones and then had them removed and stored to preserve the flavor. They asked why he had taken 20 years to perfect it and he admitted that he had quit before, but then his daughter, who was running track, wanted to quit traning and he forbade her to do that. She said he had quit with the ribs,  so he promised to get back into it. The first person to make an offer was O'Leary – $300,000, but it had to be distributed from one of the largest meat companies out there and he wanted 49% of the company. John then submitted his own offer and wanted 20% less in equity. The time came for a decision and Baker was gracious. He thanked O'Leary for making and offer and went with John's deal, which met with general approval from the other Sharks…minus O'Leary, of course.
It was another tough night for the entrepreneurs, but 1 of 4 wasn't a total wash. It's going to be interesting to see what happens with the Christmas-themed episode.