Twitter Was Pretty Pissed Off About 'Sharknado 2'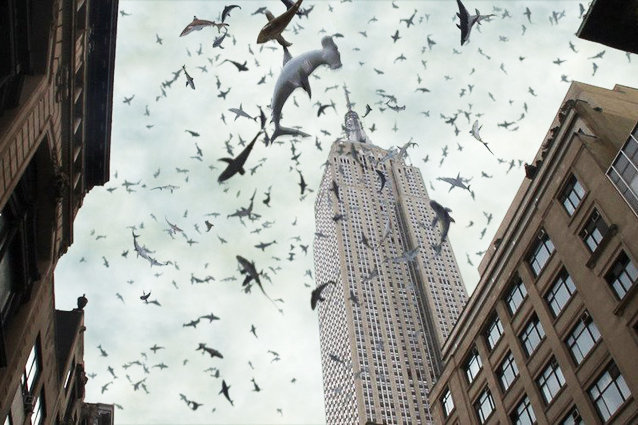 Syfy
Bad movies will always have their supporters, be they contrarian critics or cult fans high on irony. But some people want nothing to do with an intentionally cruddy film, for instance Syfy's original feature Sharknado 2: The Second One. A sequel to the network's 2013 TV movie, Sharknado 2 released on Wednesday night, arousing quite a few reactions on Twitter. Plenty of viewers celebrated the camp and kookiness of the film, but there were no shortage of detractors: people who called Sharknado everything from a waste of time to the reason that our planet is in such a vile state.
Here's a quick glimpse at the varying degrees of animosity stirred up on Twitter by Sharknado 2: The Second One…
There were rational, even-keeled artistic criticisms:
To make a good bad movie, you have to sense the filmmakers earnestly and truly love what they're doing. SHARKNADO feels… corporate.

— Russell Hainline (@RussellHFilm) July 31, 2014
General condemnation about the whole "so-bad-it's-good" phenomenon:
I'll never understand the appeal of purposefully bad movies like SHARKNADO. It honestly makes no sense to me. Ironic badness sucks.

— Devin Faraci (@devincf) July 31, 2014
Blame:
Sharknado exists because all you people talk about it. You bear responsibility.

— Ali Gharib (@Ali_Gharib) July 31, 2014
Humor as a defense mechanism:
There's a "jumping the shark" reference in Sharknado 2, which is how people used to say "making a Sharknado 2".

— @midnight (@midnight) July 31, 2014
Nifty tricks offered to avoid finding yourself in a position of watching Sharknado:
Do this at work tomorrow: "What did you watch last night?" "Sharknado." "You say Sharknaydo? I say Sharknahdo!" And then twirl away.

— Scott Weinberg (@scottEweinberg) July 31, 2014
Bargaining:
I will give you all a dollar to stop talking about Sharknado.

— Carina MacKenzie (@cadlymack) July 31, 2014
The mindset of, to paraphrase Meat Loaf, "I would do anything for RTs, but I won't do that":
All you need to know about me: I am rolling my eyes at Sharknado livetweeting. I have livetweeted ATLAS SHRUGGED 2.

— Ben (@franzferdinand2) July 31, 2014
Illustrations of the human consequence of such social media activity:
Every time someone tweets about SHARKNADO, an actual filmmaker throws up his hands and goes "well why the hell do I bother."

— Scott Renshaw (@scottrenshaw) July 31, 2014
Existentialist arguments against Sharknado watching:
Never seen THE ROOM. Not seeing SHARKNADO. Have seen 1.3 Troma films in my life… because life is to short for deliberately bad films.

— James Rocchi (@jamesrocchi) July 30, 2014
And, to top the whole thing off, some pretty hostile accusations about the gravity of Sharknado fandom:
Dear friends live-tweeting this awful movie: In caves all over the world, evildoers are plotting to destroy our civilization because of YOU.

— Shawn Levy (@shawnlevy) July 31, 2014
It was a heated night on Twitter. Let us remember this when Sharknado 3 rolls around.