The Game's Afoot Once Again: What Does 'Sherlock' Season 3 Have in Store?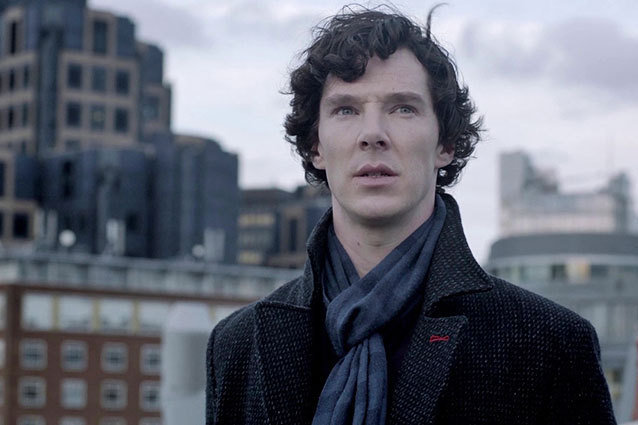 BBC
Sherlock fans, the moment you've been waiting for has finally arrived: the third season of the massively popular show will premiere on January 19 as part of PBS' Masterpiece series, meaning that it will air back-to-back with the network's other successful import Downton Abbey. No UK premiere date has been set yet, although British fans will still be able to find out how Sherlock cheated death before their American counterparts, as the BBC has retained "first-window" rights to air the program. Fans have been waiting impatiently for new episodes for almost two years now, as the production schedule was complicated by the rising popularity of stars Benedict Cumberbatch and Martin Freeman. However, Masterpiece's executive producer Rebecca Easton told Entertainment Weekly that although it has been a long wait, "This is about as quickly as we could have possibly got them on the air once they were made."
Viewers will be able to find out just how Sherlock faked his own death in the first episode, "The Empty Hearse." It will be based on the Arthur Conan Doyle short story "The Adventure of the Empty House," and will be written by Mark Gatiss, which fans should take as an encouraging sign. Gatiss is the writer behind two of the series' best installments: Season 1's "The Great Game" and 2's "The Hound of the Baskervilles." He's promised that his take might skew away from the source material some, particularly in the way that Watson reacts to his partner's return. It's going to be difficult to come up with an answer that satisfies both the story and the fans, but Gatiss has proved himself to be adept at handling twists and grounding the show's more outrageous moments in a sense of reality. Plus, his determination to have Watson react in a more realistic way should be able to set up a compelling conflict between the two characters for the rest of the season. 
The second episode will be penned by Stephen Thompson, who previously tacked "The Blind Banker" and "The Reichenbach Fall," the cliffhanger ending to Season 2. "The Sign of Three" will also introduce Mary Morstan, who marries Watson in Conan Doyle's original short stories. Although the writers were previously unsure about where to go with Mary and Watson's relationship, it seems as if (spoiler alert!) the two will indeed get married on the show as well. The role of Mary Morstan will be played by Amanda Abbington, who is Freeman's real-life partner, which hopefully guarantees that they will have enough chemistry to satisfy fans who are unsure about the fictional couple. It will be interesting to see what Thompson draws from the original story, "The Sign of Four," as it details the very beginning of Mary and Watson's relationship. 
Season 3 will come to a conclusion with "His Last Vow," which will take its inspiration from both the short story and collection entitled "His Last Bow." It will mark a bit of a departure for the series, as the story is more about espionage than a murder mystery. Stephen Moffat will be behind the finale, which means that the fan reaction is likely to be divisive. Moffat has gained an unfavorable reputation amongst some Sherlock and Doctor Who fans, and although he did a brilliant job with Sherlock's very first episode, "A Study in Pink," he is also behind "A Scandal in Belgravia," which is by far the series' weakest hour and a half. Based on his time writing finales for Doctor Who, there's a very good chance that the audience will be disappointed in "His Last Vow," although we're hoping he will be able to pull off something great. 
Sherlock and Watson will also have to face a new villain this series, after Jim Moriarty died in last season's finale. Danish actor Lars Mikkelsen will take his place as Charles Agustus Magnussen. Based on his name, the character appears to be based on Charles Agustus Milverton, the master blackmailer who Sherlock dislikes more than any other villain he faces in the stories. It will be difficult for the series to top the psychopath they created with Moriarty, though, and it should be exciting for viewers to watch Sherlock and Watson take down a new bad guy. 
The third season of Sherlock will premiere on January 19 at 10 PM. But if that's still too long to wait for a Cumberbatch or Freeman fix, you can catch them both in The Hobbit: The Desolation of Smaug, which opens on December 13.